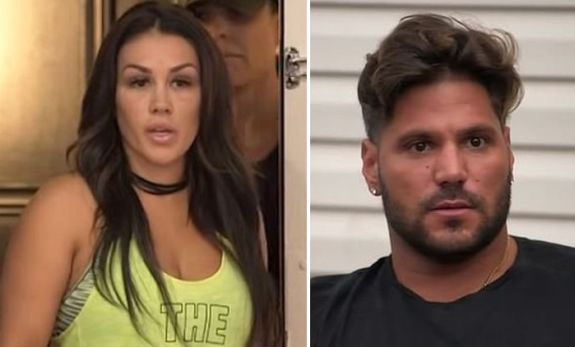 Another day, another battle between Ronnie Ortiz-Magro and his on- and off-again ex, Jen Harley!
TMZ reports that the Jersey Shore Family Vacation star filed a police report on Thursday, alleging that Jen threw an ashtray at his head during their big New Year's Eve fight. According to Ronnie, the ashtray hit him in the nose hard enough to break the skin and leave visible injuries. (According to an update by E! News, Ronnie's nose was bloodied and he left the club "covered in blood.")
This comes just one day after TMZ reported on the couple breaking up on New Year's Eve after getting into a big fight (that reportedly started when Jen spilled a drink on Ronnie's shoes), and Jen coming home to find her home ransacked. She reportedly told police that she believes Ronnie was responsible for the damage, which Jen says included a smashed big screen TV, and broken photo frames and a vase.
E! News reports that "Jen was apparently watching the destruction the entire time since she was FaceTiming Ronnie."
While police told the site that Ronnie is not being considered a suspect in the burglary, as there is no evidence proving that he was the culprit, they did tell TMZ on Wednesday that they'd like to speak to the 'Jersey Shore' star.
Ronnie stayed uncharacteristically silent after that story broke. However, his filing the police report against Jen may be his retaliation.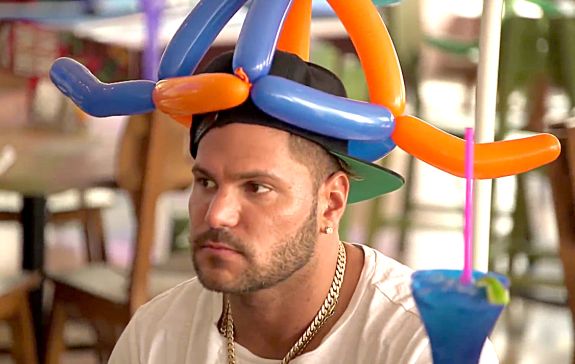 In his police report, Ronnie reportedly stated that he wants Jen to get "professional help" and that he is worried about the safety of Ariana, the nine-month-old daughter he shares with Jen.
"On Jan. 3, 2019, [Ronnie] came to an LVMPD substation to file a Battery Domestic Violence report against his girlfriend," the Las Vegas Police Department's Public Information Officer told E! News in a statement. "According to [Ronnie], the alleged battery occurred on Dec. 31, 2018 at approximately 11:43 p.m. inside of a business located on the 6000 block of Dean Martin Drive. This alleged battery is currently being investigated by detectives."
This latest incident is just par for the course with Ronnie and Jen. For the last year, the couple has broken up, aired each other's dirty laundry on social media, and then reunited. Some of their fights in 2018 were brutal and often required police intervention, and, sometimes an arrest.
View this post on Instagram
In early December, Ronnie accused Jen of cheating on him and posted on Instagram that he was worried that Ariana is not his child. Two months earlier, the cops were called while Ron and Jen were fighting, and Ronnie accused Jen (via Instagram) of extortion. Jen retaliated by posting a video of Ronnie and his "crazy" aunt trying to withhold Ariana from her. (Two days later, though, the couple was back together and boating on a yacht with friends.)
Other altercations between the 'Jersey Shore' stars include another October incident in which Ronnie insinuated that Jen had given him a black eye, while she accused him of being a drug addict. In June of 2018, Jen was arrested on charges of domestic abuse after allegedly dragging Ronnie with her car while he was exiting her vehicle during yet another fight. 
Jen has not responded publicly to the police report Ronnie filed…at least, not yet…
UPDATE! Us Weekly has posted photos of Ronnie's battered face. Ronnie claims he obtained the noticeable injuries from the New Year's Eve fight with Jen.
UPDATE #2: TMZ has obtained a video of Ronnie smashing Jen's "Ring" doorbell camera in December, as well as photos of the inside of Jen's home, following the New Year's Eve ransacking incident.
RELATED STORY: Jen Harley Accuses 'Jersey Shore Family Vacation' Star Ronnie Ortiz-Magro of Ransacking Her Home After New Year's Eve Fight 
(Photos: MTV, Instagram)