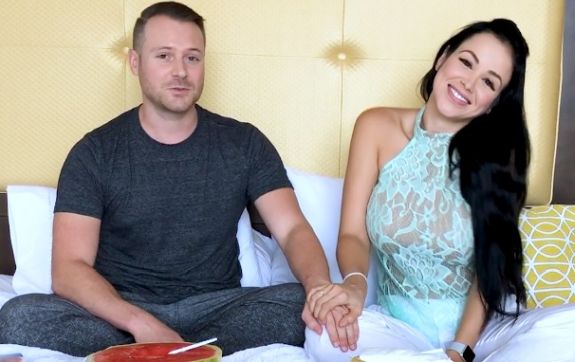 Russ and Paola Mayfield started 2019 off by becoming parents!
The 90 Day Fiance Season 1 couple welcomed a baby boy on New Year's Day, just minutes after the clock struck midnight. Their son was born at 12:22 a.m. He weighed in 7 lbs., 5 oz., and measured 22 inches in length, according to People.
Paola and Russ have named their son Axle.
"What an amazing way to start the new year, while I was hearing the fireworks and people telling me "happy new year," I was just focused on meeting my baby boy," Paola wrote in the caption of a photo posted to her Instagram account on Thursday. "Our little miracle is so beautiful and calm. I feel so blessed and I can't believe I am a mom now! I'm ready to start this new adventure and to be the best mom for baby Axel. I'm so proud of my husband, he was there for me the entire time, I couldn't have done it without you."
Paola, who announced she was pregnant back in July, told People that they are thrilled that their baby was born on New Year's.
"We were hoping for a Christmas baby, but ended up with a New Year's baby, and we wouldn't change our experience for anything else," she told the magazine.
Paola kept "90 Day Fiance" fans updated on her pregnancy via Instagram, often posting photos that revealed her baby bump (and a lot more.) Although some of the photos garnered a lot of criticism, Paola usually brushed-off the nay-sayers.
Both Paola and Russ have expressed how grateful they feel that Paola became pregnant with Axel.
During the most-recent season of 90 Day Fiance: Happily Ever After? Paola revealed that she had suffered a miscarriage. Her doctor explained that the miscarriage was likely due to her having Type O-negative blood that was also Rh-negative. The rare combination can often lead to miscarriage, but Paola was told her Rh incompatibility can be treated to help prevent future losses. The loss of the baby created some trouble in the Mayfield marriage, but the couple seems to have worked through it.
On Thursday, Russ posted the same family photo as Paola, along with his own message about his son and wife.
"Momma and baby are doing so well!" Russ wrote. "I cannot express enough how proud I am of Pao, she was such trooper bringing him into the world. Pao's bouncing back stronger than ever and Axel is rocking his eat, sleep, poop, repeat like a champ."
There will be plenty more "90 Day Fiance" babies welcomed in 2019, as Season 3's Aleksandra and Josh Strobel just announced that they are expecting their second child. Paul Staehle and Karine Martins of 90 Day Fiance: Before the 90 Days; and Elizabeth Potthast and Andrei Castravet of 90 Day Fiance Season 5— are expecting their first babies, as is "90 Day Fiance" Season 1 couple Mike and Aziza Eloshway.
RELATED STORY: "90 Day Fiance" Couple Aleksandra & Josh Strobel Announce They're Expecting Second Child
(Photos: Instagram)