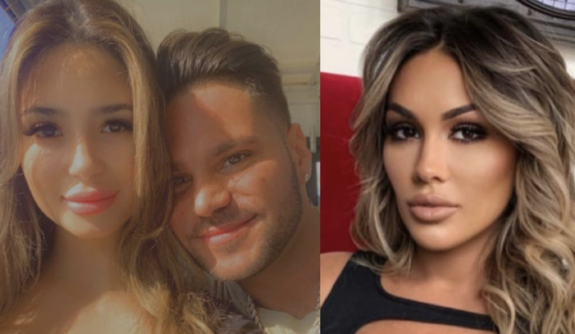 Ronnie Ortiz-Magro has been out of the slammer for less than a week and is already slamming his baby mama Jen Harley on social media and accusing her of having some nasty drug habits.
Ronnie's girlfriend, Saffire Matos, is also speaking out about the Jersey Shore star's latest trip to the slammer and accusing others of "using false accusations to gain attention." (After Ronnie was arrested on suspicion of felony domestic violence with injuries against an intimate partner, many assumed that his alleged victim was Saffire.)
Ronnie also ranted that his arrest has helped him figure out who his true friends are.
The 'Jersey Shore' star has since deleted his Instagram Stories that accuse Jen of doing cocaine and other unsavory things, but his post about his lack of real friends remained on his account at press time.
Let's break down the latest Ron rants, shall we?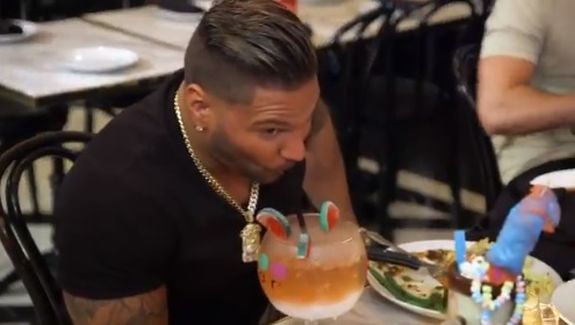 As The Ashley told you last week, Ronnie was arrested Thursday in Los Angeles County for investigation of felony domestic violence. TMZ broke the news of the reality star's arrest for "suspicion of intimate partner violence with injuries and with priors." Ronnie, as many know, has a history of domestic violence and is currently on probation from a previous domestic violence arrest – one that involved his ex Jen.
Jen was not involved in this most recent incident; however, the identity of the alleged victim(s) is unknown. While some assumed Ronnie's girlfriend Saffire was involved, Saffire took to Instagram Monday to address some of the "misleading information floating around."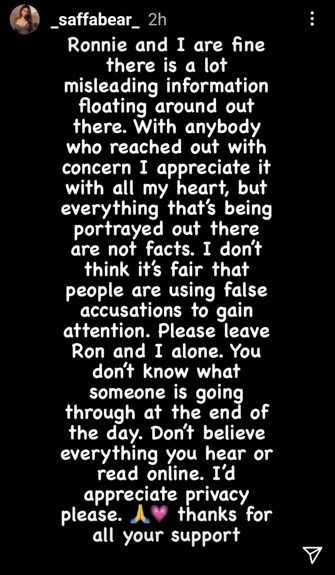 "Ronnie and I are fine there is a lot of misleading information floating around out there," Saffire wrote on Instagram. "With anybody who reached out with concern I appreciate it with all my heart, but everything that's being portrayed out there are not facts. I don't think it's fair that people are using false accusations to gain attention.
"Please leave Ron and I alone," she continued. "You don't know what someone is going through at the end of the day. Don't believe everything you hear or read online. I'd appreciate privacy please. Thanks for all your support."
While Saffire chose to keep things relatively friendly, the same cannot be said for Ronnie, who took to social media in a now-deleted rant to call out Jen, the mother of his three-year-old daughter Ariana, for a multitude of things, including abuse allegations involving their daughter. According to his post, Ronnie said Ariana claimed to have been "hurt by a stranger," which he alluded to be someone Jen brought around their daughter.
He also claimed Jen had to "give her oldest [child] away bc his life was going to hell." (Jen has an 11-year-old son from a previous relationship.)
"Apple don't fall far from the Crackhead strub?" he added.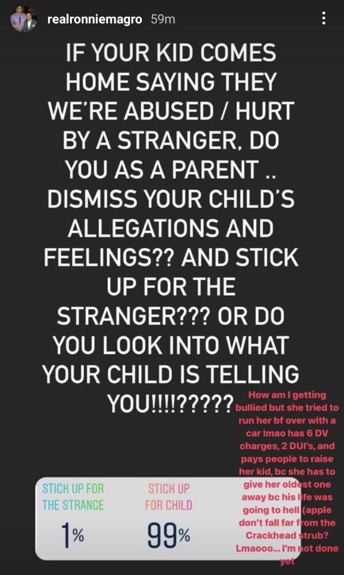 Ronnie also called Jen out for trying to "run her bf over with a car," having "6 DV charges, 2 DUI's," and for paying people to take care of their daughter.
Regarding the allegations of Jen trying to "run her bf over with a car," Ronnie provided the receipts (with a some emoji-photoshop), claiming Jen "has a warrant out for her arrest for another domestic violence case and tried to run [her boyfriend] Joe over last night."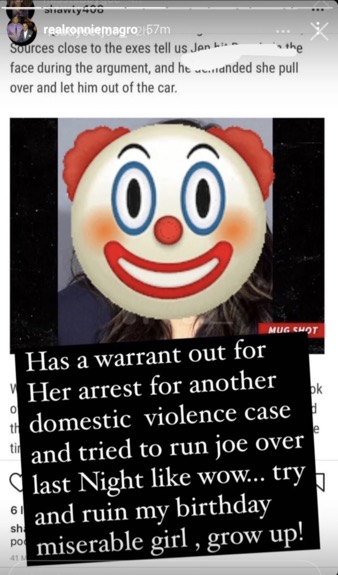 In another post, Ronnie shared a screenshot of a conversation allegedly between Jen and another person (originally posted by Joe), in which Jen allegedly was "begging for cocaine the moment she drops her daughter off," Ronnie claimed.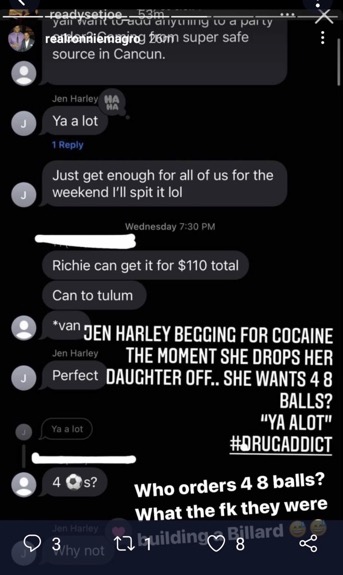 Presumably in response to Ronnie's deleted Instagram rant, Jen shared a post to her Instagram Story calling out the "trash energy" of others. She also shared a "PSA" encouraging those in a similar situation to "get out now."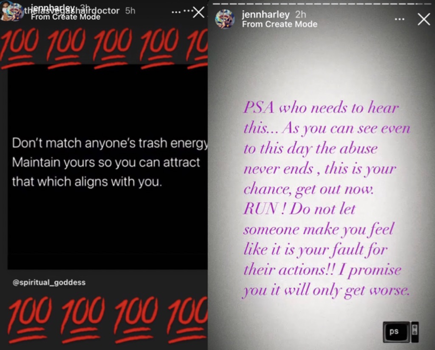 "PSA who needs to hear this… As you can see even to this day the abuse never ends, this is your chance, get out now," she wrote. "RUN! Do not let someone make you feel like it is your fault for their actions!! I promise you it will only get worse."
After wiping his Instagram clean of the Jen-attack, Ronnie thanked his "real friends" for being there for him over the last week.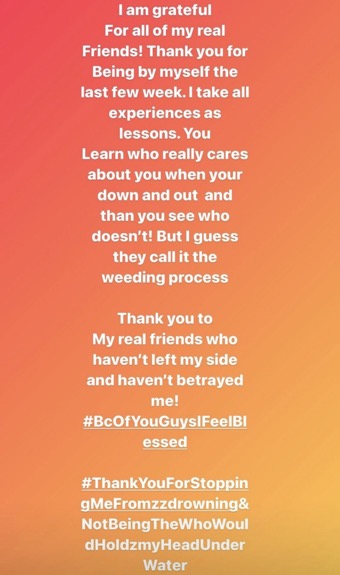 "I take all experiences as lessons," he wrote on Instagram. "You learn who really cares about you when your down and out and than you see who doesn't! But I guess they call it the weeding process.
"Thank you to my real friends who haven't left my side and haven't betrayed me!" he added, thanking them "for stopping me from drowning and not being [the one who] holdz my head under water."
RELATED STORY: 'Jersey Shore' Star Ronnie Ortiz-Magro Arrested for Felony Domestic Violence; Jen Harley Documents Drive to Retrieve the Couple's Daughter: The Latest Info
(Photos: Instagram; MTV)