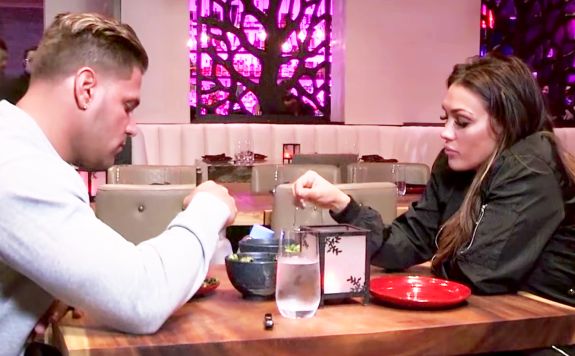 The saga of Ronnie Ortiz-Magro and his baby mama Jen Harley continues!
Jen, who is the mother of the Jersey Shore star's two-month-old daughter Ariana, was arrested in Las Vegas on Sunday on charges of domestic violence, according to Us Weekly, who broke the news. She was thrown in the slammer after she allegedly got into (yet another) fight with Ronnie.
TMZ states that Jen was driving Ronnie and their daughter home from a barbecue when the couple started arguing (as per usual). Jen allegedly hit Ronnie in the face while she was driving. After that, Ronnie allegedly told Jen to pull the car over so he could get out. During his attempt to exit the car, he allegedly got caught in his seatbelt and, according to TMZ, Jen didn't wait for him to untangle himself before starting to drive off.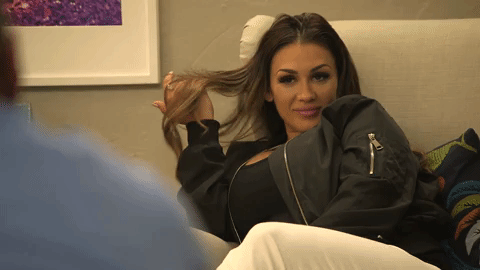 Because of this, Ronnie was allegedly dragged alongside the car.
"[Jen was] driving so erratically that three of her four tires were flat," Us Weekly reported.  "She drove over a median."
Ronnie reportedly suffered injuries to his body and face.
"Ronnie's face was bloodied and bruised and, as you'd expect, he's got a nasty road rash," TMZ reported.
Jen was arrested and booked for domestic battery. (Check out her smoldering mugshot here.) Her bail was set at $3,000 and a hearing was set for Tuesday.
"Ronnie is going to his family counsel first thing this morning to see what his options are because whatever they are doing is not working," Us Weekly reported.
This is, of course, just the latest in a string of physical fights between Ronnie and Jen. Earlier this month, cops were called on Jen after she allegedly punched and spit on Ronnie during an argument at the Planet Hollywood hotel in Las Vegas. (Jen later denied the accusations.)
Two days before that incident, Ronnie had security called on him at the Flamingo Hotel in Las Vegas because he was trying to fight a random dude while filming at a pool party.)
Ronnie and his Jersey Shore Family Vacation cast mates have been shooting the show's second season in Las Vegas this month.
In April, Ronnie and Jen got into a physical altercation after breaking up. The fight was streamed on Instagram Live.
Jen and Ronnie have not commented publicly on the latest incident. However, on Sunday afternoon, Jen posted photos of herself playing in the pool with her daughter Ariana. Us Weekly reported that one of Jen's friends came to pick up the baby before Jen was arrested.
(Photos: MTV, Instagram)