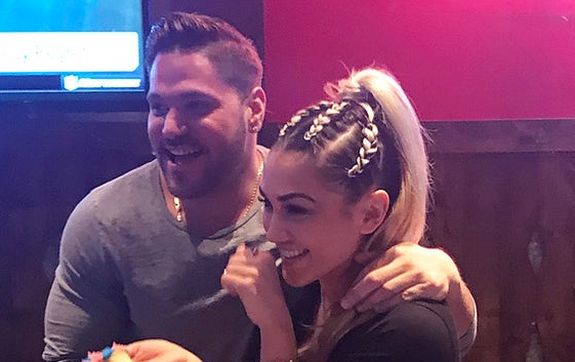 Ronnie Ortiz-Magro is certainly bringing the drama to the next season of Jersey Shore Family Vacation…with the help of his baby mama, Jen Harley, of course!
Just two days after Ronnie had security called on him at the Flamingo Hotel in Las Vegas because he was trying to fight a random dude while filming at a pool party, Us Weekly broke the news that Ronnie was involved in yet another physical fight, this time with Jen, who is the mother of his two-month-old daughter Ariana.
However it appears that Jen was the allegedly the aggressor in this showdown.
Us Weekly reports that Jen showed up unannounced to Planet Hollywood, the hotel where Ronnie and the 'Shore' crew were filming 'Family Vacation' Season 2, and got into an argument with Ronnie. (Jen and Ronnie are residents of Las Vegas, by the way, so it's not like she had to hop a plane to confront her baby daddy.)
Anyway, both Us Weekly and TMZ confirm that Ronnie and Jen were fighting, in part, over their daughter, as well as their dead dog.
"Their pitbull died. That's part of why they were fighting," a source told Us. "Jen was supposed to be taking care of the dogs when he was away filming, and Ronnie came home to their house and found the dog dead in the pool."
The fight allegedly turned physical. (Unlike the couple's physical fight in April, this brawl wasn't broadcast on Instagram Live, though.)
"Jen lunged, spit and shoved Ronnie. Hotel security got involved, who then called the Las Vegas police department," Us Weekly reported. ""When police got to the hotel, they couldn't find Jen. She left the hotel at that point. They are still trying to find her for questioning."
Spitting on someone in Las Vegas is considered a misdemeanor, but TMZ is reporting that Jen did more to Ronnie than just hawk a loogy on him.
"Jen punched him in the head, and spit on him … then took off," the site reported. "We're told she is now the suspect of a battery."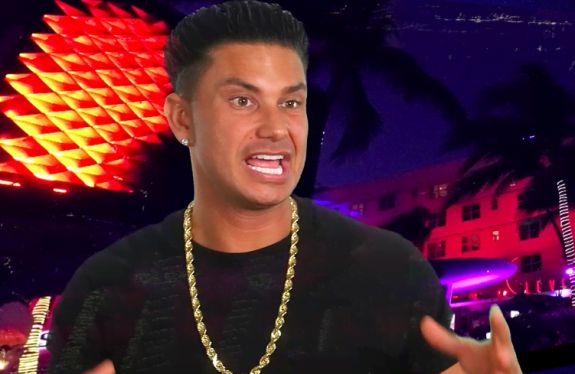 Officer Jay Rivera of the Las Vegas Metropolitan Police Department confirmed to Us Weekly that they had enough evidence that a domestic violence incident had taken place to seek a warrant against Jen.
"Officers determined a battery did take place," Officer Rivera told Us Weekly. "Officers will submit a warrant for Domestic Violence to the District Attorney's office, the DA will then determine if they will make it an active warrant."
He gave more details to Radar Online.
"We can confirm that a battery did take place last night at Planet Hollywood at approximately 9:30 pm," he told the site. "Police arrived on the scene and did determine that there was unlawful contact against the will of another, in this case, against Mr. Ortiz-Magro."
He added that Jen "fled the scene" after the alleged incident and that Las Vegas PD "issue a warrant for her arrest."
This is not the first time Jen has allegedly gotten aggressive with her suitors. Radar Online reported that the mom-of-two was handcuffed in Vegas in 2013 after allegedly punching her ex-husband. In 2016, Jen was arrested for allegedly "scratching" her ex-boyfriend.
The charges in both cases were eventually dropped.
Both Jen and Ronnie have remained silent on social media in regard to this incident. After the April blowups, both parties continued to post nasty things about the other on Instagram Live. That has not happened…yet, anyway…
UPDATE! Jen has responded to the story, and in an interview with People, denied that she assaulted Ronnie.
"I did not hit him, I did not punch him," she told the magazine. "It was all recorded.
Jen also confirmed that the argument was sparked over the death of the dog. She told the magazine that when she went to the home she shares with Ronnie, she found her dog missing, as well as Ronnie's dog.
"[Ronnie] informed her that her dog had drowned in the pool and he had taken to get it cremated," People reported, adding that Jen "says she is baffled as to how this could have occurred since her dog could swim perfectly."
A source told People, "[Ronnie] grabbed his dog and put him in a safe spot. Jen thinks he drowned her dog and went crazy trying to find him. She went on a rampage."
The Ashley will continue to update this story as more info becomes available…
(Photos: Instagram, MTV)