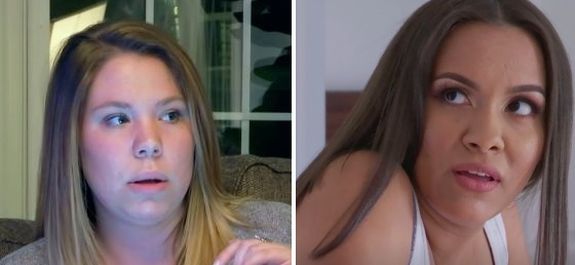 Kail Lowry predicted earlier this month that she would "throw hands" at the Teen Mom 2 Season 8B Reunion taping, and The Ashley can confirm that's exactly what happened!
The Ashley can exclusively report that a fight broke out on Saturday during the taping between Kail and her nemesis Briana Dejesus (and Bri's sister Brittany)! The Ashley's source tells her that the set quickly erupted in chaos, thanks to the "Jerry Springer Show"-esque brawl.
Details of the fight are still murky, as it just happened, but The Ashley's sources tell her that all of the 'Teen Mom 2' girls (except Jenelle Evans, who boycotted the reunion) were coming out to the stage to talk to Dr. Drew Pinsky when things got crazy.
"Briana was the last girl called to the stage, and she came out and went right at Kail," one source told The Ashley. "Briana's sister Brittany DeJesus was on set too and she jumped in and got in Kail's face. They started swinging at each other and Kail was motioning to Bri to 'Bring it on!'
"There had been a lot of back-and-forth instigation on both ends before the girls got on the stage," another person tells The Ashley. "That's why Bri came out ready to fight."
The Ashley has been told that no punches were there landed but there was hair-pulling.
"Everyone else that was on stage scattered to get out of the way," the first source said. "Even Dr. Drew ran out of there."
"Chelsea [Houska] was super-upset by it all," one person on set tells The Ashley. "She's pregnant and was worried that she would get caught up in a fight, and that's exactly what happened."
As The Ashley has previously reported, Kail and Briana have been at each other's throats (online, anyway) for months. Things became heated between the girls after Briana started dating Kail's ex-husband Javi Marroquin, and almost came to a head during the last Reunion taping in October 2017. This is the first time (to The Ashley's knowledge) that things between Kail and Bri have gotten physical, though.
On Twitter, Jenelle gloated that she was able to stay home and avoid the drama.
"So glad I stayed home from NYC this weekend with my babies," she wrote. "Too much drama! #CalledIt"
UPDATE! A behind-the-scenes source tells The Ashley that the stage brawl came after Kail supposedly tried to confront Briana privately backstage. (The Ashley hasn't been able to 100 percent confirm this yet.)
The source says that Kail went up to Briana when she was sitting backstage and there were no cameras around and basically challenged her to a fight.
"Bri acting like Kail was dumb for wanting to fight," the source said.
Security got wind of what was going on and rushed in, so things between the girls cooled…for a period, anyway. (The before and after of Kail's confrontation with Bri was filmed, supposedly.)
Nyc? pic.twitter.com/miGS7fV4vg

— Briana (@_BrianaDejesus) May 19, 2018
The entire cast– girls, guys, family, etc.– then headed to the stage to film a segment for the "Unseen Moments" special.
"Everyone was sitting on the stage and for some reason they put Brittany behind Kail on the couches," the source said. "They didn't have any security posted by Brittany. As soon as Briana came out, ready to fight, Brittany stood up and joined in. Kail turned around to get off stage and that's when Brittany yanked Kail's hair."
UPDATE #2: The Ashley has learned that 'Teen Mom 2' dad Jo Rivera fled the set after the brawl and is heading home.
"He said he was done with this crap and isn't filming the Reunion tomorrow," the source said.
The Ashley hears that Chelsea and Kail may follow suit and leave before filming the Reunion tomorrow as well.
The Ashley can confirm that the rumors that Kail was punched by Brittany are false.
UPDATE #3: Jenelle's husband David Eason posted his thoughts on the Reunion brawl to his verified Facebook page.
"IM SO GLAD KAIL GOT HER ASS BEAT!" David wrote. "That's what she gets for saying she would hit my wife! And why is Randy there calling tabloids?"
In a tweet that's most likely a response to what David posted, Kail verified that she was not punched.
I didn't get beat up. I didn't get hit. Reeeeeeeelax.

— Kailyn Lowry (@KailLowry) May 19, 2018
As The Ashley stated previously, all sources have said that no one was actually punched (although several of the girls did try to land some punches.) As far as The Ashley has heard, only hair-pulling actually took place– but it wasn't for lack of trying by either party!
Stay tuned– The Ashley will update this story as more details come in!
Media outlets must credit The Ashley and link back to this story.
(Photos: MTV)