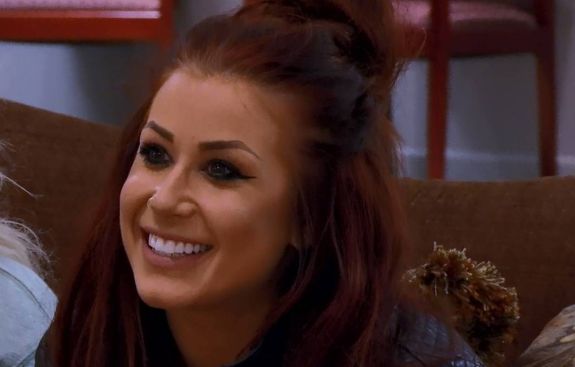 Chelsea Houska doesn't give a lot of interviews (unlike most of her Teen Mom franchise co-stars) but the Teen Mom 2 star did appear on Kail Lowry's Coffee Convos podcast on Friday. The interview was filmed in New York City where Kail, Chelsea and the rest of the 'Teen Mom 2' cast (well, most of them, anyway…) are in town to tape the Season 8B Reunion. (The interview was filmed by the 'Teen Mom 2' crew as well.)
The Ashley can confirm that, in the interview, which won't be available until next week, Chelsea chatted with Kail and her co-host Lindsie Chrisley about whether her marriage to Cole DeBoer is really as happy as it seems. Chelsea–who is currently pregnant with her third child— also talked about what she and Cole plan to name their daughter. 
While rumors have been circulating claiming to know what name Chelsea and Cole have chosen for their baby, Chelsea stated that the names out there are not correct. ('Member back when Chelsea was pregnant with her son Watson and various clickbait tabloids reported that Chelsea was planning to name her baby Randall, after her dad. The only problem? Chelsea's dad Randy Houska's full name isn't even Randall!)
Chelsea said the rumored names are not correct, and that she and Cole have only told a few select people (one of whom is Kail) what name they've chosen for their baby girl.
"We have a name but we're not announcing it," Chelsea said, adding that the baby's name does not end in "EE" like her daughter Aubree's name does.
"I don't want that," Chelsea said, clarifying that the "EE" names are not a Houska family thing, as some tabloids have stated.
"There's only one other [girl in the family with EE at the end of her name]. I have a niece who's Braylee."
Aubree's half-sister (born to Aubree's father Adam Lind and his ex Taylor Halbur) is named Paislee, but Chelsea said that was totally a coincidence.
She also revealed that her unborn daughter's name was not chosen so that it complemented her other kids' names.
"There's no name theme. I don't think [the names] match," Chelsea said, adding that she loves "unisex names."
Chelsea said she's thankfully had a much easier pregnancy this time around than when she was pregnant with Watson.
"This has been the easiest pregnancy," she said. "Aubree was super easy but with Watson I was huge and miserable. The third has been the easiest of them all.
"I'm almost 24 weeks and I'm due September 11," Chelsea added. "All of my babies have come early so my doctor doesn't think I'll make it to 40 [weeks]."
During the podcast interview, Chelsea also talked about her marriage to Cole. She confirmed that their marriage really is as good as it seems on TV. However, like any couple, they do fight…sort of.
"We don't have, like, big blow out fights," Chelsea said. (Unlike some of her 'Teen Mom 2' cast mates…)
"But we definetly bicker," she said. "Usually it's because I'm in a hurry and I'm late for everything, so I get really frustrated that he takes more time to get ready than I take to get ready and get the kids ready. He can be very pokey. Like, he'll be hanging around, having a snack and I'll be like, 'Let's go!'"
MTV producers shouldn't expect any on-camera marital drama from these two.
"There's not really anything really crazy," Chelsea said. "That's because he's very patient. I would say in the beginning he was more reserved, but [being with me] has changed him!"
The full episode of Coffee Convos featuring Chelsea will be up next week.
(Photos: MTV, Instagram)