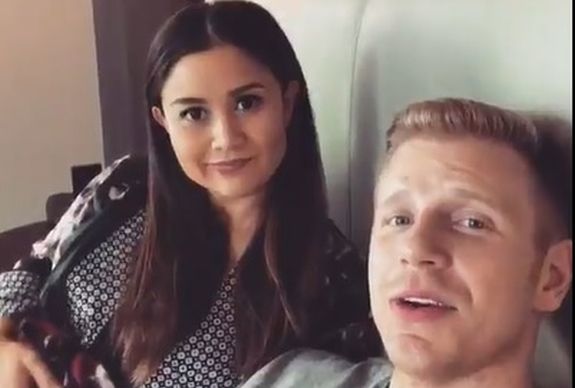 Yet another child owes his existence to The Bachelor franchise!
Former Bachelor star Sean Lowe and his wife Catherine (whom he chose on the finale of his season back in 2013) have welcomed their second child.
The couple announced on social media that their son, Isaiah Hendrix, was born on Friday. He joins big brother Samuel, who was born in 2016.
"Meet my boy Isaiah Hendrix," Sean wrote in the caption of a photo he posted to social media of him with his newborn son. "Thank you Lord. And thank you to everyone who has wished mama and baby well."
In the days leading up to Baby Isaiah's birth, Sean showed off his awesome sense of humor on Twitter.
"Did a poor job setting expectations with Samuel. That's why I'm setting the tone right away with this next kid by selling baby's first photo to a tabloid," Sean joked. "No more free rides at the Lowe house."
"Every time Catherine and I encounter a bump in our marriage (as all married couples do), I just remind myself that our marriage is built upon the most solid of foundations– a reality TV show," he tweeted.
Even after the baby's birth, Sean posted a few hilarious tweets.
"Catherine is laid up in the hospital bed recovering from the C-section procedure which has left her extremely sore and exhausted," Sean wrote. "So naturally I asked her if we could start working on baby number 3 tonight. I think the pain meds have affected her sense of humor."
To date, Sean is the only 'Bachelor' who is still with his original pick from the show, and is the only one who ended up getting married to the girl he proposed to on the show. (This is not counting couples from The Bachelorette and Bachelor in Paradise, though.)
See the cute first photo of Catherine with Baby Isaiah below.
(Photos: Twitter, Instagram)