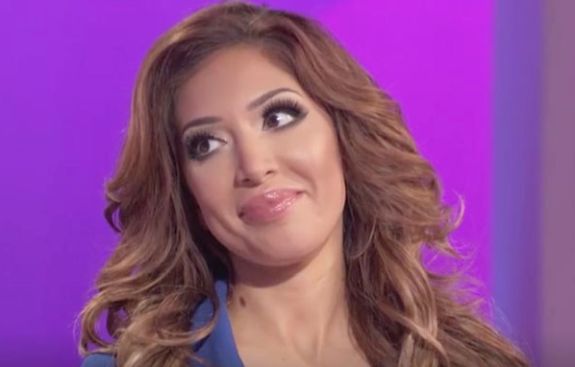 Just when you thought Farrah Abraham couldn't get any more shameless….here we are.
The cringe-inducing former Teen Mom OG star made headlines earlier this week when she flashed her assorted lady parts to the world while walking a red carpet at a Cannes Film Festival fashion show. Although it was labelled a "wardrobe malfunction" a new video shows that the crotch-flash was pre-planned and orchestrated by Farrah and a photographer!
A new video posted by The Blast on Friday shows Farrah sitting at the fashion show, eagerly awaiting the moment when those pesky models would finish up and she could show her sausage-gobbler to the world (again). Her first attempt at showing off her parts was unsuccessful, so she hilariously tried it again and got the literal money shot.
Allow The Ashley to narrate for you:
We see the "Backdoor Teen Mom" sitting front and center at the fashion show. She's looking classy (for once) and has conveniently taken the seat at the end of the front row to ensure that the cameras will have a good shot of her…all of her.
As the models walk down the red carpet, Farrah poses for some "unposed" shots, showing her gleefully laughing with the lady and man next to her (who never actually even talk to Farrah), modeling with a champagne glass and pretending to care about the fashion.
She gets a distressed look on her face, as it appears that the photographer informed her that the young girls who have dared to stand next to her are blocking the camera's view of her and her crotch. (Oh, the horror!)
Farrah shoos the girls away like the peasants that they are, and is once again back to smiling for the carefully placed cameras.
Farrah watches a model walk down in a dress and gives her a once over (surely thinking of how much better she would look in that outfit). The photographer zooms in on Farrah's leg area, hoping to discreetly catch some of her nether regions in the shot but has no luck.
She sets down her prop champagne glass and prepares to show the world her "front door." (Why should her "back door" get all the fame!?)
Once the models have moved out of her way, Farrah gets the signal from the photographer and randomly stands up in front of the carpet to make it look like she was actually walking it herself. (It's really out of place, and some of the people around Farrah give her a "WTF?" look.)
She sticks her leg out and tries to tug her dress to the other side to show off "the goods" but, unfortunately, her dress gets caught and is still covering her snatch goblin. (Don't you hate when that happens when you're trying to flash your nether regions to the world?!)
Then, those pesky models come back, so Farrah has to sit down to let them pass. She's not happy, but she's determined to get the job done, so she stands up a second time.
This time, Farrah is a woman on a mission. As soon as she stands up, she grabs her dress and yanks it to the side, giving the photographers a great crotch shot. The people behind her can't see that she's lifted her dress, but are still staring at her because it's weird that she turned a fashion show into her own personal photo shoot.
The two girls she shooed away, though, realize what Farrah's doing and are seen snickering at the 'Teen Mom' cast-off's shamelessness.
With her vagina successfully photographed, Farrah sits down, satisified with a job well done!
Watch the hilarious footage by clicking here! 
(Photos: MTV, Instagram)