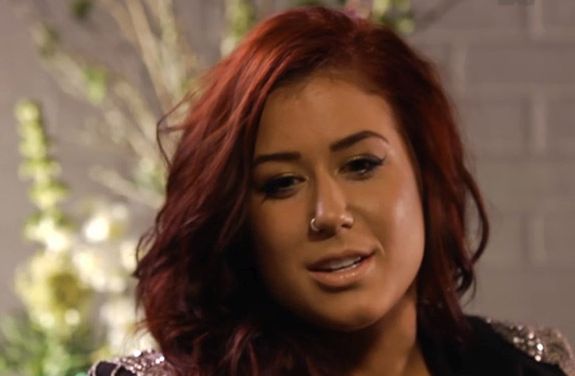 Chelsea Houska told MTV "peace out" on Sunday morning, opting not to film the Teen Mom 2 Reunion because she was appalled by events that unfolded on-set the day before.
The Ashley can report that Chelsea refused to go to set on Sunday, due to the on-stage brawl that erupted on Saturday between Brittany and Briana DeJesus and Kail Lowry. Chelsea, who is pregnant, was "very upset" about what happened the day before, since she was essentially caught in the middle of the altercation on stage. (According to The Ashley's on-set sources, Chelsea was heard several times expressing her concerns to numerous crew and cast members about something physical happening on stage before going on set on Saturday.)
After the chaos erupted on Saturday, Chelsea and her crew left the set and did not return.
"[The producers] tried to convince Chelsea to come on Sunday, but she still refused," the source added.
"Chelsea had been promised by the producers that precautions were being taken to ensure no fights broke out and that she would be safe," the crew source tells The Ashley. "That's what she was saying as she left the set on Saturday. She was angry that MTV basically set it all up to happen this way."
Having Chelsea refuse to film segments for the Reunion special has led to a dilemma for MTV, who already had to figure out a way to include Jenelle Evans in the Reunion. (As The Ashley previously told you, Jenelle did not go to New York City for the Reunion because MTV refused to allow–and pay for– her husband David Eason to attend with her.)
The Ashley has learned that, as of right now, MTV is planning to fly Dr. Drew Pinsky out to North Carolina to film Jenelle's Reunion segments. From what The Ashley has heard, Dr. Drew will head out to "The Land" to talk to Jenelle about this season. (Plans are still not finalized, so The Ashley can't 100% confirm this part yet.)
"Chelsea told producers that if they can make those kind of accommodations  for Jenelle, they can do the same for her and figure something out," the production source said.
As The Ashley told you Saturday, another cast member–Jo Rivera–was so appalled by the fight that broke out at the taping, he left to go back home and also refused to film anymore.
(Photos: MTV, Instagram)