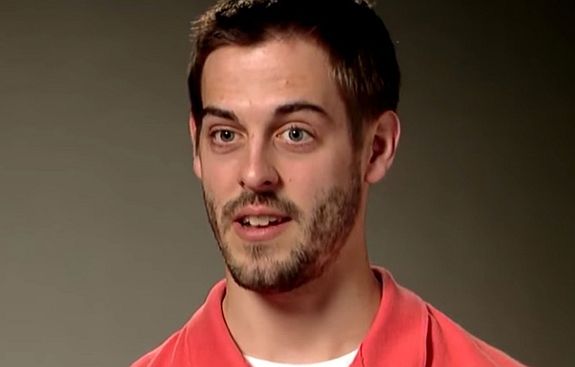 Former Counting On star Derick Dillard once again hit Twitter to express his negative views on reality TV shows that star transgendered individuals.
The husband of Jill Dillard— who has, over the last year, slammed the LGBTQ community in various Twitter rants– retweeted a tweet posted by TLC promoting the new show Lost In Transition. He also added his own comments to the tweet, implying that people who are transitioning are mentally ill.
"I really hope this is a series showing the devastation that mental illness causes, rather than assuming that these challenges are simply evidences of an improving society. #optimism," he tweeted. (Basically: he's saying that he hopes 'Lost In Transition' doesn't make the act of transitioning look 'normal' or 'OK.')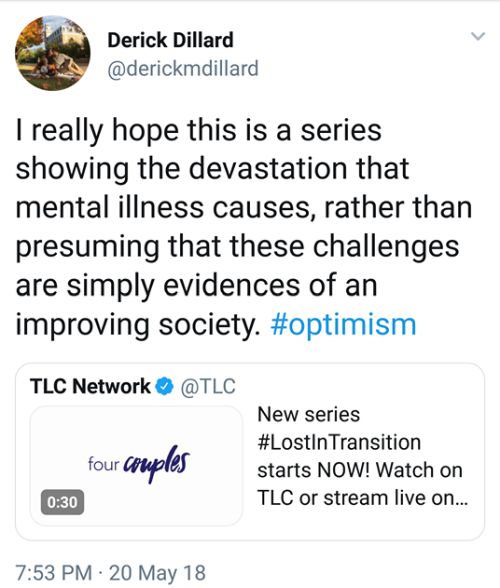 Derick later deleted the tweet.
'Lost in Transition,' which premiered on Sunday, follows four wives who have just found out that their husbands plan to transition.
"Told from the wives' point of view, the series examines the confusion, anger, disappointment, and uncertainty that each couple goes through," the show's website reads.
The Duggar son-in-law has made it clear that he does not approve of reality TV shows that showcase LGBTQ families. Last month, he attacked another TLC reality show, calling designer Nate Berkus's new show Nate & Jeremiah By Design (which features his husband, Jeremiah Brent and their daughter Poppy) "a travesty of family."
"[Their lifestyle] affect(s) this poor child, as well as what perversions are celebrated," Derick wrote. "If it were adultery, I doubt a network would be so quick to focus on the reality of it as if it were OK."
Derick's Twitter-bashing of Jazz Jennings (who stars on I Am Jazz), appeared to be one of the reasons that TLC discontinued filming with him last year. However, Derick has always maintained that he and Jill made the decision to remove themselves from 'Counting On.'
Despite her husband's outspokenness regarding the LGBTQ community, Jill has remained relatively silent on his outbursts, as well as her own feelings on the topics Derick has tweeted about. Earlier this month, however, she did post a message to Instagram that seemed to be related to the controversy surrounding Derick.
"To disagree doesn't = hate, or judgement Love doesn't always = approval," she wrote in the post. "Just because I disagree with my child on something doesn't mean I hate him, and just because I love and forgive him doesn't mean I approve of everything he does. You can be friends with, love and care for people you don't agree with 100%."
(Photos: TLC, Twitter, Instagram)