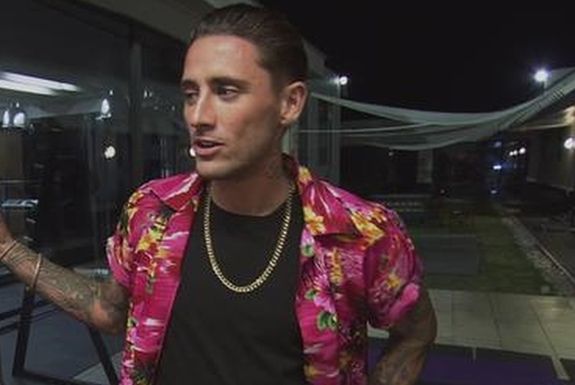 Nearly a week after Georgia Harrison of The Challenge slammed her ex and former co-star Stephen Bear for allegedly filming and sharing an intimate video of her without her consent, Bear has fired back with explanations, denials and now, an alleged breakdown.
On Sunday, Bear posted a video that had followers either concerned for his wellbeing or convinced he was just trying to gain their sympathy.
In the video, Bear gets emotional while saying he "just wants to make people happy, but it's never good enough." He also mentions "voices in my head" and claims he's been given medication but is "not going to take it." Towards the end of the clip, he apologizes to "anyone who's ever loved [him]." The video goes on for about a minute and a half.
(The Ashley wants to issue a Trigger Warning here; the video below may be disturbing to some.)
"The only time goodbye is painful is when you know you'll never say hello again," he captioned the clip.
Fans were both disturbed and concerned, as well as wondering if Bear was just trying to get sympanthy.
"If this is fake… you need help! If this isn't fake… you need help!" one person wrote in the post's comment section.
"Is this video genuine? My gut says, no," another person wrote. "Does he need help? Yes. He's definitely not wired right. Do I think he's going to try and use mental health as part of his defense case? Yes. I hope Bear gets the help he needs. I also hope Georgia gets the justice she deserves."
Some of the comments questioning the authenticity of Bear's video pointed out a disturbing video that Bear had posted days before, in which he "joked" about doing "the ultimate narcissist move" of faking his suicide in order to "make everyone feel sorry for [him]."
Over the weekend, Bear issued an "official statement" on Instagram, thanking those who have supported him publicly and privately. (He did not specifically mention Georgia or her recent claims against him, though.)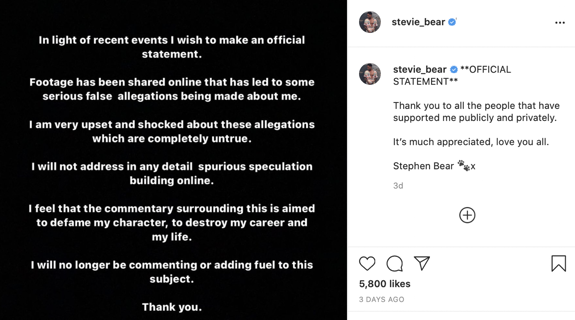 "In light of recent events I wish to make an official statement," he wrote. "Footage has been shared online that has led to some serious false allegations being made about me. I am very upset and shocked about these allegations which are completely untrue. I will not address in any detail spurious speculation building online. I feel the commentary surrounding this is aimed to defame my character, to destroy my career and my life. I will no longer be commenting or adding fuel to this subject."
Meanwhile, Bear also revealed this weekend that his visa had been "sorted" and he was getting ready to view some apartments in preparation to make "some serious moves over in Dubai."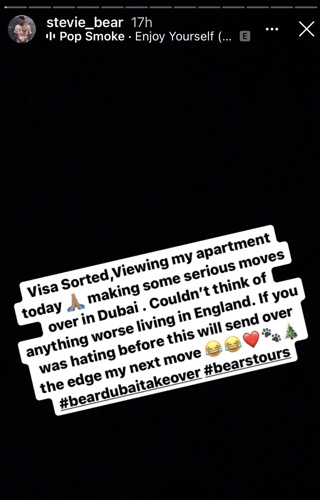 "Couldn't think of anything worse than living in England," he added. "If you was hating before this will send you over the edge my next move."
Georgia, who just happened to be in Dubai at the same time celebrating her birthday, went on to call out Bear (presumably) on Instagram for being a "f**king stalker."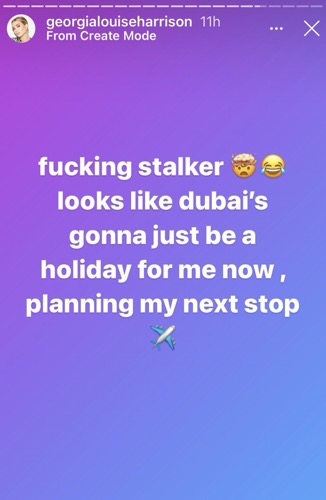 "Looks like Dubai's gonna just be a holiday for me now, planning my next stop," she added.
Bear has not posted to social media since, and has not issued any additional comments.
RELATED STORY: 'The Challenge' Star Georgia Harrison Claims Stephen Bear Secretly Filmed Intimate Video of Her; Bear & Another One of His Exes Respond (Updated!)
(Photos: MTV; Instagram)