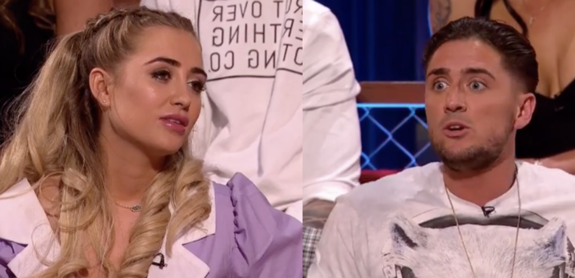 UPDATE! Bear has responded (via plenty of rambling Instagram Lives) to Georgia's claims. Scroll to the bottom for the latest update!
Georgia Harrison of The Challenge is slamming her ex and former co-star Stephen Bear for allegedly filming and sharing an intimate video of her without her consent. She also claimed that he shared the video on his Only Fans page without her knowledge or consent.
The allegations were made Monday in a series of Instagram Story posts in which Georgia ultimately threatened to have Bear sent to jail.
Georgia initially took to her Instagram Story to ask her followers if they believed the punishment for revenge p0rn was worse if the footage was filmed without an individual's consent.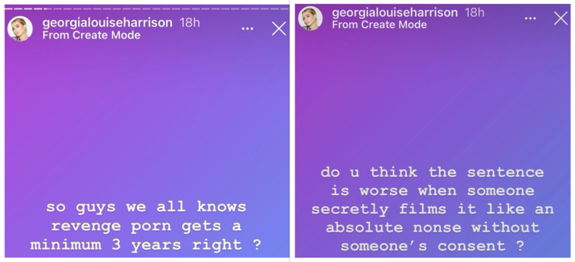 "So if an ex was to film me on a hidden camera in an environment where I felt safe and then sent it to people … that's gotta be a heavy stretch pending surely," she added, along with a bear emoji.
Georgia went on to call Bear out by (first) name as her posts continued, alleging that the reality TV star used the closed-circuit television (CCTV) – primarily used for surveillance cameras – in his home to record footage without her consent. According to Georgia, Bear "acted like he forgot the cameras were there."
Though she hoped Bear would do the right thing, Georgia accused Bear of showing the video to people, leaving her no choice but to go public about the situation.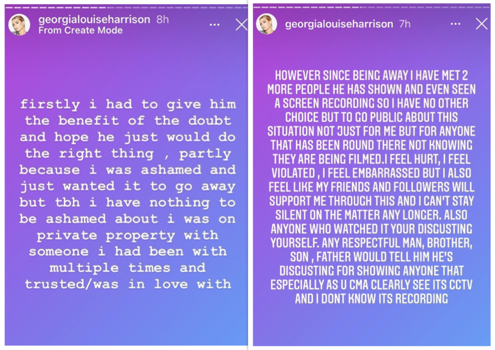 "Firstly, I had to give him the benefit of the doubt and hope he just would do the right thing, partly because I was ashamed and just wanted it to go away but tbh I have nothing to be ashamed about I was on private property with someone I had been with multiple times and trusted/was in love with," she wrote.
"However, since being away I have met 2 more people he has shown and even seen a screen recording so I have no other choice but to go public about this situation not just for me but for anyone that has been round there not knowing they are being filmed.
"I feel hurt, I feel violated, I feel embarrassed but I also feel like my friends and followers will support me through this and I can't stay silent on the matter any longer," she continued. "Also anyone who watched it you're disgusting yourself. Any respectful man, brother, son, father would tell him he's disgusting for showing anyone that especially as you [can] clearly see it's CCTV and I don't know it's recording."
After seeing a video of Bear, presumably indulging in an adult beverage, Georgia posted a video encouraging her War of the Worlds and War of the Worlds 2 co-star to enjoy his drink, as he won't "be allowed to drink beer for a long time."
Georgia speaks out against Bear.. can't believe he did this to her. 🥺💔 pic.twitter.com/9lDqF7AnQv

— The Challenge Double Agents (@TheChallenge36_) December 7, 2020
" … You are going to go to jail for what you've f**king done," she says. "I have protected you for so long, been so nice to you. You would've been better off ringing me up, apologizing and begging for forgiveness. Not only because you know I'm weak, you know I'm weak and you know I didn't want to have to do this and I would've took that down.
"Not only have you shown three people on your phone – boys that you're not even that close with – but I've got screenshots of where you posted it … screenshots of where you used a video of me on a camera that I didn't know was there to make money on your cheap OnlyFans website," she continued. "This is the last time you violate a woman this way. So enjoy that beer, mate, because you are in big trouble."
Georgia followed up her video with another – this one of herself crying, believed to have been filmed prior to Monday – as well as a post calling out OnlyFans for allowing these sort of videos on their site.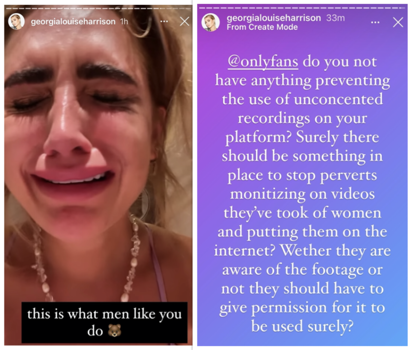 "OnlyFans do you not have anything preventing the use of unconcented recordings on your platform," she asked. "Surely there should be something in place to stop perverts monetizing on videos they've took of women and putting them on the internet? Whether they are aware of the footage or not they should have to give permission for it to be used surely?"
Later that day, Bear took to social media to respond to (and ultimately deny) the allegations against him.
Bear responds to the allegations against him. pic.twitter.com/QTjHbftFlk

— The Challenge Double Agents (@TheChallenge36_) December 7, 2020
According to Bear, he hasn't been with Georgia since the two of them were in Thailand two years ago and those claiming to have seen the alleged CCTV footage of the pair are "complete liars." Bear asked his followers to send him the video in question because the video he believes Georgia is talking about is "clearly not her."
Towards the end of his response, Bear announced he was taking a break from social media "for a few days" for his own mental health. As of Tuesday, however, he was still active on Instagram.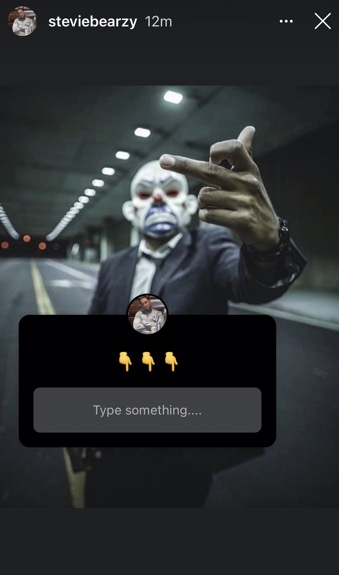 Georgia told her Instagram followers on Tuesday that she wasn't able to sleep well the night before with everything going on. She also posted a message to anyone sending "the creepy video Bear filmed without consent and sold online," asking that they think about their sisters, mothers, daughters and girlfriends before passing the alleged video along.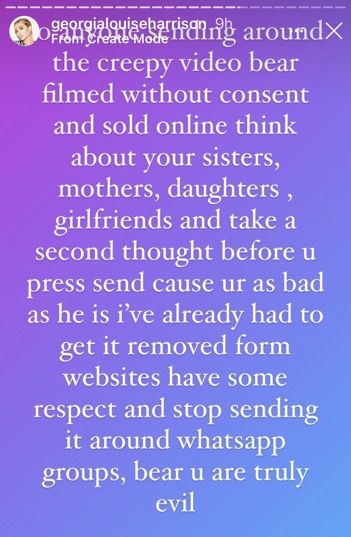 " … I've already had to get it removed [from] websites," she continued. "Have some respect and stop sending it around WhatsApp groups, Bear u are truly evil."
UPDATE: On Wednesday, Georgia took to social media to issue a warning to those sharing the alleged video (or images from the video) on Twitter.
i am no longer in a position to comment on the his situation but i will say anyone sharing the video and picture on twitter doesn't not have a right and will also be under investigation my pr team are documenting all of your accounts, thanks x

— Georgia Harrison (@georgiaharisonx) December 9, 2020
"I am no longer in a position to comment on [this] situation but I will say anyone sharing the video and picture on twitter [does] not have a right and will also be under investigation my PR team are documenting all of your accounts, thanks x," she wrote.
UPDATE! Bear took to Instagram Live on Monday to talk about all the mean messages he's received on social media since Georgia made her claims. He stated that he's received death threats, but doesn't appear to be too worried about them…or about going to jail.
"I'm not going nowhere," he told his followers. "And I never will go anywhere. I'm gonna be here forever…I make things happen. I'm a mover and a shaker, baby!"
He is, however, upset that his Only Fans account— and the revenue it's generated— has been frozen, due to Georgia's claims.
"I got informed today that, like, $72,000 is being withdrawn…it's under question. My Only Fans account has been frozen over some dumb accusations," he said. "Another $72 grand I'm not gonna see. I've got to make a new plan how to get all my subscribers back."
Something is seriously wrong with this man … pic.twitter.com/UjHdz135AA

— Kristie Lee 🖤⚓ (@krislee__242) December 8, 2020
He then alluded to the fact that he's the victim in this situation.
"When you're doing well, people try to shoot you down," Bear said. "That is life…people crave your downfall. But with me I'll never be down. I'll never let anyone get me down."
He then commented on "the videos" (which we can assume are references to Georgia's Instagram videos).
"Drama queen, have you seen the videos? My god…" he says, before stating that he feels she should apologize to him.
"I want an apology," he said. "That's about it."
He then mocked the video Georgia posted of herself crying.
Now he's mocking Georgia & …. Did he say he would fake his death …. ????? pic.twitter.com/zKebJwF27Q

— Kristie Lee 🖤⚓ (@krislee__242) December 8, 2020
After Georgia and Bear posted their videos, another one of his ex-girlfriends came forward. The woman was dating Bear when he was arrested May 20 in the UK on suspicion of actual bodily harm, allegedly following an argument with her.
After screenshotting some news articles about Bear's arrest, the woman provided her thoughts on the situation, and gave insight on what it was like to date Bear.
"He really should be sectioned because he's not well and has no remorse for anything he's done," the woman wrote on Instagram stories.
(Just FYI, "being sectioned" is a term used in the UK for people being held in a hospital under the Mental Health Act because you are believed to be a danger to yourself or others.)
"[He] finds everything funny and should come with a warning," she wrote, before writing about her time as Bear's girlfriend.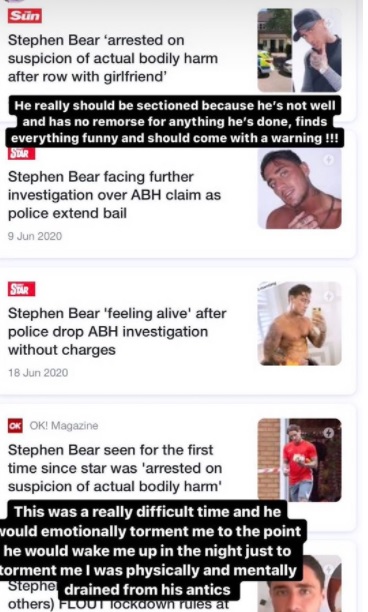 "This was a really difficult time and he would emotionally torment me to the point he would wake me up in the night just to torment me," she wrote. "I was physically and mentally drained from his antics."
The Ashley will continue to update this story as more info becomes available.
RELATED STORY: 'The Challenge' Star CT Tamburello Admits in New Video Clip That He's Separated From His Wife Lili Solares: "Marriage Was Not Going Well"
(Photos: MTV; Instagram; Twitter)