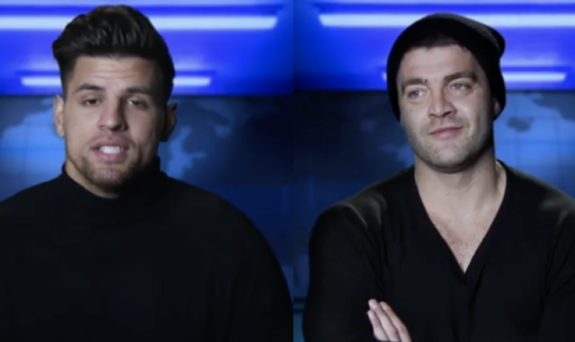 After a less-than-stellar exit from The Challenge: Double Agents, it appears that Fessy Shafaat is still trying to make a name for himself in 'The Challenge' world – this time by challenging one of the show's veterans to a boxing match.
On Sunday, Fessy announced on Instagram that he wanted to take his issues with CT Tamburello from 'The Challenge' house to the boxing ring, sans security.
"I know y'all want to see CT and I put some gloves on and go at it without no security in the middle," Fessy said in his now-deleted post. "Let's make this happen. Let's see who got it like that."
Fessy continued his cringeworthy coaxing.
"Y'all think you can beat me in a physical elimination then come take a go at me in the ring and throw them hands," he wrote.
Fessy said he wants to box CT oop pic.twitter.com/ijOWzAnyRQ

— Jay (@jaychallenge1) June 13, 2021
Fessy, who appeared on Big Brother prior to his 'Challenge' debut, said his first pay per view boxing match is set to go down next month against a Canadian 'Big Brother' player and after he "takes care of him," someone can set up his match with CT.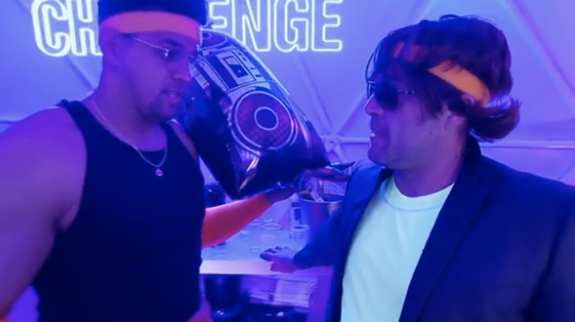 "I know y'all paying to see that," he added. "No more what if they faced off in a hall brawl. Let's not leave it in the hands of the 'Challenge' gods to see if we end up in a physical elimination against each other. Let's make it happen."
Fessy and CT nearly came to blows on 'Double Agents,' and Fessy has questioned the four-time 'Challenge' champ's skills on more than one occasion.
Given Fessy's track record on 'The Challenge,' many fans of the show were quick to call him out for wanting to face CT in a boxing ring.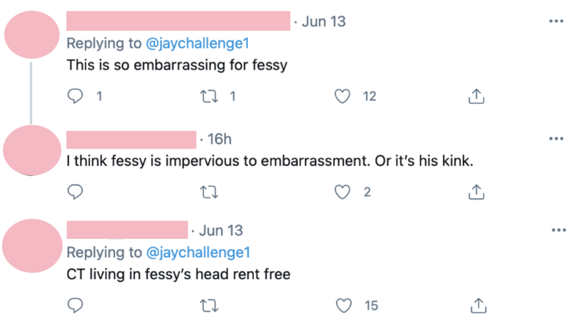 "This is so embarrassing for Fessy," one person tweeted, to which another added, "I think Fessy is impervious to embarrassment. Or it's his kink."
"CT living in Fessy's head rent free," another wrote.
One fan pointed out that there was "nothing really in this for CT," while another joked that CT – who hasn't responded to Fessy's comments, by the way – would never catch wind of Fessy's deleted post because unlike Fessy, he's still filming for 'The Challenge' at the moment.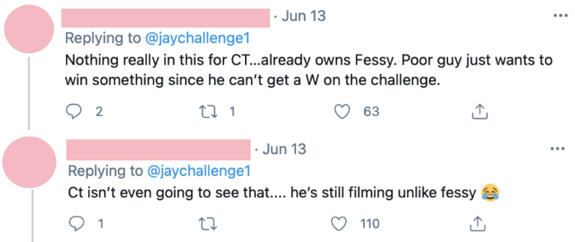 Unfortunately for Fessy, it doesn't look like too many people on Twitter are looking forward to that boxing match he has on the books for next month, either.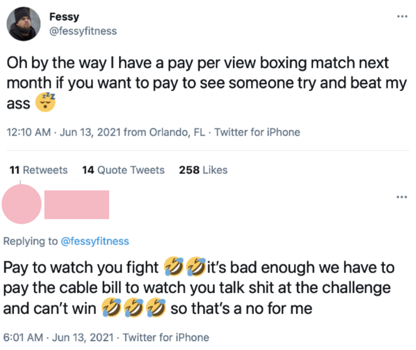 "Pay to watch you fight it's bad enough we have to pay the cable bill to watch you talk shit at the challenge and can't win so that's a no for me," one 'Challenge' fan responded to Fessy's tweet.
RELATED STORY: 'The Challenge' Champ Ashley Kelsey Welcomes First Child With NFL Boyfriend Kerryon Johnson: Check Out the Baby's Unique Name
(Photos: MTV; Twitter; Instagram)