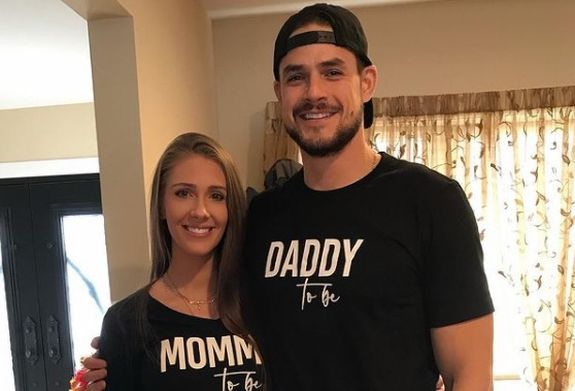 It's a boy for Jenna Compono and Zach Nichols!
The couple— who met while starring on MTV's The Challenge— welcomed their first child earlier this week.
Jenna and Zach posted to their Instagram accounts this week that Jenna's due date had come and gone, and that she was going to be induced on Thursday.
On Friday, Zach posted a photo of the hand of a baby— presumably the couple's newborn son— to Instagram Stories. They have yet to reveal the baby's name, but the couple did provide details of the birth to E! News.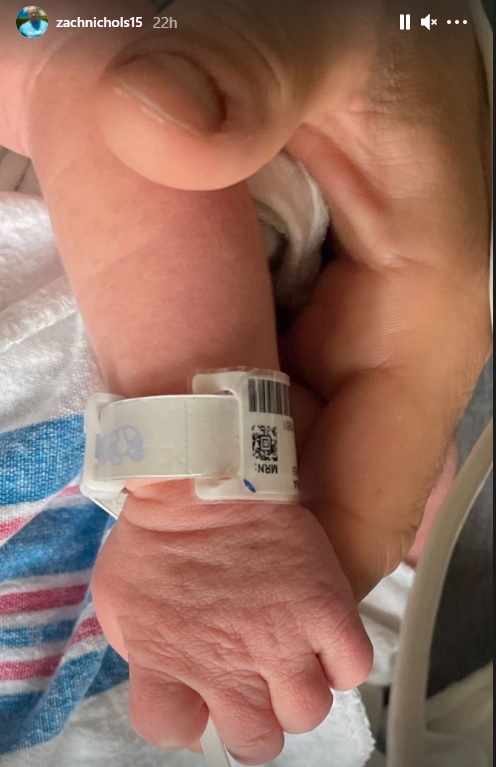 "Zach got to see him before me while he held my leg and watched him come out!" Jenna said. "But when he was put on my chest and we both got to see him it was amazing. We made this adorable little life. It's truly the best feeling ever. We haven't put him down once yet. We are completely obsessed."
Zach complimented his wife for handling pregnancy and delivery like a champ.
"There is nothing that Jenna has done thus far in motherhood that hasn't impressed me," Zach said. "She made pregnancy look easy. She barely skipped a beat. Watching her go into labor, and then deliver our son was the most impressive things I'll ever witness, and the happiest moment of my life.
"But if you were to ask me in August of 2014 if I thought that hot blonde I met in Panama with the delicious bum would one day be the one to make me a dad, I would've laughed in your face," he added. "But here we are with this amazing life and beautiful baby boy."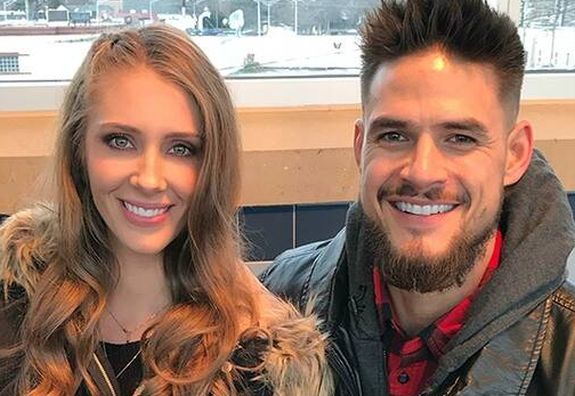 One day before the photo was posted, Jenna wrote on Twitter, "Having a baby tomorrow. Wild."
On Instagram, she wrote that she had been hoping to go into labor naturally.
"It has been a crazy journey and a long 41 weeks, tomorrow is the day I get induced at 4PM!" she wrote. "I gave myself some time to go into labor naturally because I am at 5cms walking around fine with zero contractions. My doctor and I made the decision weighing the pros and cons of MY situation and pregnancy thus far, and that's what we decided! Wish us luck tomorrow!"
The couple has been married since March, when they wed in a small ceremony in a church in Zach's hometown of Brighton, Michigan. One month before the wedding, Jenna and Zach announced that they were expecting their first child, and that they decided to put baby-making ahead of their wedding after their nuptials were postponed due to COVID-19.
They were originally scheduled to get hitched on February 13, 2021 but decided against having a big wedding due to the pandemic. They have stated that they plan to have a larger celebration eventually.
"After our wedding was postponed, we decided to start the next chapter of our lives. It really wasn't a hard decision for us, we were both super excited and ready," Jenna wrote in her Instagram baby announcement. "Luckily, we were fortunate enough to get pregnant on our first try and have had zero complications regarding my first trimester."
Jenna has stated that she hopes they will have seven kids total.
The couple has dated on and off since meeting on the "Battle of the Exes 2" season in 2014. Zach last appeared on the "War of the Worlds 2" season in 2019, while Jenna's last appearance was "Total Madness" in 2020.
RELATED STORY: 'The Challenge' Stars Jenna Compono & Zach Nichols Marry in Small Ceremony After Having Their Wedding Postponed: See the Wedding Photos!
(Photos: Instagram)