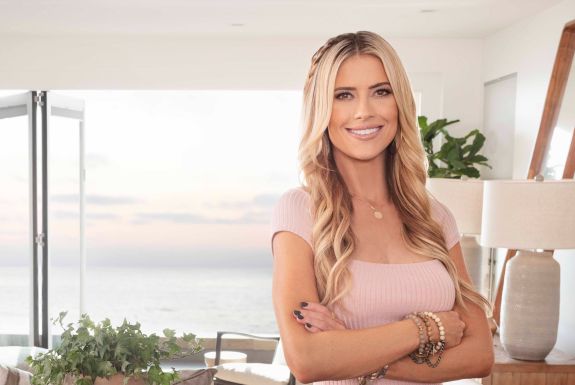 Life has been busy for Christina Haack. After the second season of her solo HGTV show Christina on the Coast ended she not only split from her husband Ant Anstead (hence the name change from Christina Anstead), but also put her gorgeous Newport Beach home up for sale according to TMZ. Plus, five new episodes of Flip or Flop with ex Tarek El Moussa dropped on April 29.
If you can't get enough of Christina's mug, you're in luck, as the third season of Christina on the Coast is set to premiere on Thursday, June 3.
The 14 new episodes, which HGTV refers to as a docuseries rather than a home design show, will see Christina creating homes and memories for not only clients, but her own family as well. This includes her daughter Taylor's birthday party and the wedding of her best friend, Cassie.
This season will get personal with Christina and the struggles and challenges she faced. Viewers will not only get to see more of a focus on her SoCal design business, but they'll have a front and center view of Christina's busy personal life and her initiative in maintaining a healthy lifestyle.
Her 2020 book, The Wellness Remodel, co-authored with Cara Clark, was just the beginning. It was revealed on the premiere episode of Christina: Stronger by Design that she wants to open a wellness center in 2022.
"I'm determined to stay healthy and positive and move forward," Christina said in the announcement for the new season. "I'm going to take this time for a fresh start, and there's a lot of new things I want to do now."
Among those new things are designing a glass beachfront home in La Jolla, giving a facelift to a beloved modern hacienda, and even throwing in a sauna and custom bar. The projects and renovations Christina will take on in the third season of Christina on the Coast are personal and extravagant, according to an HGTV press release.
"Flipping houses was just the beginning for me," Christina said in a statement. "I've got a growing design business with an amazing team. And three kids that definitely keep me on my toes."
The new season of 'Christina on the Coast' premieres next month on HGTV, HGTV and Discovery+.
RELATED STORY: Ant Anstead Finally Talks About His Surprise Split from 'Flip or Flop' Star Christina Anstead: "Everybody Knows This Was Not My Decision"
(Photos: HGTV; Instagram)