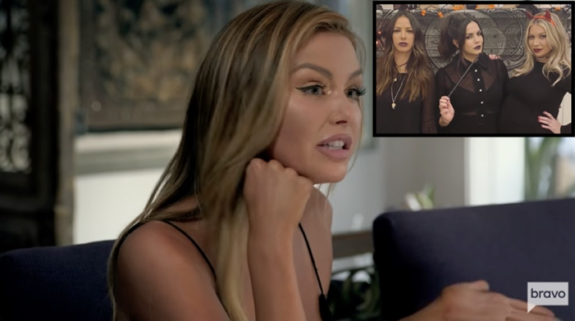 As filming for Season 9 of Vanderpump Rules began this week, new mom Lala Kent officially released her memoir, Give Them Lala, which features some stories from her early days at SUR, including the co-stars (both current and former) who gave her a less-than-warm welcome.
In excepts from the memoir, according to Reality Tea, Lala reveals that her co-stars Stassi Schroeder, Kristen Doute and Katie Maloney were so cruel to her that she often used alcohol to help her deal with the formerly toxic trio's hatred toward her.
"Stassi, Kristen and Katie became the worst mean-girl trio ever, and it was three against one at all times," she wrote.
While Lala has been sober from alcohol since 2018, she admits to being "hammered" throughout her whole first season, stating that the booze made it easier to put up with her co-stars.
"Thank the Lord for alcohol, the only thing that helped me through each day with those girls," she wrote.
In her book, Lala touches on a lie her SUR co-workers/'Vanderpump Rules' co-stars caught her in shortly after her Season 4 debut regarding a suspicious "high-fashion modeling job" she claimed to have accepted in Italy. While Lala eventually admitted on the show that she was actually traveling to Italy for a vacation, the truth only garnered more judgement from some of the cast – something Lala claims only made her want to shock them more.
Lala claimed "the meaner" her co-stars became, the "wilder" she would act. In fact, she even revealed her decision to go topless (along with Faith Stowers) during the cast trip to Hawaii was motivated by that mindset.
As 'Vanderpump Rules' fans may recall, Katie was particularly bothered by Lala's topless swim in Hawaii. Though Katie didn't witness the incident, she argued on the show that it was disrespectful of Lala to take her top off in front of Katie's then-fiancé Tom Schwartz and the other male cast members that were present at the time.
Lala is on good terms with all of the 'Vanderpump' Mean Girls today, having recently joined Stassi and Katie for a girls' night out and introducing Kristen to her newborn daughter, Ocean, just last week.
RELATED STORY: 'Vanderpump Rules' to Begin Filming Season 9 Next Month: Who's In, Who's Out & How Production Is Making It Work
(Photos: Bravo; Instagram)