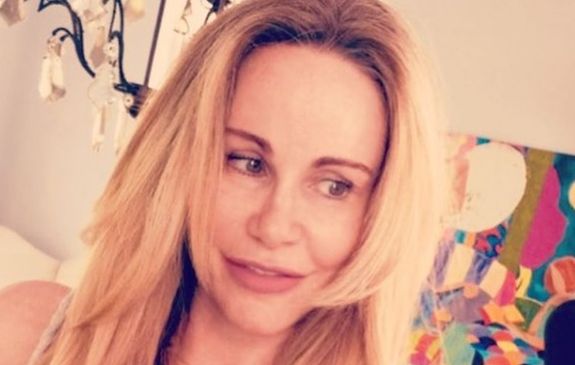 Tawny Kitaen—an actress who appeared on Celebrity Rehab with Dr. Drew and The Surreal Life— has died at the age of 59.
Best known for appearing in a series of sexy 1980s music videos, Tawny died in Newport Beach, California, on Friday. TMZ was the first to report her death, but a cause of death has yet to be released.
While Tawny appeared in a series of movies, music videos and TV roles, she began her reality TV career in 2006, when she appeared on the sixth season of VH1's The Surreal Life. During that season, she lived in a house with Alexis Arquette, Sherman Hemsley of "The Jeffersons" and other assorted entertainment industry folk.
Tawny struggled with substance abuse issues. In November 2006, she was charged with possessing 15 grams of cocaine that was found in her home. One month later, she entered a six-month rehab program to avoid a felony charge.
In 2008, Tawny appeared on the second season of Celebrity Rehab with Dr. Drew, where she stated she was addicted to cocaine, as well as the painkillers Demerol and Vicodin. After completing the season of 'Celebrity Rehab,' Tawny was one of the only cast members from that season to decline to move into the transitional sober living home that was filmed for the spinoff Sober House.
The following year, Tawny was arrested for DUI. She eventually pleaded no contest to misdemeanor DUI. She later appeared on Botched.
View this post on Instagram
In more recent years, Tawny was active on social media, and even was posting normally to her Instagram and TikTok on the day of her death.
While Tawny's cause of death has yet to be determined, it is interesting to note that she is the ninth person from 'Celebrity Rehab' to die, with four of those people being from Season 2. Rodney King and Jeff Conaway's addictions were contributing factors in their deaths, while their Season 2 co-star Nikki McKibben died of a brain aneurysm in 2020.
The remaining 'Celebrity Rehab with Dr. Drew' cast members who passed away after appearing on the show include Season 1's Joanie "Chyna" Laurer in 2016, and Season 3's Mindy McCready, Joey Kovar and Mike Starr.
In February, Tawny reunited with other 'Celebrity Rehab' alum on Dr. Drew's Dose of Dr. Drew.
View this post on Instagram
Back in 2013, Dr. Drew declared that he was "done" with doing 'Celebrity Rehab,' because he was tired of being blamed when one of the people who appeared on the show died.
"I'm tired of taking all the heat. It's just ridiculous," Dr. Drew said on a radio program that year. "To have people questioning my motives and taking aim at me because people get sick and die because they have a life-threatening disease, and I take the blame? Rodney King has a heart attack and I take blame for that?"
Dr. Drew has yet to publicly make a statement regarding Tawny's death. However, Tawny's daughters, Wynter and Raine, released a statement via their mother's Instagram on Saturday.
"We are heartbroken and saddened to announce the death of our mom," they wrote. "We just want to say thank you for all of you, her fans and friends, for always showing her such support and love. You gave her life everyday. We miss her and love her and know her legacy will live on forever."
View this post on Instagram
(Photos: Instagram)