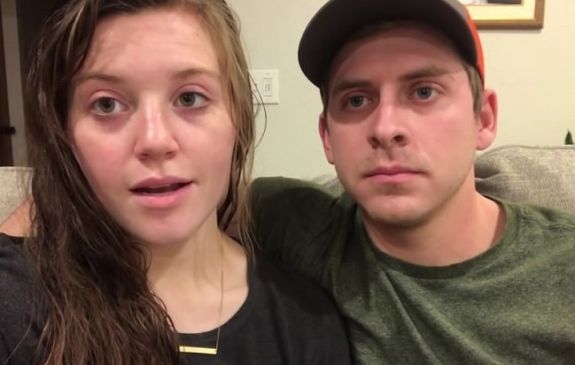 Joy Duggar Forsyth has broken her silence on her older brother Josh's arrest and the shocking charges filed against him.
Joy— along with her husband Austin Forsyth— released a statement on Saturday, just days after Josh was charged with receiving and possessing child p0rnography. To date, Joy and her sisters Jinger Vuolo, Jill Dillard and Jessa Seewald are the only Duggar offspring to speak out about Josh's legal ordeal, as Josh's other adult siblings have remained completely silent since his arrest last week.
In their statement, Joy and Austin told their Instagram followers that they are still trying to come to terms with what Josh is accused of doing, which is why they held off on releasing a statement after his court hearing on May 5.
"The recent accusations brought against Josh sadden us to our core," the Forsyths' statement began. "We have not wanted to be hasty in making any statements while still trying to process the news ourselves."
Joy and Austin— who are parents to three-year-old son Gideon and eight-month-old daughter Evelyn— stated they are "heartbroken" to face what the children forced into the child sex abuse industry go through. (Josh is accused of downloading child sex abuse material with young girls as young as 18 months old.)
"We are especially heartbroken by the reality that there are children in the world being harmed and exploited," the Forsyths' statement continued. "We ask for prayer for all those involved, and it is our continued prayer that the truth comes to light."
Back in 2015, Joy was exposed to be one of the four siblings Josh admitted to molesting when he was a teen. (He also admitted to inappropriately touching an unrelated young girl.) At the time of the molestation, Joy was only five years old.
Josh and Joy's parents, Jim Bob and Michelle Duggar— who, as you may remember, vehemently defended Josh back in 2015 when it was exposed that he had molested his siblings— released their statement on the official Duggar Family website after Josh's arrest. (Jim Bob and Michelle have been silent since Josh was charged and the accusations of his involvement with child sex abuse material went public.)
View this post on Instagram
"We appreciate your continued prayers for our family at this time," they said. "The accusations brought against Joshua today are very serious. It is our prayer that the truth, no matter what it is, will come to light, and that this will all be resolved in a timely manner. We love Josh and Anna and continue to pray for their family."
Anna has yet to speak out about her husband's alleged crimes; however, she did drive Josh to turn himself in to authorities, so it appears that she is once again standing by her man.
Josh is currently out on bail; however, he is not allowed to be around any minor children except for his own six kids.
RELATED STORY: Jim Bob Duggar's Sister Deanna Comments on the Case Against Josh Duggar; Amy Duggar Says She Regrets Appearing On Family's Show
(Photos: TLC; Instagram)