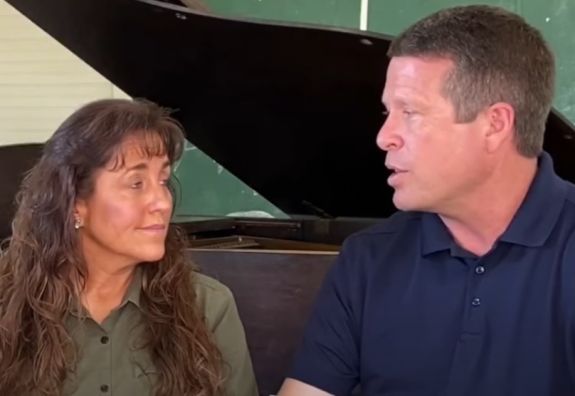 Jim Bob and Michelle Duggar have broken their silence on their eldest son Josh's arrest.
The Counting On stars released a statement one day after Josh was hauled off to jail by U.S. Marshals. On Friday, it was revealed that he has been charged with receiving and possessing child p0rnography, including images of minors under the age of 12.
Jinger and Jeremy Vuolo— Josh's sister and brother-in-law, respectively— also released a statement on social media, hours after Josh was charged.
Jim Bob and Michelle— who, as you may remember, vehemently defended Josh back in 2015 when it was exposed that he had molested four of his sisters and another young girl— released their statement on the official Duggar Family website.
"We appreciate your continued prayers for our family at this time," they said. "The accusations brought against Joshua today are very serious. It is our prayer that the truth, no matter what it is, will come to light, and that this will all be resolved in a timely manner. We love Josh and Anna and continue to pray for their family."
In a statement posted to their Instagram accounts, Jinger and Jeremy made it clear that they will not stand by Josh and that they are "disturbed" by what he's been charged with.
"We are disturbed to hear of the charges against Josh," the Vuolos' statement reads. "While this case must go through the legal system we absolutely condemn any form of child abuse and fully support the authorities and judicial process in their pursuit of justice."
View this post on Instagram
Back in 2015, Jinger confirmed that she was one of the sisters that Josh molested as a teen.
On Saturday, Josh's sister Jessa Seewald and her husband Ben followed Jinger and Jeremy's lead and released their own statement on Josh's charges. They specifically mentioned his charges in their statement. (Jessa confirmed in 2015 that she was also a victim of Josh's.)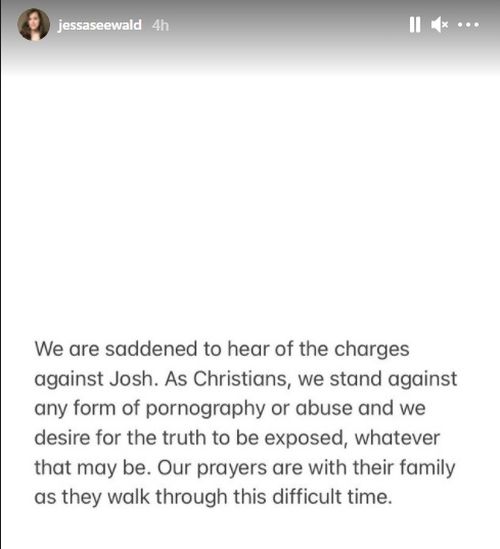 "We are saddened to hear of the charges against Josh," their statement reads. "As Christians, we stand against any form of pornography or abuse and we desire for the truth to be exposed, whatever that may be. Our prayers are with their family as they walk through this difficult time."
Josh's sister Jill Dillard also commented on the arrest. Jill— who is somewhat estranged from some members of her family and was also a victim of Josh's arrest on Thursday— told Entertainment Tonight, "We just learned this information. It is very sad."
Anyway, back in 2015, Jim Bob and Michelle sat down with Megyn Kelly to discuss Josh's molestation of his sisters when he was a teen. In the interview, the Duggars insisted that, after Josh had gone through counseling and treatment for his wrongdoings, he was no longer a threat to their children.
"Not at all," Jim Bob said when asked if he worried Josh would commit similar offenses. "No, Josh was a changed person."
At press time, Josh's pregnant wife Anna had yet to release a statement on her husband's arrest or charges. However, just a few days ago, she defended him against an Instagram troll and praised him for being a "diligent worker" who "provides well" for their family. Her Instagram bio still states that she is "happily married."
UPDATE! Josh's cousin Amy Duggar King has also addressed Josh's arrest and charges. In an interview with The Sun, Amy said she is "devastated."
"At the moment I have no comment to make. I'm kind of speechless, we just hope it's not true," she said…only to continue making comments.
"I spoke with several of my cousins after we heard about the arrest. We're in shock, but we don't want to think the worst of someone, you want to think the best. If it is true, it would absolutely devastate a lot of people," Amy said. "Everybody that knows Josh would be devastated. Just thinking about it makes me want to have a glass of wine right now."
"It breaks my heart. Family is family and I wish the best for everyone," she added.
To get live updates on Josh's case, click here!
(Photos: YouTube, Instagram)