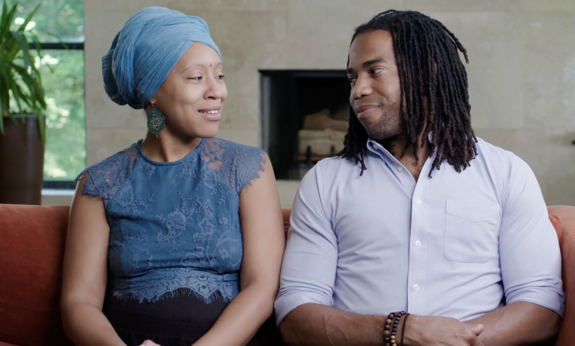 Seeking Sister Wife star Dimitri Snowden no longer has a restraining order against him, after a judge ruled his co-star and third wife, Christeline Petersen, did not have enough proof to back up her claims of domestic violence.
TMZ reports that not only was Dimitri's temporary restraining order dissolved, but the separate case involving Dimitri's first wife, Ashley Snowden, was tossed as well, as the judge found Christeline did not meet her burden of proof.
Christeline, whose relationship with the Snowdens is featured on 'Seeking Sister Wife' Season 3, filed a restraining order on the couple based on abuse she allegedly suffered "numerous times" over the past year.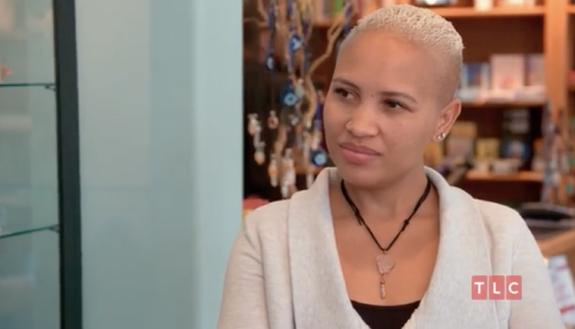 In court documents, Christeline detailed the alleged abuse she suffered at the hands of Dimitri, including an incident in January in which she claimed Dimitri woke her up by "slamming my head into the headboard of the bed" and yelling at her. Christeline said Dimitri had slammed her head into the headboard prior to the January incident and claimed physical abuse, including choking, occurred during sex. Dimitri reportedly countered those allegations this week by providing texts allegedly sent from Christeline, claiming she liked the choking.
Christeline claimed in the documents that Ashley had been physically abusive in January as well, allegedly shoving her to prevent her from leaving the home she shared with the Snowdens, throwing a bottle at her, being verbally abusive and calling her names. Christeline also said her children were afraid of both Ashley and Dimitri, due to their constant yelling.
Ultimately, the judge reportedly could not determine which party was telling the truth, and therefore tossed the case.
Dimitri and Ashley have remained quiet about the accusations on social media, however, Ashley has responded to a couple of positive comments from followers showing her some support. (She has also limited comments on her posts, as has Dimitri.)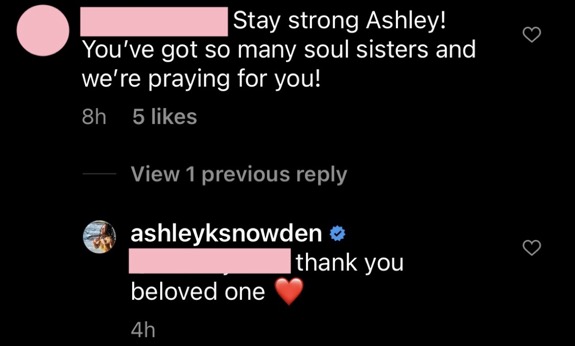 As The Ashley told you earlier this week, Vanessa Cobbs – the Snowden's former sister wife, who married the couple at the end of Season 2, only to part ways shortly after – has also stayed tight-lipped about the allegations against the Snowdens.
In the wake of Christeline's allegations, fans have begun speculating Vanessa's split from Dimitri and Ashely was not amicable as she and the Snowdens previously claimed. While she did not confirm anything, Vanessa liked a number of comments on a recent Instagram post regarding her experience with the couple and the real reason she left.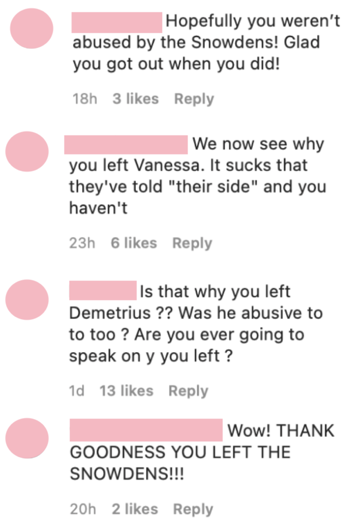 Vanessa also liked a comment from a fan speculating the reason why she was not speaking out about her relationship with the Snowdens or Christeline's recent claims.

"I don't think she can talk about it," a fan commented. "They probably signed a nondisclosure. I'm so happy you got out Vanessa!"
Possibly more telling than Vanessa's interaction with fans is the most recent post on her social media, which shows a heart drawn on the palm of a hand – an image many shared last year as part of the #YouAreNotAlone initiative.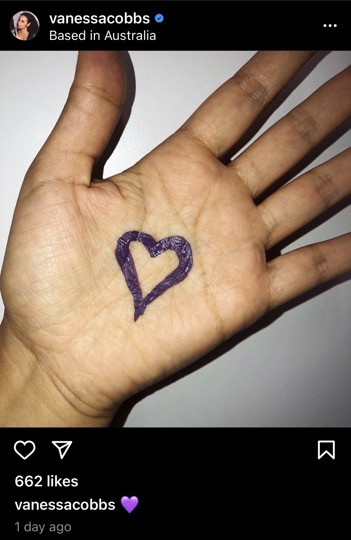 The public awareness campaign, which launched April 2020 in the UK, asked the public to show solidarity for victims of abuse by sharing a photo of a heart drawn on the palm of their hand.
RELATED STORY: 'Seeking Sister Wife' Stars Dimitri & Ashley Snowden Accused of Domestic Violence By Co-Star & Sister Wife Christeline Petersen
(Photos: TLC; Instagram)