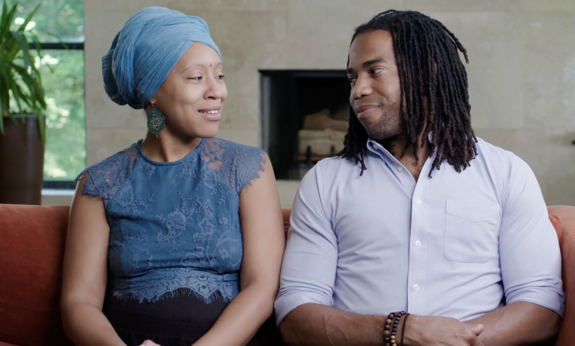 Dimitri and Ashley Snowden, stars of TLC's Seeking Sister Wife, have been accused of domestic violence by sister wife Christeline Petersen.
According to documents obtained by People, Christeline filed a restraining order against the couple in March, stemming from abuse she allegedly suffered "numerous times" over the past year.
As a result of the allegations, Christeline was granted a temporary restraining order against Dimitri. She was not, however, granted a temporary restraining order against Ashley due to the court reportedly needing more information on their relationship, though a protective order is to be addressed during a hearing this week.
Christeline appears on the currently airing third season of 'Seeking Sister Wife.' The mother of two, who is from South Africa, visited the Snowdens in Los Angeles for seven days to pursue a relationship with Dimitri (one that began remotely) to be courted as his potential second wife and Ashley's sister wife.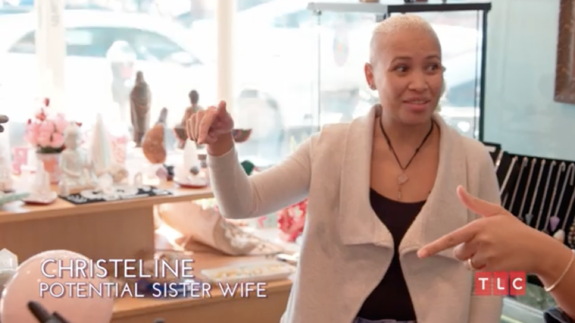 While it is unclear if Christeline ultimately moved to the U.S., she and her two children were staying with the Snowdens in January and she described Dimitri as her husband in the restraining order documents.
Those documents also detailed the alleged abuse she suffered, including an incident in January in which she claimed Dimitri woke her up by "slamming my head into the headboard of the bed and he was yelling at me."
Christeline said she filed a police report following this incident, though she claimed it was not the first time Dimitri allegedly slammed her head into the headboard. She also alleges that the physical abuse occurred during sex.
As for her sister wife, Christeline said Ashley was physically abusive in January, as well. In the court documents, Christeline claimed Ashley "shoved me to prevent me from leaving the home my husband and I shared with her." She claimed Ashley also threw a bottle at her, was verbally abusive and called her names.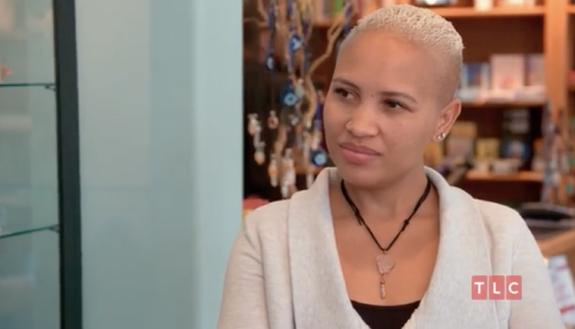 "My children are scared of her due to her yelling at them and the violence in the home between her and my husband and me and her," Christeline said of Ashley.
At the end of 'Seeking Sister Wife' Season 2, Dimitri and Ashley tied the knot with Vanessa Cobbs, only for Vanessa to announce on social media shortly after that she had "decided to part ways with the Snowdens."
The split between Vanessa and the Snowdens appeared to be amicable, however, in the wake of Christeline's allegations against the couple, fans have begun speculating otherwise. Fueling that speculation are some of the comments that Vanessa has liked on her latest Instagram post regarding her experience with the Snowdens and the real reason she left.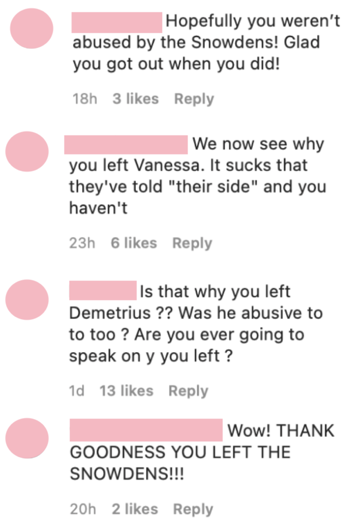 Neither Ashley nor Dimitri have disabled social media comments or made their pages private, but based on some of the messages fans of the show have been writing, we're sure it's only a matter of time.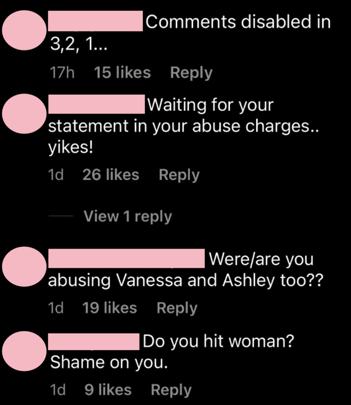 RELATED STORY: 'Sister Wives' Stars Mykelti Brown & Tony Padron Welcome Their First Child
(Photos: TLC; Instagram)