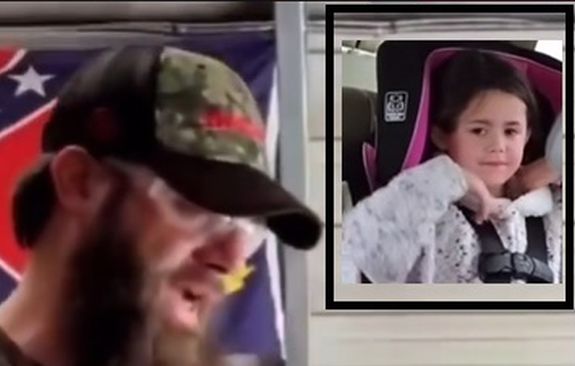 David Eason has dealt with plenty of animal abuse accusations over the past few years, but the latest accusations came from the former Teen Mom 2 dad's own four-year-old daughter while he was Live on TikTok– and David was not happy about it!
David, who has a history of killing his family's pets (most notably when he shot and killed his wife Jenelle Evans' dog Nugget in 2019), was filming himself and daughter Ensley in their chicken coop in a live video for TikTok when Ensley begged her dad not to kill any more of their baby chicks, as she said he recently did. David denied that he killed any animals, but then angerly threatened to smack the four-year-old in the mouth for saying what she said.
The video, captured by a fan who was on David's TikTok Live and sent it to The Ashley, begins with Ensley looking at the family's chicks. (You can watch the video below.)
"Remember you killed the baby chicks?" Ensley tells her dad. "Don't shoot them again again! Then I'll be so mad."
David seemed a bit caught off-guard by Ensley's accusation and asks her, "What?"
Ensley again repeats what she said the first time.
"If you kill them again I'll be so mad!" she says.
David begins to deny that he ever killed any of the animals.
"Girl you have lost your mind," he tells Ensley. "What are you talking about?"
Ensley sticks to her story, telling her Dad, "Yesterday you killed a baby chick."
David then starts to get angry, asking her, "Why, why would you say that?"
"Because you did!" Ensley tells him.
"No I did not!" David says before getting even more angry and telling his daughter, "I will smack you in the mouth!"
The video cuts out after that and Ensley is not heard again. (Obviously, The Ashley can't confirm or deny if David did, indeed, kill a baby chick as Ensley said.)
While this is the first time Ensley has accused David of hurting an animal, he has a history of killing his family's pets. Almost exactly two years ago, David beat and shot Jenelle's French bulldog Nugget after David claimed the dog nipped at Ensley. Jenelle spoke out about the situation to several media outlets, but eventually went back to David and defended him. However, before she went back to David, she told Us Weekly details of the gruesome killing and that the dog's murder made her question being with David.
"He just took [the dog] and shot her in the woods … about two acres away from the house. It's making me feel he's very cruel and doesn't have a heart on many ends," Jenelle later added.
Last year, David made headlines again when he killed, then grilled and ate (on Instagram Live) the family's pet goat Elvis. David bragged about killing the pet, telling his followers, "This is Elvis, the little baby we had last year." He proceeded to show the pet goat's carcass, and even made sure to film the goat's head, which was thrown into the trash can with David's beer cans. The video garnered David plenty of negative comments from disgusted followers who told David he lacked respect for animals.
David and Jenelle have yet to comment on Ensley's accusations about the killing of the baby chicks.
RELATED STORY: 'Teen Mom' News Pile: David Eason Mocks Amber Portwood (and Her Machete); Dr. Drew Gets Dumped & More
(Photos: Instagram; TikTok)