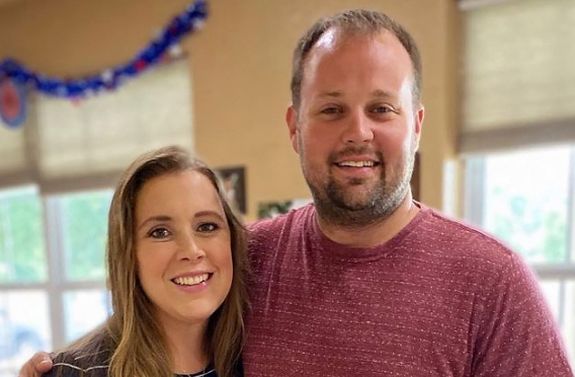 Anna Duggar just keeps popping out babies!
The Counting On star announced on Friday that she and disgraced husband Josh are expecting their seventh child. While Anna received plenty of congratulatory messages after her pregnancy announcement, she also got some criticism, as well as questions from followers who are wondering how she and Josh can afford to support all these kids.
Anna took time to address one critic who asked her in the comment section if Josh even works. (As fans of the Duggar Family know, Josh once held a high-ranking job at the Family Research Council but he resigned from it once his Sex Abuse Scandal was exposed in 2015.)
Anna insisted that Josh brings in plenty of dough.
"Yes, my husband is a diligent worker and provides well for our family," Anna told the follower.
Anyway, fans have speculated for months that Anna was pregnant expecting, but she had refused to confirm or deny the rumor until Friday. In their pregnancy announcement they also revealed that the baby they are expecting is another girl. (She will join brothers Michael, Marcus and Mason, and sisters Maryella, Mackynzie and Meredith.)
In their announcement Josh and Anna are seen holding an umbrella with pink confetti floating out of it as their kids run behind them in a field.
"It's a GIRL!" Anna captioned the announcement on Instagram. "We are overjoyed to announce baby seven is on the way and we can't wait to hold her in our arms this fall!"
In a post on Saturday, Anna brought up the fact that the last nine babies born to the Duggar kids have all been girls.
"Nine girl cousins in a row, and we are adding one more this fall," she captioned a photo of all the Duggar girl babies. "I'm more curious than ever if [Jessa] is having a boy or a girl."
(Josh's sister Jessa Seewald is currently pregnant with her fourth baby.)
As for where they and their soon-to-be-seven children will live, Anna and Josh appear to be currently living in a warehouse on the property of Josh's parents, Jim Bob and Michelle Duggar. The warehouse was featured on a Season 9 episode of 'Counting On,' in which the Duggars set up a pop-up bridal shop for John-David Duggar's then-fiance Abbie. The Sun matched up features of the warehouse (such as the flooring, kitchen counters, etc.) to those features of the home shown in Anna's Instagram photos to prove that they were, indeed, living in the warehouse.
On their family Instagram, Jim Bob and Michelle expressed their excitement about having adding another grandchild to their warehouse and family.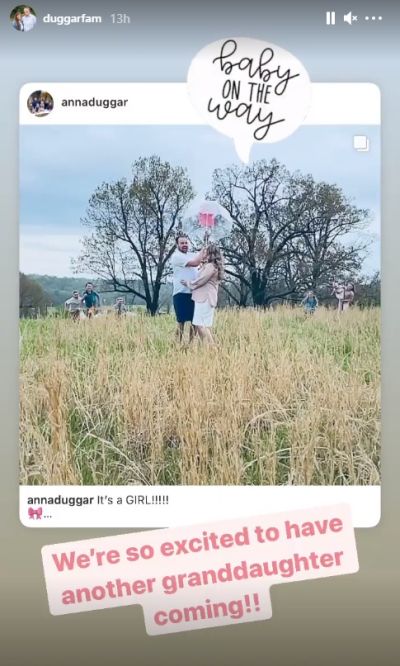 This will be Jim Bob and Michelle's 22nd grandchild.
RELATED STORY: 'Counting On' Stars Jessa & Ben Seewald Are Expecting Their Fourth Child After Suffering Miscarriage
(Photos: Instagram)