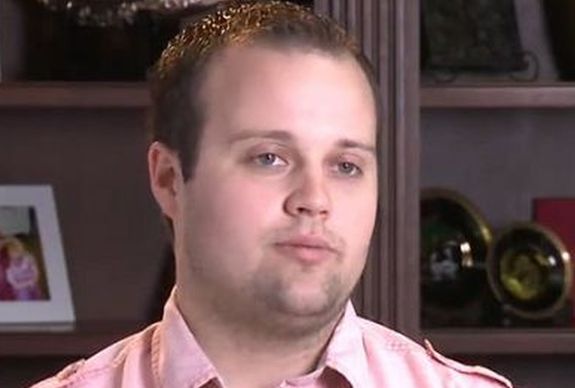 Josh Duggar is behind bars.
The disgraced former 19 Kids & Counting star and oldest son of Jim Bob and Michelle was arrested on Thursday by federal agents. He is currently being held in an Arkansas detention center without bail.
TMZ broke the news, which came as a shock, as Josh currently has no pending legal cases against him, except for a civil case that's currently pending for real estate fraud. However, Homeland Security raided the car dealership that Josh was working at in 2019, but no charges were ever filed against him or anyone connected to the lot.
Josh is the first in the Duggar Family to be arrested, and he delivered a relatively happy mugshot (for someone who just got tossed in the clink by the feds). He is seen smirking in the mugshot posted by TMZ.
Josh Duggar Arrested by Feds in Arkansas https://t.co/tbztI6d52e

— TMZ (@TMZ) April 29, 2021
At press time, Josh's name is on the Washington County Detainee List. The arresting agency is listed as the U.S. Marshal. He was booked into jail on Thursday at 1:14 p.m.
He is the only Duggar that was arrested.
No charges are listed, but the records indicate that he's being held for another department.
Interestingly, Josh's address that is listed on his booking details is not the warehouse home he and his family live in. Instead, the address is of a home that Josh's dad Jim Bob owns. The house— which features massive holes in the floor and a creepy indoor pool filled with frogs and spiders— was featured on an episode of 'Counting On' in 2017. To The Ashley's knowledge, Josh (or anyone else in the family) ever lived there.
Josh Duggar is arrested by the Washington County Sheriff's Office. He is now "on hold for other department" with no bond. #NWAnews pic.twitter.com/0xMqEBD6dK

— Chad Mira (@ChadMiraKNWA) April 29, 2021
Josh's arrest comes just days after his wife Anna announced that she's pregnant with the couple's seventh child. That baby girl will join their six other kids this fall. When she was questioned by a fan how Josh could afford to support all of their kids, Anna called him a "diligent worker" who "provides well for our family."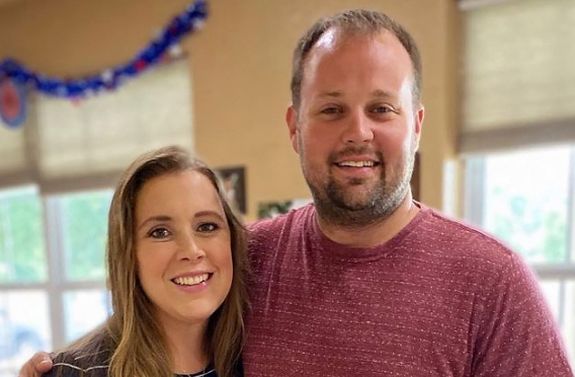 Josh has been in trouble in the past, but never legal trouble. He caused his family to lose their popular TLC reality show, "19 Kids and Counting" after his Sex Abuse Scandal was exposed in 2015. (Josh admitted that he molested four of his sisters, as well as another young girl, when he was a teenager.) That same year, he was exposed as a cheater when his profile on the cheating site Ashley Madison went public.
Anna and the rest of the Duggar Family has yet to speak out about Josh's arrest. In 2019, when rumors of the Homeland Security raid hit the Internet, the family denied that their home was raided. However, HSI spokesperson Bryan Cox clarified to KNWA that a Duggar business was visited and under investigation, but not the family's home. The business that was visited by the Feds is in the 14000 block of Wildcat Creek Road in Springdale, Arkansas. (Josh's Wholesale Motorcars car dealership is on that street in Springdale. KNWA reported that Josh is listed as the contact for the business, but not the owner in 2019 records filed in Washington County.)
"I do not dispute the information you've obtained. That is the location that we were. I can't speak to the status of any ongoing investigation. But, I do not dispute that we were present at that specific address," said HSI Spokesperson Bryan Cox.
At this time it is unknown if Josh's arrest has anything to do with that investigation from 2019.
Arkansas' KNWA reports that, "According to the U.S. Chief Magistrate Judge's Courtroom Deputy for the U.S. District Court Western District of Arkansas, Duggar will go before a judge 11:00 a.m. Friday, April 30."
The Ashley will update this story when more info is available. Stay tuned…
UPDATE! According to a source for The Sun, the Duggar Family has known that Josh's arrest was inevitable.
"The family has known that this has been coming for weeks, and Josh has been preparing himself," the source told The Sun. "[The Duggars] are praying together for Josh and Anna, who is standing by her husband as she always has. Family members are extremely concerned by what is happening and they just want to find out the truth."
The source stated that the Duggars will soon be commenting on Josh's arrest.
"They know that this will put them in the spotlight for all the wrong reasons, and are stunned they are having to go through this again. The family will be speaking out shortly and hope this in many ways will bring them closer together and even closer to God."
UPDATE! On Friday, Josh was charged with possessing and receiving child p0rnography. Click here for full details.
RELATED STORY: Duggar Family Denies Rumors that Their Home was Raided by Homeland Security: A Look at the Rumor & A Complete Timeline of Events
(Photos: TLC; Twitter)