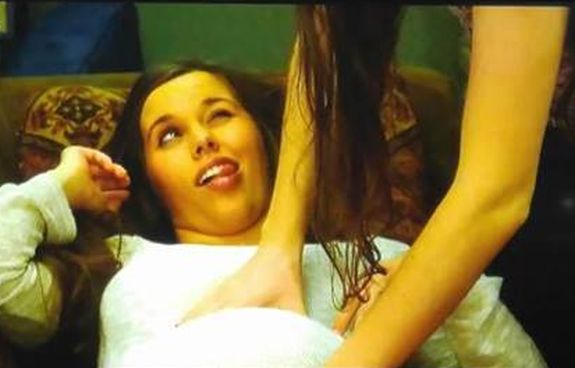 It's about time to check back in with reality TV's favorite fundies, the Duggar Family! It's been a while since we've seen Jessa, Jill and the rest of the long-skirted gang, and–wouldn't ya know!–one more of them has gone off and gotten herself hitched! That's right, 19-year-old Joy-Anna Duggar is now a married woman who is ready to start in the family business…which is, of course, making babies!
However, it's going to take Joy and her new husband Austin Forsyth a little while to figure out what goes where in order to make a blessing, so we'll shift the focus to the Duggar daughter who is closest to giving birth– Jessa! The Ashley realizes that she's a few episodes behind here, but…there's nothing The Ashley loves more than recapping a Duggar birth episode!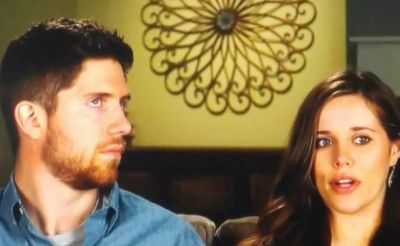 In previous episodes, Jessa and her husband Ben Seewald found out that their second child– which is due to spring from the loins 'o' Jessa any day now– will be another boy.
They are, of course, already parents to the unfortunately named Spurgeon, who just turned one, but wasted no time in making Baby #2. (Hey, it's rare that Ben ends up being good at anything, so when he finds something that he doesn't fail miserably at, he keeps doing it!)
The episode kicks off at the Seewald house, where Jill and Jana are visiting. Like her sister, Jill is also pregnant, so both girls plan to listen to their baby's heartbeats together. The Spurge and Jill's firstborn son, Israel, are wandering around the house while the moms play with the fetal monitor. (Israel, who has spent most of his life dodging kidnappers and taking freezing baths in the jungles of Central America, is probably just happy that he doesn't have to worry about being eaten by pythons or something during his free time.)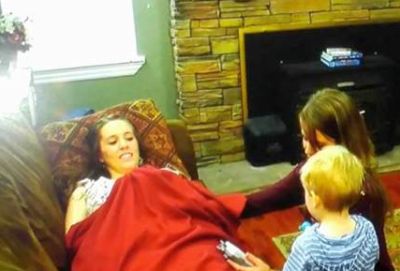 Jill is covered by a blanket for modesty and Jana applies the doppler, wondering if it will ever be her turn to squeeze a baby out.
To add insult to injury, Israel pokes Jessa in the tummy and declares "Jessa baby!" He then goes to Jana to poke her tummy, assuming that she, too, has a baby in there. (Hey, she is a Duggar!) The girls have to tell Israel that, no, there is no baby in Jana's aging (by Duggar standards) womb. She smiles sadly.
Jessa is next on the couch, throwing on the modesty smock so Jana can listen to her baby's heartbeat. Jessa tells us how cramped her womb is. It's riveting television, truly.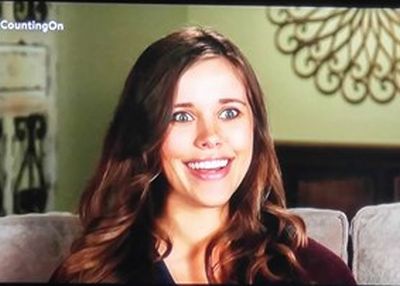 She then tells us that she is none-too-thrilled about having to shoot yet another Spawn of Seewald from her lady garden. After all, The Spurge nearly killed her when she gave birth to him, causing her to bleed so much that she had to be taken to the hospital.
"It's really hard to believe that we're already close to the due date of our second baby," Jessa tells us. "Especially because we've only been married for two years!"
Um…did you not get the memo, Jess? You knew how this story was gonna end: with you covered in amniotic fluid for the next 20-or-so years of your life!
We are forced to watch them, once again, play that tired footage of Ben and Jessa's wedding because, well, filler…
Jessa insists that Ben is still the love of her 23-year-old life…despite the fact that he keeps telling everyone how fast Jessa wolfs down her food on the regular.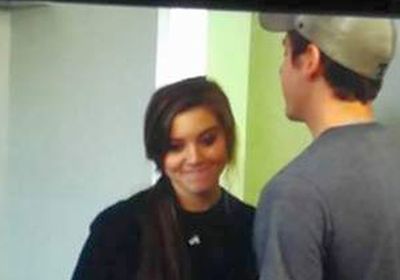 Next, we head over to the house Joy and Austin are working on. This episode was taped before they were married, (or even engaged) so Austin's dad had to lurk around the house to make sure that Joy and Austin didn't brush hands while using the tape measure or something.
This is the fifth house that Austin will have flipped, which means that he will have fulfilled his father's requirement that he flip five houses before getting married. To speed things along, Joy is helping Austin complete the house.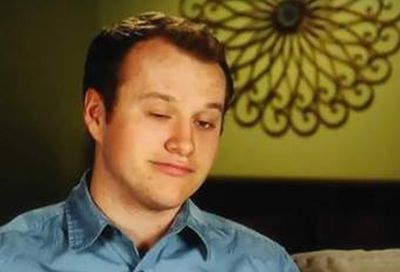 Josiah tells us that since he's known Austin all of his life, it's kind of weird to know that his younger sister Joy will soon be boning him. (It won't be long before Joy finds herself under that modesty smock, y'all!)
He also says it's kind of weird how all of his sisters are getting married off while the Duggar boys remain single. Luckily for the guys, Jim Bob has just about run out of daughters to marry off (other than Jana-rella, of course) so he will have to start working on getting the sons hitched now.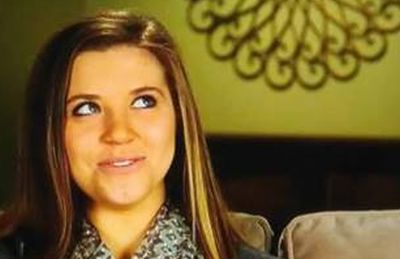 The other Duggar kids predict that Joy and Austin will be getting engaged very soon. Until then, though, Austin will have to settle for sneaking peeks at Joy's denim-skirted curves while she lays floor tile.
Also…how much floor tile do we have to watch be laid before we get to see Jessa give birth? This is getting boring…
The next day, Jill, Israel, Jessa and The Spurge go look at new home that Jim Bob has purchased. Both say they want to move into a new house, and both seem interested in Jim Bob's latest acquisition. It is unknown whether the girls will have to wrestle it out to decide which one of them gets to move into the new place, and who will be forced to move into Grandma Duggar's old mildew shack.
My money's on Jessa…she's feisty.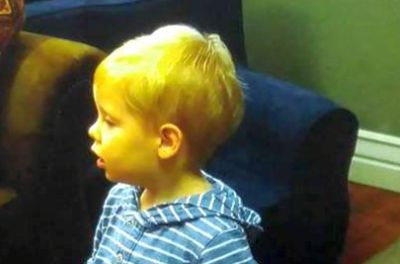 Jill and Derick are currently staying in the Duggar "guest house," which is, of course, enormous. However, it's not big enough for Jill, apparently, because she wants to get a bigger "home base." Instead of buying her own house with Derick, though, she is heading over to see if she can just mooch the new house off of Jim Bob.
Jessa, too, has her eyes set on the new place. She's tired of staying in the family's 1000-square-foot "shack" and wants to move on up to a bigger place. The problem is that she and Ben don't have the money to buy a bigger place in the area that they want. (Of course, they also don't have jobs, so there's that…)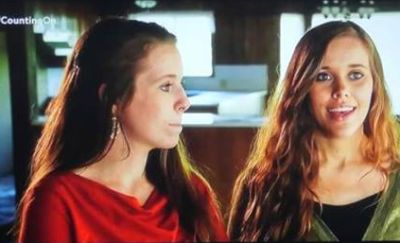 The girls arrive at the new house and quickly realize that the place is totally creepy. (It still probably looks pretty good to Jill, though. Pretty much any place with indoor plumbing is a step up from where she is living in Central America!) It used to belong to someone the girls affectionately call "Grandma Bennett."
The house is full of dark wood paneling and a fireplace that looks like it can accommodate up to two corpses. There's also a giant hole in the living room floor. Um…was Grandma Bennett testing torpedoes in her house or something?
The crown jewel room of Grandma Bennett's Little House of Horrors is the indoor pool room. Jill tells Jessa that swimming in that pool caused her to have a lifelong fear of swimming. It probably doesn't help that the pool is now filled with giant spiders, frogs and scampering insects.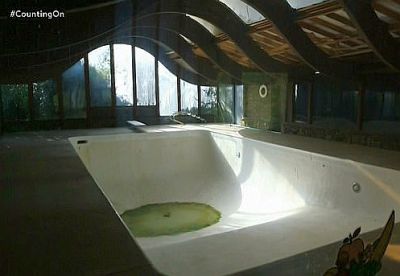 What's worse is that the entire house centers around the creepy-ass pool. Jessa seems to be rethinking her desire to move into the Grandma Bennett house.
Seriously, no amount of house-flipping work done by Austin and a googly-eyed Joy is going to make this house any less horrific. They'll have poor Jana over there scrubbing pool tile and whatnot, but it's still going to be creepy as hell.
Later that day, Jessa, Jill and the rest of the Duggar sisters video-chat with newlywed Jinger, who is in Texas with Jeremy. Of course, the conversation revolves around Jill and Jessa's pregnancies and soon, the sisters bombard Jinger and demand to know if she's been sperminated yet. After all, it has been over two months since Jinger got married, so she should definitely be with-child by now!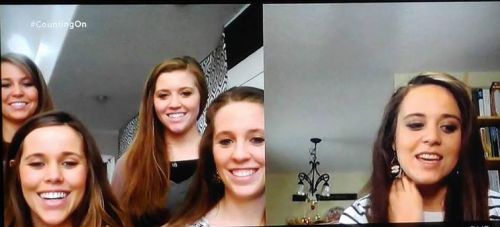 "So are you pregnant?" Jill blurts out. (What's weird is that none of the other sisters even react, as they know that this is business as usual at the Duggar house.) "Did you take a test?!"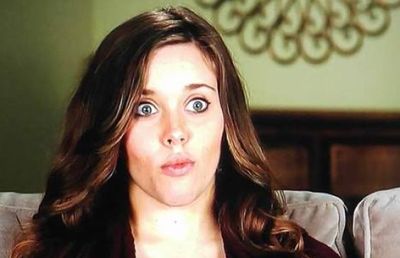 Jinger looks surprised and super-uncomfortable, but the sisters keep asking her if she's knocked up. She's just sitting there quietly before saying that she is not pregnant. Jessa isn't totally positive that Jinger is being truthful. Joy, too, believes that they will have a pregnancy announcement coming very soon, what with all the humping-like-rabbits they're likely doing and all.
Jessa, Jill and Jinger all discuss how weird it was for them when they realized that they were married, living on their own and no longer responsible for raising their siblings. (Jana stands by silently, looking sad.)
The next day, Jessa and Ben discuss their baby's name. Derick jokes that he and Jill will name all of their kids after countries, since their first son is named Israel. Some of the "countries" he likes are Turkey, Nepal and everyone's favorite "country," Everest. Jill giggles to keep from rolling her eyes.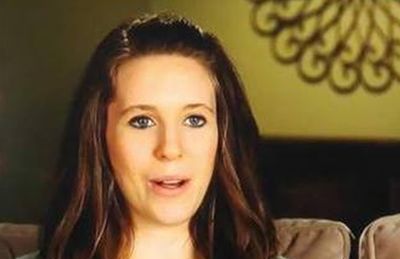 Jessa assembles her "birthing kit" which includes plenty of body-fluid catchin' pads, and plenty of snacks for Ben. ("I'm not letting my wife give birth until I have an ample supply of Lunchables!")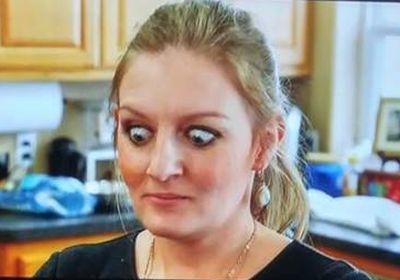 Next it's Jessa's baby shower. Sierra and her ever-bulging eyes are back, putting the party on in a matter of hours. She has all of the Duggar kids helping, but Joy is distracted by all the tingling in her loins which is caused by her love for Austin.
"It's very likely, since I'm probably getting married soon, that me and my three older sisters could all be pregnant at the same time!" Joy says.
So have we just totally counted Jana out for good, then? Geez.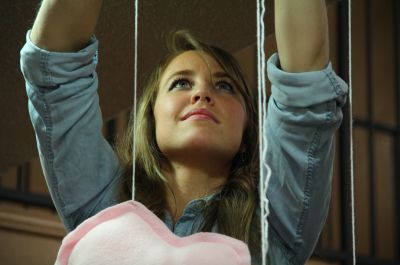 Jana-rella has manned her trusty sewing machine, sewing a ton of pillows just minutes before the party starts.
It's the same old kind of shower as all the other baby/wedding/whatever showers we've seen, so let's move right along. Honestly, the only mildly amusing thing is when someone says that Jessa doesn't really like to be the center of attention. Um…since WHEN!?
If you haven't had enough party fun yet, the episode also includes a gender reveal! Attention-hating Jessa has been keeping it a secret in order to maximize the attention she and Ben get.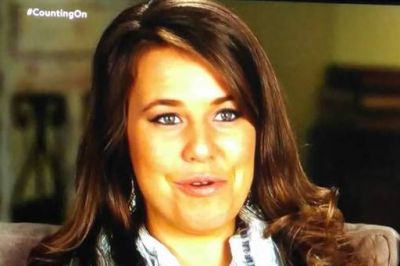 Jana and Joy already know the gender but they aren't telling anyone. Joy does admit to telling Austin, and Jana admits she told someone too. The producer basically jumps on that comment, and peppers poor Jana with questions about the person she told being her boyfriend. She denies it.
Since this baby is about to come hurling from Jessa's gentleman-gobbler any minute, I'll just go ahead and spoil the surprise: it's a boy. This is a two-hour episode for Jim Bob's sakes! I can't recap everything!
Since the Duggars are determined to squeeze literally everything into this episode, they set up a meeting with "Mr. Jim Bob" and Austin. Everyone knows what this meeting is for: Austin is going to ask ol' JB for Joy's hand in marriage. Jim Bob pretends he had no idea what Austin wants to talk to him about, and does a good job of looking surprised.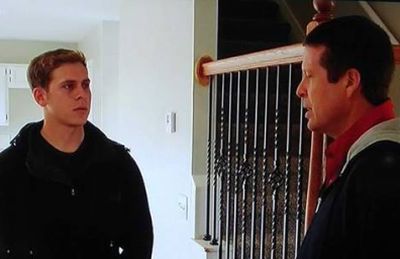 Austin asks the question, and Jim Bob pretends like he's wavering in his answer. He draws it out before finally agreeing to give Joy to Austin. They agree to have a short engagement and Austin starts calling Mr. Jim Bob his new name, "Pops."
Meanwhile, Jessa and Ben go out and stuff tacos into their gullets. As they eat, Ben explains to us how "challenging" Jessa's labor was…for him. He vows to have a good attitude through labor this time.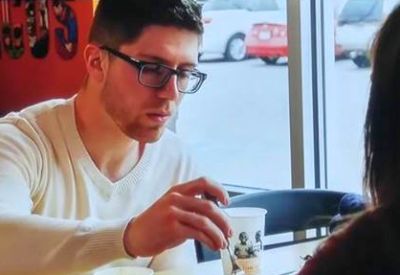 Jessa promises Ben to that she'll do her best to keep her labor short. (She does this while Ben literally eats everything off of her plate. Seriously, every time they show him, he's jamming something else into his pie-hole. Now we know why Jessa wolfs down her food!)
Jessa talks about how she felt during the 48 hours of delivering Spurgeon.
"I thought I was going to be pregnant for the rest of my life!" she joked.
Well…you are but….
Ben follows things up with yet another line that makes you want to punch him.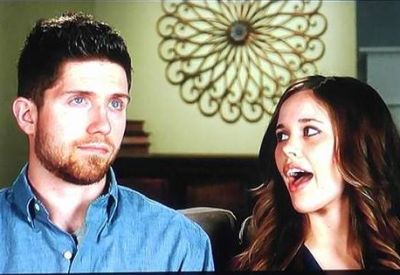 "When you're a few hours out from going into labor, just let me know," he tells Jessa.
Something in that Mexican food must have started a fiesta in Jessa's womb because that night, Jessa's water breaks. Apparently, Jessa's "birthing kit" isn't complete because she summons one of her older brothers to fetch some missing necessities….like Ziplock bags full of ice. I don't even want to know…
The TLC camera crew is not there when the big event happens, but luckily the birthing kit comes with a supply of handheld cameras that can capture the Kodak moments.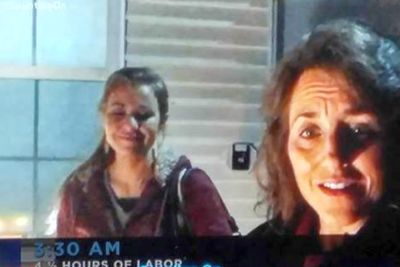 Michelle and Jana hustle on over to Jessa's in the middle of the night to go help Jessa expel the child. Jill and the midwife are already there, but no one expected Jessa's labor to progress so quickly.
Jessa is in full-blown labor, huffing and puffing with Ben by her side to staring at her.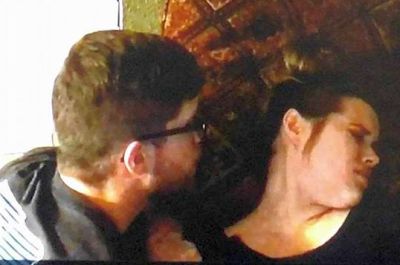 She's in terrible pain, moaning and grunting.
"I came to the point where I realized, 'I'm not the person for this job. Somebody else needs to do this for me!'" Jessa says later.
Um…paging Jana!
Finally, Jessa is pushing and she's thrilled that she's not going to get stuck heaving and contracting for 48 hours like she had to with The Spurge. Before she knows it, she is pushing the slimy head of her second child out.
The baby arrives at 4:26 a.m. and Ben looks exhausted. Everyone is congratulating him on a job well done.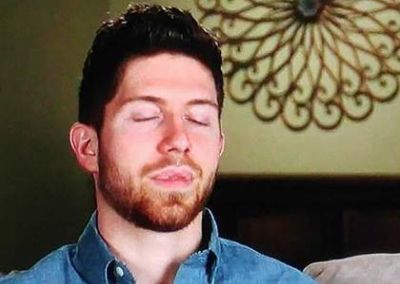 "I think this labor, for Ben, was harder," Jana says.
"The sight of blood and bodily fluid made me feel kind of nauseous," he tells us.
SERIOUSLY?!
Meanwhile, Jessa is busy delivering the after-birth…which, ironically, has the same IQ as Ben.
The baby weighs in at 8 lbs, 12 oz. which makes it a hefty little loaf, but nothing compared to The Spurge.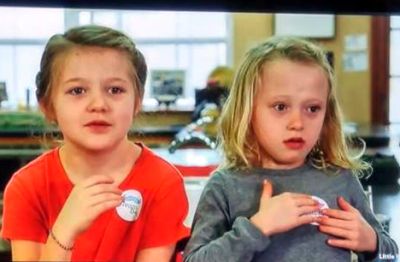 Back at the Duggar house, they report that it's a boy. The kids had divided up and stood under a bag of pink or blue balloons to show what they thought the baby would be. Jordyn guesses correctly and when the producer asks her how she knew it was a boy, she delivers an epic answer.
"Because we've had tons of other babies and almost all the babies are boys," she deadpans.
Meanwhile, The Spurge is meeting his baby brother. He keeps trying to smack the kid so they have to shoo him away. Ben realizes taking care of two babies is going to be no fun at all!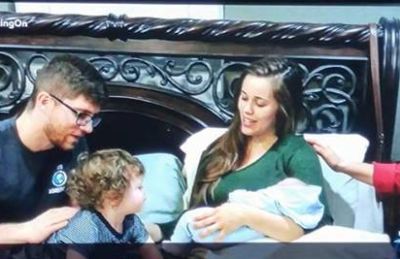 The Duggars come over later to meet the new baby. It's time to announce the baby's name. They have chosen….Henry!
The Spurge ain't gonna be happy when he grows up and realizes he got saddled with SPURGEON while his little brother received a cute, normal name.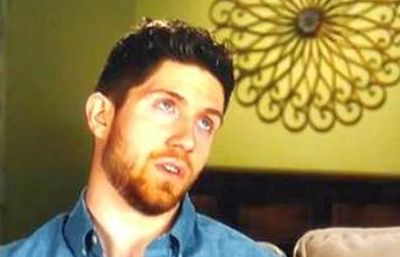 Of course, this is Ben and Jessa, so they have to mess with this kid a little. They have given him the middle name "Wilberforce" which sounds like the name of a race horse. But, hey, anything is better than Spurgeon!
That's all for today!
To read our recaps of other reality TV shows, click here!
(Photos: TLC)