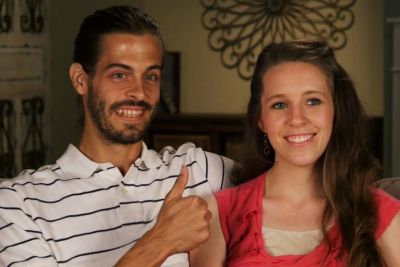 It's another boy for Counting On stars Jill and Derick Dillard and, apparently, another hard labor for poor Jill!
The reality TV stars welcomed a son on Saturday, July 8, according to a blog post on their family website. Jill and Derick named the baby Samuel Scott Dillard.
While the Duggars did not provide too many details of Baby Samuel's birth, they did indicate that, like his big brother Israel, and cousin Spurgeon Seewald, he was a very large baby. Samuel weighed in at 9 lbs., 10 oz. and measured 22 inches long.
Back in 2015, Jill had an extremely hard labor and delivery with Israel. (She labored for over 70 hours at home before agreeing to go to the hospital to get a C-section!) For Samuel's birth she was treated to "only" 40 hours in labor. According to the blog post, she ended up having to go to the hospital again to have a C-section.
After Israel's birth, Jill and her family were criticized for not going to the hospital sooner. When Jill's sister Jessa Seewald gave birth to her son Spurgeon in November 2015, she, too, labored at home for several days before giving birth to her baby, who weighed nearly 10 lbs. Jessa was later rushed to the hospital after experiencing post-partum hemorrhaging.
After the births, a midwife who trained Jill in midwifery spoke out about the girls' decisions to labor at home for as long as they did.
"Both Jessa and Jill made decisions that do not fairly reflect home birth or the care of the midwives in this state," she stated.
Samuel is the second child for Jill and Derick, who have been married since 2014. Jill spent much of her pregnancy living in Central America doing ministry work with Derick, but they are now back in the United States.
Jill's labor and delivery will almost certainly be included in an upcoming episode of her family's reality show, 'Counting On.'
(Photo: TLC)