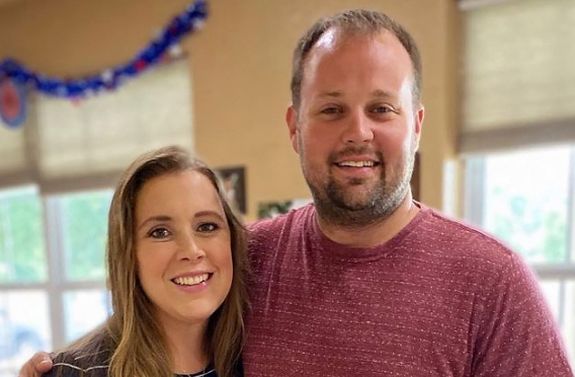 It's a big month for Josh and Anna Duggar. Not only are the former 19 Kids and Counting stars busy preparing for Josh to go on trial for possessing and receiving child sex abuse materials, but they've also welcomed their seventh child.
Josh and Anna announced the baby's birth on their official Facebook page and Anna's Instagram. As fans may remember, the couple revealed that Anna was expecting another child just days before Josh was arrested and charged in April with receiving and possessing child p0rnography. At the time of the announcement, the Duggars also revealed that the baby was another girl.
On Tuesday, Anna announced the name they had chosen for the new baby.
"Meet little Madyson Lily Duggar!" a photo of the sleeping baby was captioned.
On Instagram stories, Anna revealed that Madyson was born October 23 at 2:39 a.m. and weighed in at 7 lbs. 9 oz. at birth. She measured 20 inches long.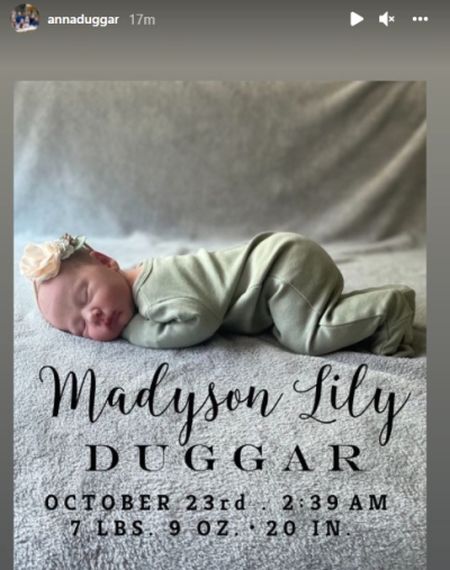 In addition to Madyson, Josh and Anna are parents to six other children (all of whom have names that begin with "M.") Those children are Mackynzie, Michael, Marcus, Meredith, Mason and Maryella.
(It's interesting that Josh and Anna went with the name Madyson, considering that in 2015, Josh confessed to using the cheating website AshleyMadison.com to have an affair.)
As The Ashley previously reported, Anna has stood by her man since his arrest, when she accompanied him to the police station to turn himself in. Since then, she has been seen with him at court hearings, even while very pregnant.
Currently, the couple is not living together, as Josh is out on bail and staying at the home of his court-approved custodians. He is not allowed to be around any minor children except his own, and even then, Anna has to be present for his visits.
Josh's trial is due to begin on November 30.
RELATED STORY: Judge Denies Josh Duggar's Motions to Suppress Evidence in Child Sex Abuse Case; Josh & Pregnant Wife Anna Duggar Criticized for Smiling & Smirking After Court
(Photos: Instagram)