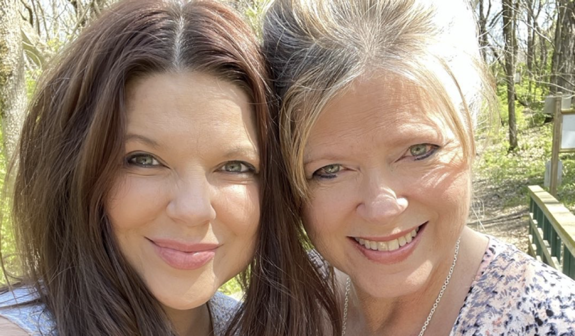 Amy Duggar King and Deanna Duggar, the niece and sister of Jim Bob Duggar, are speaking out following last week's arrest of Josh Duggar, in which the former 19 Kids and Counting star was charged with possessing and receiving child p0rnography, including images of minors under the age of 12.
On Wednesday—the same day as Josh's bond hearing— Deanna took to Instagram to share an image and Bible verse about children that she went on to discuss further with some of her followers in the comment section.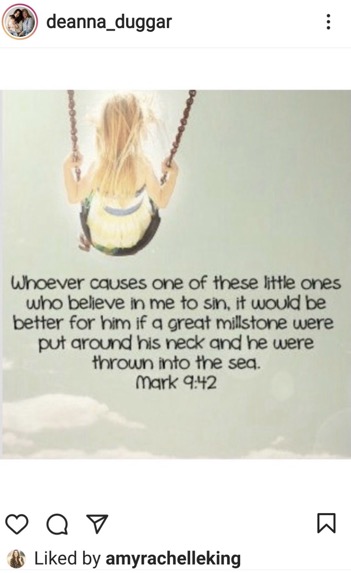 "Whoever causes one of these little ones who believe in me to sin, it would be better for him if a great millstone were put around his neck and he were thrown into the sea," the image read.
"God says the 'Little ones' are so precious to Him," Deanna added in the comments. "Amen," someone replied. "Amy needs to keep [her son] Dax away from them!"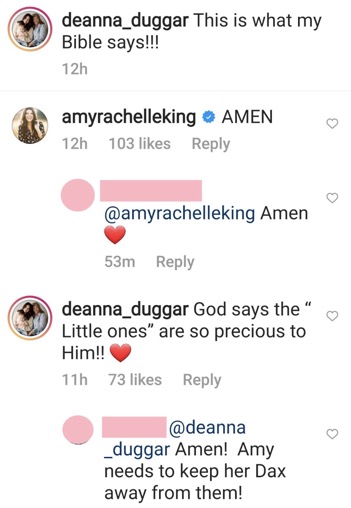 Deanna went on to provide some clarity to the post, telling followers she didn't "want anyone to die," she just wants "the truth to be revealed."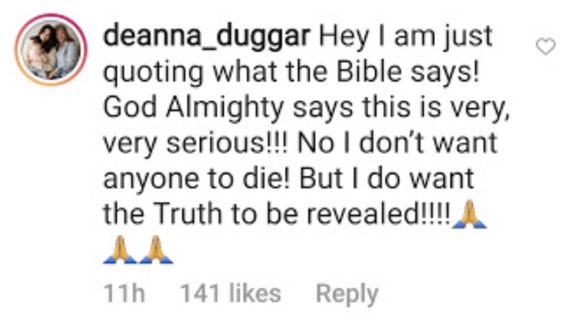 Deanna also agreed with one individual who stated she was glad Deanna and Jim Bob's mom "is not here to see this" – "this" obviously referring to Josh's arrest and the disturbing details of his case. She also supported a suggestion made in another comment for fans to start a GoFundMe to help Deanna and Amy get out of the alleged non-disclose agreements that prevent them from speaking publicly about the Duggar family. (Amy revealed this NDA exists last year on Instagram Live.)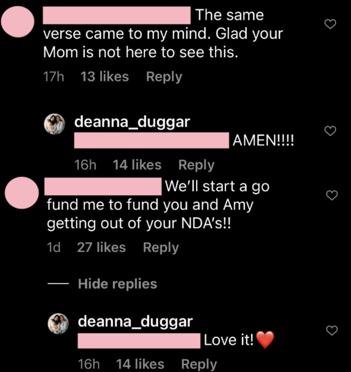 Amy has distanced herself from the Duggar clan in recent years and has publicly supported Jim Bob and Michelle's daughter Jill Dillard and Jill's husband Derick for doing the same.
Jill – who was revealed back in 2015 to have been a victim of Josh's – and Amy attended Josh's bond hearing on Wednesday, during which the disgraced Duggar appeared via zoom from Washington County Jail in Arkansas. As The Ashley told you yesterday, the judge ultimately determined Josh could be released on bail, provided he complies with a series of very strict guidelines.
After Josh's arrest last week, Amy told The Sun she was "devastated" and hoping the allegations weren't true.
"I spoke with several of my cousins after we heard about the arrest," she said. "We're in shock, but we don't want to think the worst of someone, you want to think the best. If it is true, it would absolutely devastate a lot of people. Everybody that knows Josh would be devastated. Just thinking about it makes me want to have a glass of wine right now.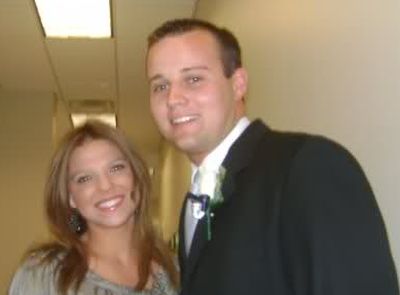 "It breaks my heart," she added. "Family is family and I wish the best for everyone."
Now, as more horrific details of the case against Josh have been revealed, Amy claims she regrets appearing on '19 Kids and Counting.'
"I was blindsided about Josh's past, completely blindsided," she said. "I wish I had known that backstory beforehand, that way I probably would have never been on the show."
RELATED STORY: Breaking News! Josh Duggar To Be Released On Bond & Is Allowed To See His Kids After Judge Issues Strict Guidelines He Must Follow
(Photos: Instagram)