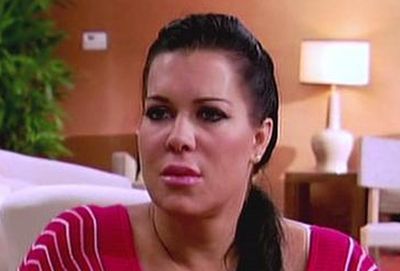 Pro wrestler Joanie Laurer— better known as Chyna to her fans– was found dead last night at her home in Redondo Beach, California. In addition to her pro wrestling career, Chyna appeared on various reality TV shows throughout the mid-2000s, including a season of Celebrity Rehab with Dr. Drew and two stints on The Surreal Life.
TMZ broke the news last night that Chyna had been found dead by a friend who went to check on her. It is not known at this time what caused her death, but authorities have stated that there were no signs of foul play at the scene of death.
Early Thursday morning, TMZ updated their story to reveal that Chyna had been dead in her home for a "day or two" before she was found. No suicide note or illegal drugs were found at the scene.
Chyna's neighbors told the site that they suspect Chyna overdosed, though, as they felt she had been "under the influence" recently. In a YouTube video posted to her channel earlier this week, Chyna exhibited disturbing behavior.
A message has been posted to her official website confirming her death.
"It is with deep sadness to inform you today that we lost a true icon, a real life superhero," the message states. "Joanie Laurer aka Chyna, the 9th wonder of the world has passed away. She will live forever in the memories of her millions of fans and all of us that loved her."
Chyna appeared on 'The Surreal Life' in 2005, and later did 'The Surreal Life: Fame Games' in 2007. In 2008, she appeared on 'Celebrity Rehab with Dr. Drew' to get help for her problems with alcohol.
She is the sixth celebrity who appeared on 'Celebrity Rehab with Dr. Drew' to meet an untimely death. In 2013, Dr. Drew confirmed he was pulling the plug on the show because he was tired of being blamed for the deaths of the shows stars.
Chyna was 45 years old.
(Photo: VH1)