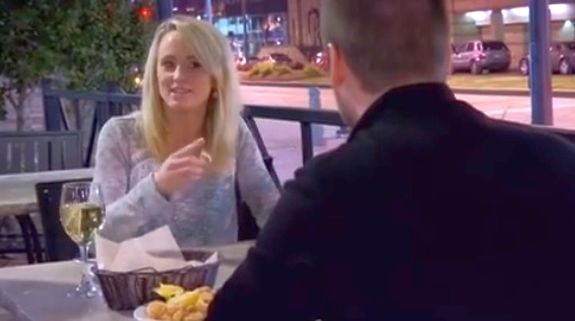 Howdy fellow bad TV lovers! The Ashley is still playing recap catch-up, and she's disappointed to learn that she missed recapping a doozie of an episode last week! (She hopes to make it up at some point! It's kind of like the tests you take in high school…you can always make it up. Except for pregnancy tests, of course.)
Anyway, this week promises a whole lot of fun, festivities and felonies as well, so let's get started!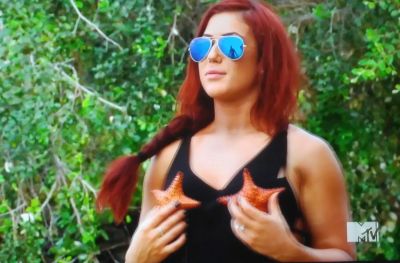 We kick things off in the exotic land of Puerto Rico, where Chelsea is getting some pickle-tickle time with Cole away from Aubree. They are in The 'Rico to celebrate their recent engagement, which took place during last week's episode. Cole and Chelsea talk about what it will be like to be married, and Chelsea expresses her worry that Cole's going to turn into a great big ol' drunk as soon as they say "I do." He assures her that he will lay off the sauce, and says that he will love her even if she becomes a fat soccer mom with an unfortunate haircut.
Over in Delaware, Kail is preparing for Javi's deployment. Isaac isn't handling Javi's departure very well, so Kail encourages Javi to spend extra time with him before he heads off to fight the good fight overseas.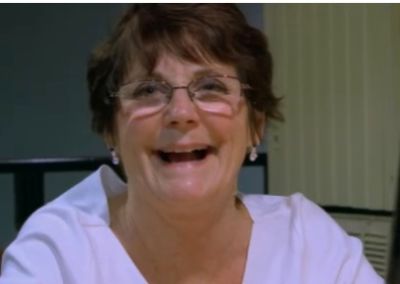 Speaking of fighting, it's now time to check in with Jenelle, and since she's having dinner with her "motha" Barbara, there's bound to be some fighting going down. Usually mealtime with these people is like WrestleMania with onion rings.
"Oh, hi Kaisa!" Babs cackles as Jenelle and Kaiser arrive at the restaurant. Jace is there too, and Jenelle tries to sound concerned about the kid for at least one minute before she launches into her latest tirade about Nathan.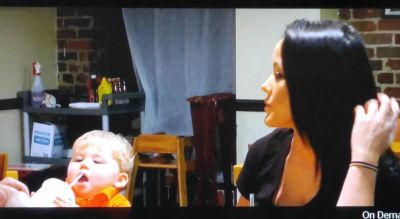 Meanwhile, Kaiser is trying to drown himself in a cup of Cola. When he's unsuccessful, he throws the cup at Jenelle's face, which gives Barb a case of the giggles. ("Usually it's Juh-nelle who's throwin' stuff at her motha's face!")
Jenelle reveals that she and Lurch will be heading off to New York City to celebrate the day that Jenelle sprang from Barb's loins. Yes, nothing says "Happy Birthday!" like a trip to the Big Apple with your new boooooyfriend…and an MTV camera crew!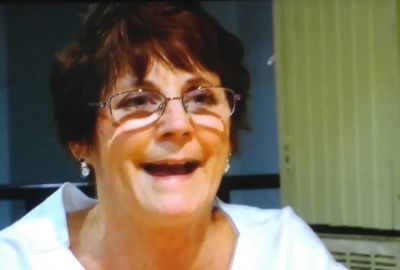 Barb asks how Jenelle's relationship with Lurch is going. (Basically, she wants to know if she's going to need bail money any time soon.) Jenelle says things are "pretty perfect" with her current soulmate because they don't fight at all.
Is anyone else getting deja vu?
"Whatdya doin' with the other one, the Nathan?" Barb asks. (He will now forever be known as "The Nathan" in The Ashley's head, by the way.)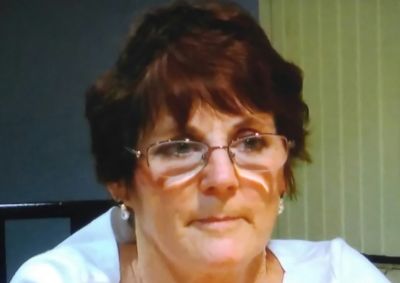 Jenelle says that she and "The Nathan" aren't communicating at all, and that he doesn't get to see The Kaiser until his "Bitch of a Girlfriend" drops the assault and battery charges she's filed on Jenelle for throwing a glass at her head.
This whole thing is so confusing. We need to illustrate it with a Ven Diagram or something to keep all the white-trashiness straight, what with all the custody issues, glassware-chucking and court cases going on all at once!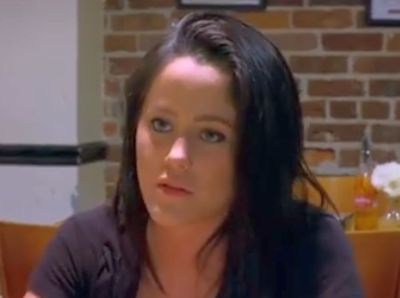 Barb encourages Jenelle to get her charges dropped (and also suggests that it wouldn't be a bad idea to stop throwing things at people's heads). She tells her daughter that she should offer to let Nathan see his son if he'll drop the "chaaaaaarges."
Wait…hold up. This chick chucked a full mason jar of water at some girl for no reason. That girl has every right to file charges on her. What does custody of The Kaiser have to do with the assault charges? They're two things that don't go together….like Nathan and sleeves….or Leah and fidelity.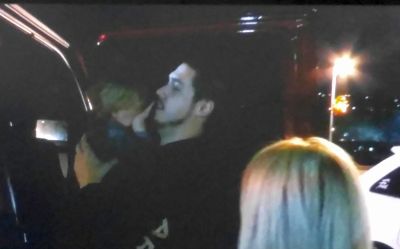 Speaking of Leah, shes's heading to the trusty side-of-the-road to pick up Addie from Jeremy. Addie's not thrilled to be leaving the comfort of Jeremy's home to go to Leah's house. (Who can blame the kid for being upset? She's staring down the barrel of a week full of eating sugar packets coated in cat fur and sleeping under a pile of used hair extensions!)
Addie's wailing that she doesn't want to go to Leah's and when Jeremy asks her who she wants to go home with, Addie basically tells her Mama to hit the bricks. Leah yells at Addie for being a brat and tells her that, like it or not, she's spending the next 3-7 days in Leah's Castle of Cats.
Leah loads the kid into her car, which she warns Jeremy is packed with "a ton of stuff." Jeremy, having traveled in Leah's Trashmobile frequently during their marriage, isn't even fazed by the mess. He just digs out a hole for his daughter and puts her in the car.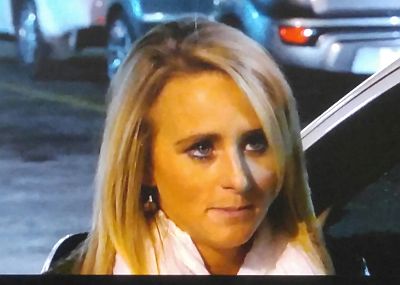 After the kid's been deposited into the car, Leah thanks Jeremy for attending one of Ali's recent concerts. Leah mentions how much the twins enjoyed seeing him, and that Aleeah even sat on his lap the entire concert.
Out of nowhere (and by "nowhere" I mean, out of the producer's mouth) Jeremy asks Leah if she'd like to meet up to "talk about some stuff." You can see the smile spread across Leah's face as she realizes that an ex-husband wants to spend time with her outside of a courthouse or the side of the road.
She gets all flirty and asks Jeremy what it is he wants to talk about. You can tell that she's just dying to run on home to tell Chasity so they can start trying to figure out which dress Leah's going to wear on the date (and which trash pile it's in at Leah's house).
Jeremy won't tell Leah what he wants to discuss, but Leah's flying HIGH! HIGH! anticipating the dinner date with Jeremy.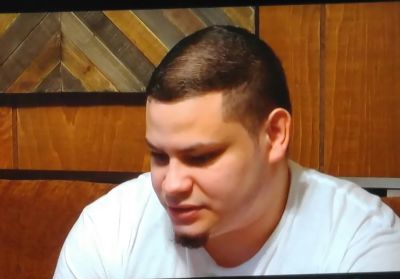 Back in Delaware, Jo tells Vee that Javi is getting deployed "somewhere, some place on this Earth."
Wait. Hold the presses! You mean Javi isn't being shipped to the moon?!
Jo isn't happy that Isaac is in the same family as someone in the military because it's hard. Um…Jo has no job (and apparently no other shirts except that one plain white t-shirt we see him in in every episode). He's hardly at a place to be judging anyone else's career.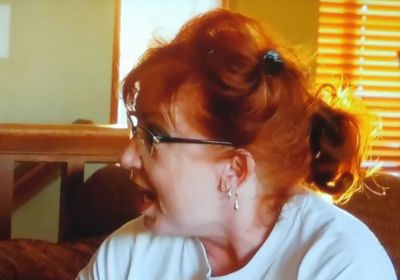 In Puerto Rico, Cole and Chelsea are Facetiming with Aubree and South Dee-ko-tah Mary. After the phone call, Mary quizzes Aubree about her feelings on Chelsea's engagement. Aubree confirms that she likes Cole because he plays games with her, unlike her real dad, Adam, who is too busy pumping iron (and pumping random girlfriends) to do that.
"I'm glad ya have someone to play with ya!" Mary tells Aubree.
Meanwhile, Jenelle and Lurch are soaring the friendly skies, on their way to New York City! They're making out on the plane (and surely making everyone else around them feel queasy) before they finally make it to their destination.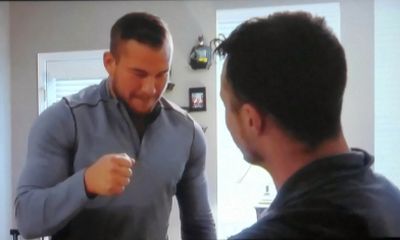 During this time, The Nathan is hanging out with his friend Josh, discussing Jenelle's latest hijinks. (Why is Nathan wearing what is surely Kaiser's sweater? His arms are basically straight-jacketed to his sides because that thing is so tight!)
They try to do some weird Zack-and-Slater-from-Saved-by-the-Bell handshake thing (and Nate fails miserably at it, of course). Nathan tells his friend that his girlfriend has no plans of dropping the charges against Jenelle, because he's tired of seeing Jenelle not pay for her ridiculous behavior. He states that he hasn't seen his son for five weeks and that he "absolutely hates" Jenelle.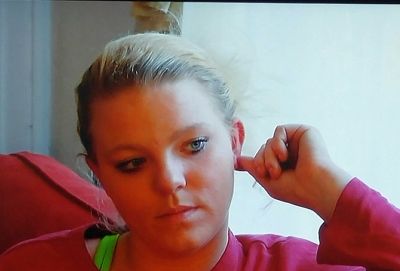 Back in West Virginia, Leah is visiting her sister Victoria to see how things are going in her sister's life. Hahaha, just kidding. That would never happen. Leah is there to bitch about that ding-dang Corey Tyler and swoon over her upcoming "date" with Jeremy.
Also…it wouldn't be a bad thing if both Leah and Victoria dyed their roots. Just sayin'…
Leah's sister seems to get the impression that Leah thinks Jeremy stayed to watch Ali sing because he secretly wants to get back with Leah, get remarried, have her pop out more sugar-packet-eating babies and live happily ever after under a pile of fast food wrappers.
Or something.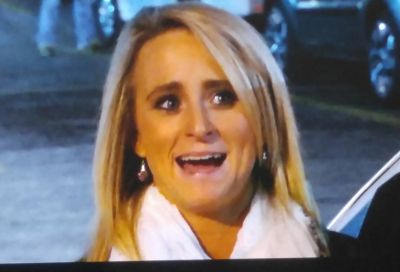 Leah, of course, denies this, but admits that Jeremy has always flirted with her since their divorce. She admits that there are still feelings between them, but that right now she just wants to "co-parent" with him. (We all know that on this show, though, "co-parent" is code word for "bang the monkey out of my ex in the back of a pickup truck.")
Even though she wasn't fixin' to cry over Jeremy Lynn, she can't help but shed a few tears over him, because she knows he treated her well.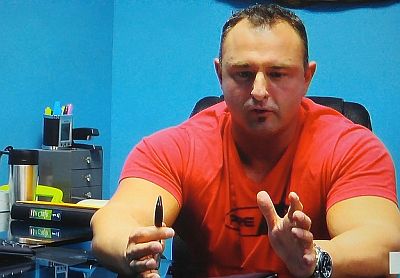 In South Dakota, Adam is chatting with his boss at the gym, Ned, who seems to have no clue who the hell "Chelsea" and "Aubree" and all the people Adam is talking about actually are. Poor Ned seems to be overwhelmed as Adam launches into a tirade about how Chelsea won't give him more custody, and how Chelsea is trying to make some dude named Cole Aubree's new dad.
Adam vows to try to "warm Chelsea up" by inviting her over to his new pad. The Ned-ster seems eager to get Adam out of his office so he can get back to pumping the iron.
Chelsea and Cole return from vacation and Chelsea learns that Aubree has said that Adam never plays with her. Chelsea starts crying and later goes over to South Dee-kot-ah Mary's house to find out more about what Aubree said.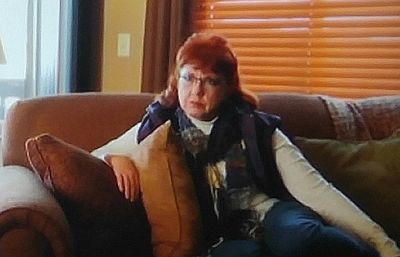 Mary, who's busted out her finest fur-covered vest for the occasion, informs Chelsea how her conversation with Aubree went down. Chelsea worries that Adam's lack of attention to Aubree will cause her problems down the road. She wishes she never let Adam put his banana in her hammock all those years ago!
In Delaware, Javi informs Isaac that he'll have to take over man duties for him while he's gone, and Isaac assures Javi that he'll be a good boy. (I can't imagine Isaac being a bad kid, ever! He's the sweetest child alive!)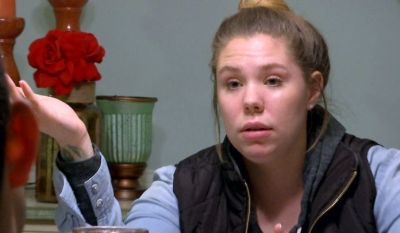 Later, they all eat dinner in their home together for the last time before Javi is deployed. Isaac is still struggling with Javi leaving, and he cries into his pizza dinner. Kail is taking the deployment surprisingly well, but Javi is starting to get sad about leaving his family. Isaac, who again, is the SWEETEST KID EVER, goes over to Kail and promises to take care of her.
I want that kid.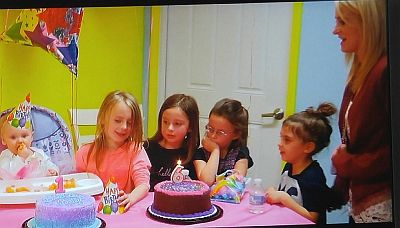 In West Virginia, it's time to party! The twins are turning six, so Leah's throwing them a fiesta to celebrate. The party takes place at one of those places with the blow-up slides (which is the only place these people ever throw birthday parties, honestly.) There's cake, there's presents but, unfortunately for Leah, there's no Jeremy Lynn. He's out working, so she won't be able to seduce him in the ball pit as she'd hoped.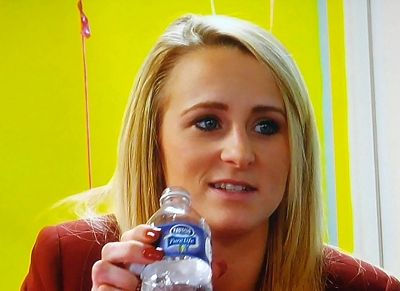 At the party, Leah tells her friend that she's a brand new person since treatment, y'all! After all, she actually got her kids to their own birthday party on time this year, unlike last year. Leah is eager to talk to anyone who will listen about Jeremy, so she tells her friend that she and Jeremy have a friendship…and maybe more.
Meanwhile, Jenelle & Co. are busy terrorizing the Big Apple. (Hasn't that city suffered enough?!) They're apparently staying at some sort of office building (with really bad wallpaper), but Jenelle can't stop raving about how classy her accommodations are.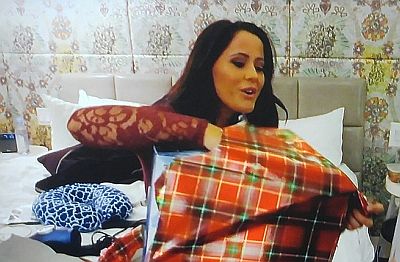 Her friends gather 'round to give her some birthday presents. (Why bother? Nothing will ever top the Fix-a-Flat and "jumpa cables" that Babs gave Jenelle a few years back!) They're taking shots and heading out into the night to get into hijinks. They head to some place that we can assume is a drag bar/Studio 54.
The next morning, Lurch and Jenelle are lying in bed, contemplating the day. Lurch is eager to explore all that NYC has to offer. In particular, he is excited to go base jumping off the Eiffel Tower. In New York City.
I  CAN'T!!!! Oh, Lurch. You may be my most favorite "soulmate" ever! I just want to listen to 43 minutes of Lurch spewing wisdom each week, instead of watching 'Teen Mom 2!'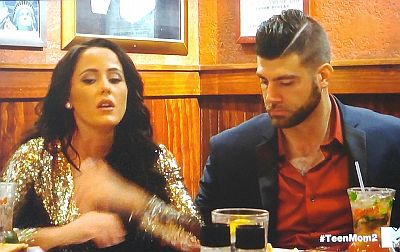 The drama with The Nathan is starting to ruin Jenelle's trip to NYC. They go to the Buca de Beppo and Jenelle's all dressed up like Diana Ross but she can't even enjoy her family-sized fettuccine alfredo due to all the anxiety caused by The Nathan. This ding-dang anxiety is ruining everyone on this show!
The next morning, Jenelle's anxiety is gone, which is good because it's Jenelle's actual birthday. To kick things off, Barb and Jace call Jenelle up to sing her happy birthday. (To be fair, that was actually a gift for The Ashley as well.) Jace is totally over it, but he knows the only way Grandma will give him any Coke is if he sings happy birthday to the crazy lady who comes by every once in a while. Sometimes you just have to make sacrifices.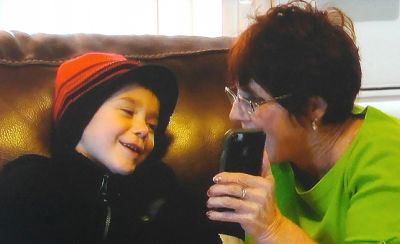 Barb bids Jenelle farewell (but not before warning her not to drink too much so she doesn't get "hungova.")
Jenelle says she's considering letting The Nathan see Kaiser, but only if his girlfriend drops the charges.
In West Virginia, it's time for Leah's big "date" with Jeremy. Leah's trying to hide her excitement as she sits down to discuss where it all went wrong with Jeremy.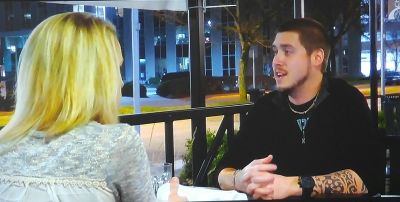 They are both looking around all weird, and Leah announces to their waiter that they are exes…but Leah makes sure to hint that they may or may not end up boning under the patio table, as long as the Mountain Dew mixed drinks keep on coming!
Leah is buzzing hard but she still works up the nerve to ask Jeremy if he regrets leaving her, now that she's doing "good" thanks to her assorted treatments. Jeremy basically tells her hell no, and Leah tries to blame Jeremy for not sitting shotgun in her Trashmobile while she was "in a bad place."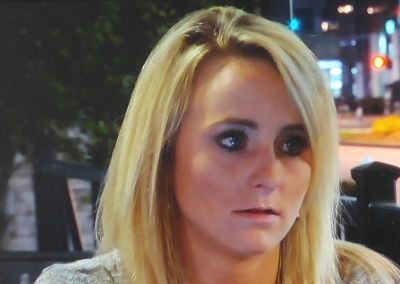 Leah says that they shouldn't have given up on their marriage so fast, but Jeremy doesn't seem to agree. The episode ends with Leah in tears.
Unfortunately, we never get to see David and Jenelle achieve their dream of visiting that world famous New York landmark, the Eiffel Tower. Maybe next time, Lurch!
Next week, Leah and Corey go to court, Jenelle goes to see The Nathan, Chelsea goes to get more money from Adam and Javi goes on deployment.
To read The Ashley's previous 'Teen Mom 2' recaps, click here!
(Photos: MTV)