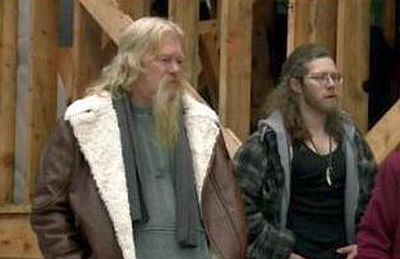 Alaskan Bush People stars Billy and Joshua "Bam Bam" Brown quietly began serving their 30-day jail sentences last week, but the reality stars aren't spending any time behind bars! Instead, the father and son duo, who in January were sentenced to 30 days in jail after they were convicted of lying about their residency to receive yearly oil revenue checks from the state of Alaska, will serve their sentence via electronic monitoring.
Corey Allen-Young, a spokesman for Alaska's Department of Corrections, told the Alaska Dispatch News that Billy and Bam Bam reported to Juneau last Wednesday to have their ankle monitors put on. He also stated that the Browns must "report to a probation officer in Juneau and provide urine samples at least once a week."
The Browns were deemed eligible for serving their sentence via electronic monitoring (rather than in a physical jail) because they were considered "very low-risk," according to the spokesman, who added that the Browns may not have any weapons or alcohol in their homes during the sentence, and must have a working telephone line at all times.
According to the Alaska Department of Corrections website, 63-year-old Billy and 31-year-old Bam Bam will be unshackled on May 12, provided they serve their sentence with no mishaps.
Billy and Bam Bam were also sentenced to 40 hours of community service each, in addition to their 30-day jail sentences. (The community service may not be filmed for 'Alaskan Bush People.') They must pay back the dividends they got, and give up their rights to ever get a dividend again.
As The Ashley previously reported, other members of the Brown family were also charged originally, including Billy's wife, Amora "Ami" Brown and three of their other children (Solomon "Bear", Noah and Gabriel). Those charges have since been dropped.
Despite Billy and Bam Bam's legal problems, 'Alaskan Bush People' will remain on the air. The show's next season begins May 6 on Discovery.
(Photo: Discovery)