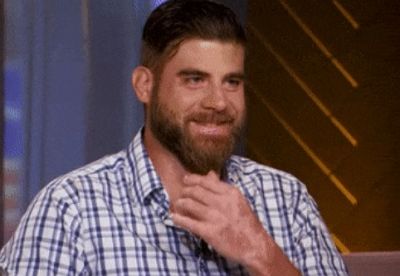 MTV aired the "Ask the Dads" special after last night's Teen Mom 2 episode, and The Ashley has the exclusive scoop on one creepy moment from the taping that didn't make the cut!
On the "Ask the Dads" special, 'Teen Mom 2' dads Corey Simms, Jo Rivera, Adam Lind and Jeremy Calvert appeared on stage, along with Jenelle Evans' boyfriend, David Eason. Fans immediately took to Twitter to question why David, who has no children with Jenelle and who has only been on a few episodes of the show, was participating in the taping, which took place last month.
While David said a few questionable things on the special, The Ashley can reveal the one thing that he said that made everyone on the panel cringe so much that the scene had to be refilmed!
According to a production source who was on-set while the guys taped the special, David "gave off a totally weird vibe and made the other guys uncomfortable."
An audience member told The Ashley that things got downright creepy when guest host Chris Distefano was asking the dads how they would react to certain situations involving their kids. When he asked David what he would do if his young daughter were to drop his phone into the toilet, David says that he'd simply "pull it out" and dry it off, but that wasn't his initial answer, according to multiple people who were on-set that day.
"Chris asked him what he would do if his daughter dropped his phone in the toilet and David said 'I would beat her.'" one source tells The Ashley. "Everyone's mouth just dropped open, like, 'Did he really just say that?' He was dead serious, too, and seemed to have no idea why anyone thought that was an inappropriate answer."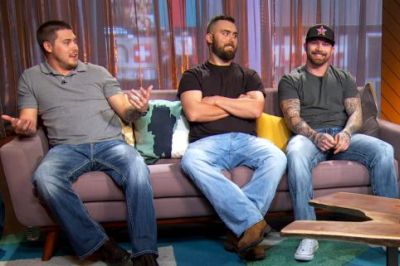 The source tells The Ashley that host Chris Distefano had no idea how to react to Dave's comment.
"The host finally told him that he can't say that, and that MTV is going to edit that out," the source said. "They eventually had to reshoot the scene so David could give a more appropriate answer. All the other dads were totally shocked."
Jenelle's actual baby-daddy, Nathan Griffith, was invited to attend the taping, but declined because MTV wouldn't allow his girlfriend, Jessica Henry, to go with him on the trip, due to legal issues stemming from the assault charges she has pending against Jenelle.
David proved to be quite entertaining (but not on purpose). When asked what he would choose as his p0rnstar name, David selected "Uncle Dave." Nope…nothing creepy about that at all! (Somebody call Chris Hanson!)
When asked to reveal something that's on his Bucket List, Dave replied "Ice and beer."
AS.YOU.DO.
(Photos: MTV)