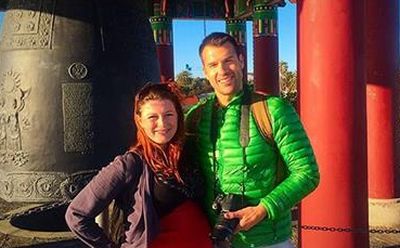 Meet Baby Brenchel!
One week after Rachel Reilly and Brendon Villegas welcomed their first child into the world, the Big Brother couple has released the first family photos taken with their newborn daughter. In an interview with People, Rachel and Brendon revealed the name they chose for the baby, and the meaning behind it.
"Baby Brenchel," which is the nickname that 'Big Brother' fans had been calling the baby, will now be known as Adora Borealis Villegas.
"We came up with the name Adora because we adore her, she's 'Adora-ble,' and we wanted a Spanish name to celebrate her Hispanic heritage," the couple told People. "Borealis was Rachel's must-have middle name because she's always been infatuated with the natural beauty of the Aurora Borealis, the Northern Lights. Of course Brendon loves the name because he is a physicist and science nerd! We love the name because Adora lights up our lives like the Borealis lights up the night sky."
In an exclusive interview with The Ashley last month, Rachel said that Brendon insisted that they wait until their daughter was born to decide on her name.
"He wants to wait until we meet the baby so that we can know the baby's personality and looks," Rachel said.
Rachel posted photos of Adora to her social media accounts.
"Can't get enough of this adorable little one!" Rachel captioned a photo. "We <3 her!"
In a blog post, Rachel described her natural labor and delivery experience in detail, and credited her husband with being a supportive labor coach.
"He was by my side the entire time he didn't sleep and he had to help me work through each contraction to have the mental ability to do this," Rachel wrote. "I am so blessed to have him and he showed me again how much of a man and a partner he really is! I have a new respect for him."
In case you're wondering…Adora already has a Twitter and Instagram account. (As most newborns do…) You can follow her here and here.
Check out the first family photo below:
(Photos: Facebook, Instagram)