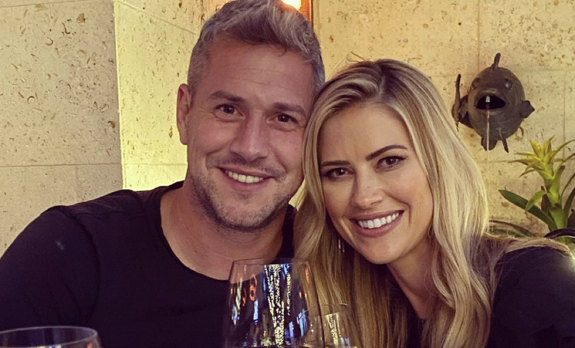 Ant Anstead has been on a journey of healing since splitting from Christina on the Coast and Flip or Flop star Christina Anstead in September.
"Every day is an improvement," the British TV personality told People. "Obviously, going back a couple of months, I mean, it was a big hit."
According to Ant, separating from Christina wasn't his choice.
"I think everybody knows this was not my decision," he said. "It really hit me hard."
Ant and Christina met in Fall 2017 and tied the knot a year later in a secret ceremony.
In September 2020 – one year after welcoming their son Hudson – Christina announced the couple's split on her Instagram. (She has since filed for divorce as well as joint custody of Hudson.)
"Ant and I have made the difficult decision to separate," Christina posted in September. "We are grateful for each other and as always, our children will remain our priority. We appreciate your support and ask for privacy for us and our family as we navigate the future."
Ant made his first public comment about the split a week later in two posts on his Instagram account.
"Anyone who really knows me knows that I don't like to share private matters publicly," he wrote. "I have remained silent while holding on to hope. I never gave up on us. I pray Christina's decision brings her happiness."
"While we both appreciate words of support, Please stop trying to diagnose from afar," Ant's second post read. "It's not fair. Christina is fine. I am fine. And we remain good friends and will navigate this at our pace. Compassion and kindness is all that's needed. X."
Since the split, Ant has been showing himself some kindness, he told People, by enrolling in an online breakup recovery course and taking part in a three-day faith-based retreat. He's also spending as much time as he can with Hudson and starting every day with a call to his older children, Amelia, 17, and Archie, 14, who live in the U.K. with their mother, Ant's first wife, Louise.
Ant said that having Christina leave him took a big toll on all parts of his life.
"The impact on me, my sleep, my diet, my stress, it showed," Ant told the magazine. "But I reached this turning point where I was either going to dwell in the darkness or I was just going to slap myself around the face a few times and say, 'Wake up; you're incredibly blessed. Focus on all the great things.'"
Like his estranged wife, who announced that her show 'Flip or Flop' (hosted with ex-husband Tarek El Moussa) will be returning to HGTV for a tenth season, Ant is also keeping busy in front of the camera. He told People he has three new TV projects in the works, including one he's writing. He's also working on continuing to heal from the split.
"It really is a process," he said. "And the thing about healing is sometimes you feel like you're making daily progress, and then, from nowhere, your legs get taken out, and you feel like you start again. But I'm certainly making steps towards healing, even if it's really slow."
Christina has yet to comment on Ant's latest interview.
RELATED STORY: Exes Tarek El Moussa & Christina Anstead Joke About Their Past During 'Flip or Flop' Episode
(Photos: Instagram)