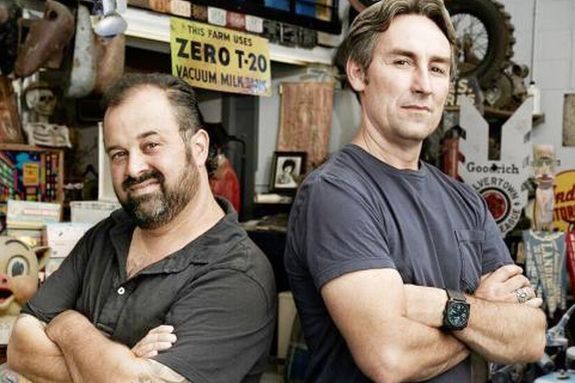 Mike Wolfe is speaking out following his former friend and American Pickers co-star Frank Fritz's tell-all interview earlier this week.
As The Ashley previously reported, Frank—who mysteriously disappeared from the show in March 2020— gave an explosive interview to The Sun in which he revealed that he and Mike haven't spoken in two years. He also insinuated that Mike— whom he has known for 40 years— has become arrogant as time went on, among other things.
"I don't know why he's behaving like that towards me," Frank told The Sun.
Frank revealed that he would like to return to 'American Pickers,' despite the "controversy going on right now" between him and Mike. However, Mike recently made it clear that Frank will not be coming back to the show.
Mike took to Instagram to give his thoughts on what Frank said, and also to let fans know that Frank's time on 'American Pickers' is over.
"I have known Frank for as long as I can remember, he's been like a brother to me," Mike wrote in the caption of a photo showing him, Frank and their co-star Danielle Colbi. "The journey that Frank, Dani and I started back in 2009, like all of life, has come with its highs and lows, blessings and challenges, but it has also been the most rewarding.
"The support that you all have given us has been a constant reminder of what the show's message has always been; thru these places, people, and things we all have a common thread. We're here to not only take care of the past, but also each other. I will miss Frank, just like all of you, and I pray for the very best and all good things for him on the next part of his journey."
Mike's post was flooded with comments from fans, with many of them demanding that Frank be brought back to 'American Pickers.' (Eventually, Mike turned off the comments for the post.)
In his interview, Frank suggested that Mike is trying to get the network to let his brother, Robbie, take over co-hosting duties for Frank. However, a source recently told TMZ that this is not happening, and Mike will remain the solo host of 'American Pickers' for now.
'American Pickers' is currently airing on History Channel.
RELATED STORY: Frank Fritz Says He & His 'American Pickers' Co-Host Mike Wolfe Haven't Spoken in Two Years: "There's A Lot of Controversy Going On Right Now!"
(Photos: History Channel; Instagram)