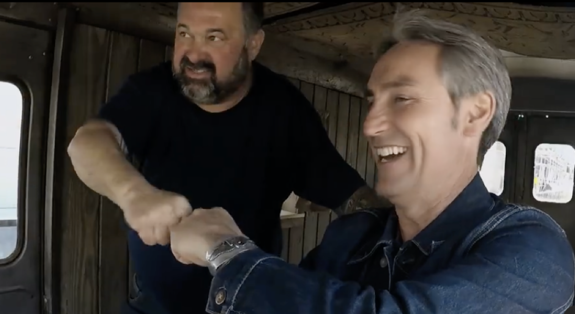 In what is sure to be a surprise to longtime American Pickers fans, co-hosts Frank Fritz and Mike Wolfe apparently haven't spoken in two years.
The discord between the pickers was revealed exclusively to The Sun by Frank, who disappeared from the History Channel show randomly in March 2020.
Fans, wondering what was happening, began to bombard 'American Pickers' social media accounts asking where Frank is. Eventually there was some information shared, though it was vague at best. At the time, Mike said it was because of a back surgery.
According to Frank, though, Mike's explanation was only partially true. While Frank was indeed recovering from back surgery, he was also feuding with his friend of 40 years.
"I would like to come back to the show, but we will see," Frank told the site. "I was doing it for 11 years, but there's a lot of controversy going on right now."
"I haven't talked to Mike in two years," Frank revealed. "He knew my back was messed up, but he didn't call me up and ask how I was doing. That's just how it is."
As to how he is doing, it seems well enough.
"My back is doing perfect," Frank told The Sun. "I had a couple of rods put in there. It was from lifting stuff all the time. If you watch the show you can see who the guy is that's lifting all the time, it's always me. It had been hurting for a long, long time."
So what exactly happened between the former friends to end their relationship? While Frank wouldn't go into specifics, he did hint that tensions over the pair's shared stardom on 'American Pickers' had come to a head. Mike was often framed as the leader of the pack – the pack being himself, Frank, and Danielle Colby, who ran the ship at Antique Archaeology in Nashville, Tennessee.
"The show is tilted towards [Mike] 1,000 percent. I can't even bend that far down to show you how much," Frank explained, though he claims he isn't bitter about not being in the spotlight.
"That's fine," he said. "It's like you've got Aerosmith and there's Steven Tyler and he's the front man. I found my spot, I'm second and he's number one on the show. That's no problem with me, maybe he does have a problem."
As to what that problem might be is anyone's guess. Mike has been going through a rather public divorce with ex-wife Jodi, whom he was married to for a decade. The couple have a nine-year-old daughter. The star has since begun dating reality personality Leticia Cline of Beauty and the Geek, according to TMZ.
Frank did, however, insinuate that Mike was a bit arrogant with extravagant taste.
"I'm not arrogant and I'm more of a regular ol' guy," he said. "The guy that connects with me is the guy who buys a 30 pack of Busch Light and a pizza on the weekend. That's my guy. My guy buys a $150 sign, not an $8,000 sign. I'm more of the common man guy. I haven't found a $100,000 vase or any Michelangelo stuff. I've never really had a big, big score like that … [b]ut all the small scores are the bread and butter and that's my deal."
For fans of the show, this does seem to go against Mike's style, which is always trying to find that big pick that will be a huge return on the investment. Frank admitted it would be hard to go back to the show, even though he would like to, after not speaking to someone for two years.
"I don't know why he's behaving like that towards me," Frank admitted.
The collector is fairly certain that Mike wants to rope in his brother Robbie as a replacement; however, if Mike does that, Frank is pretty certain it wouldn't work.
"You couldn't just stick two people in a van and get the chemistry you get from me and Mike," he explained. "We've known each other for about 40 years. We can finish each other's sentences. When everybody is getting along and there's no drama, me and him are very good together."
In the end, Frank said, it's neither his decision nor Mike's – it's up to The History Channel.
"It's up to the network whether I come back on the show," he said. "It ain't gonna affect me one bit. I didn't leave the show. I finished shooting and then I had a little back surgery and the pandemic came."
Since he last filmed, Frank has been living at his Iowa home taking care of himself, though he admits he hasn't been picking much. Frank has been focused on his health as well, and has been managing his Crohn's, an inflammatory bowel disease. Doing so has resulted in a 65-pound weight loss, making him virtually unrecognizable.
"The weight loss is me watching what I'm eating so I can keep my disease under control the best I can," Frank said. "I'm just eating healthy … that was a big thing about coming back to the show. How can I come back to the show 65 lbs. lighter? After a while I started watching what I'm doing and I'm doing a little bit more walking. I keep pretty busy around here, too, taking care of the grass and getting rid of the weeds."
Frank also revealed that he is nine months sober, admitting he had used alcohol to dull the pain of his break-up with his ex-fiancée Diann Bankson.
"I tried to drink her away," he said.
The news has spurred on many of Frank's fans on Facebook to call for his own show, though ironically Frank told The Sun he doesn't even have a computer and everything on Facebook, including his verified page, is fake.
"It's all fake, all that stuff on Facebook is fake," Frank told the outlet. "I don't have a Facebook, I don't have any idea what's going with that. I've never posted anything on there so everything that's on there is a f**king lie. I have no idea who is posting that stuff, I don't even have a computer."
Mike and Danielle have not commented on Frank's remarks, though as new episodes of the long-running show continue to air, some viewers have expressed that his absence is certainly felt.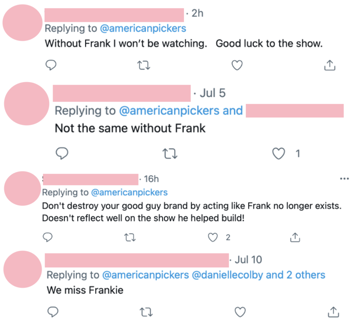 (Photos: The History Channel; Instagram; Twitter)