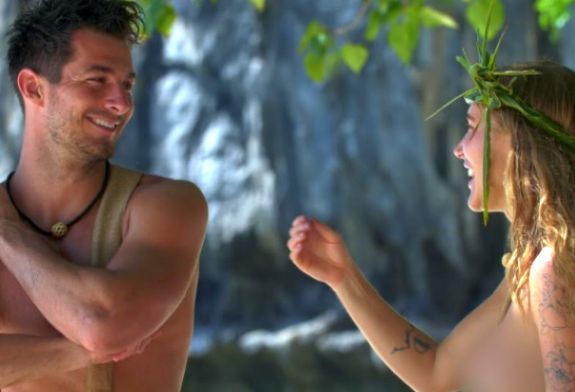 The first trailer for the latest version of Naked and Afraid was released on Monday by Discovery+ and, judging by the harsh comments the show's fans left on Instagram, they are not happy about the new twist.
The video, posted to the official 'Naked and Afraid' Instagram account, shows a few minutes of Naked and Afraid of Love. In the video, two women (who are naked, of course) and one naked man are surviving in the wilderness together. However, all of the "survivors" seem to be more concerned about flirting and fornicating than fire-starting and food scavenging.
In May, Discovery+ described 'Naked and Afraid of Love' in a press release as a "groundbreaking take on modern dating that is the ultimate blend of survival and romance unlike anything viewers have seen.
"'Naked and Afraid of Love' sets out to uncover what happens when 16 complete strangers — 8 single women and 8 single men — attempt to find true love while working together to survive the elements and each other on an unforgettable island paradise."
Diehard fans of the original version of 'Naked and Afraid'— which places two random people in a desolate, often dangerous, location with no food, water or clothes— were clearly not feeling the addition of romance to the show's premise. The comment section of the post with the preview video was full of angry comments left by fans, many of whom accused the network of "ruining" a good show by trying to add dating and drama to the mix.
View this post on Instagram
"Are you kidding? This totally ruins the show. Get this Bachelor in Paradise s**t out of here," one person wrote.
"Don't break a perfect mold like so many other producers due trying to be 'new and relevant,'" one person begged. "We don't care about that, we just want what you started and we loved."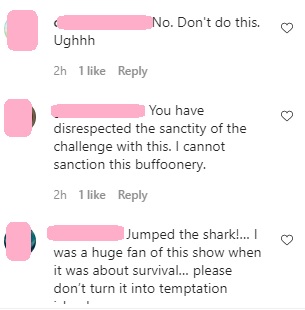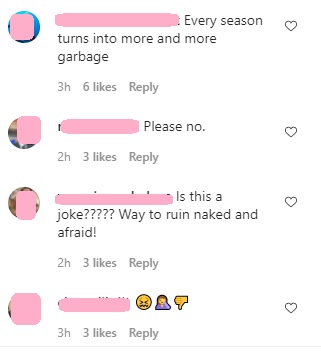 "Oh no … I don't want the show to turn into some dimwitted MTV show," another person wrote.
"You have disrespected the sanctity of the challenge with this," one fan wrote. "I cannot sanction this buffoonery."
"Thanks for ruining it with this stupid twist @discovery… If I want to watch this drama of romance added, I'd watch The Bachelor. NO THANKS!" another wrote.
"What is this s**t!? This was so cringe," another person commented. "Please leave our 'Naked and Afraid' alone."
Many fans pointed out how unfit the 'Naked and Afraid of Love' participants looked for a survival situation.
"I get that producers are under pressure to make a show that people want to watch, but…I'd rather see middle-aged people covered in insect bites eating charred snake meat than two aspiring models blather on about true love after knowing each other for two days," one person wrote.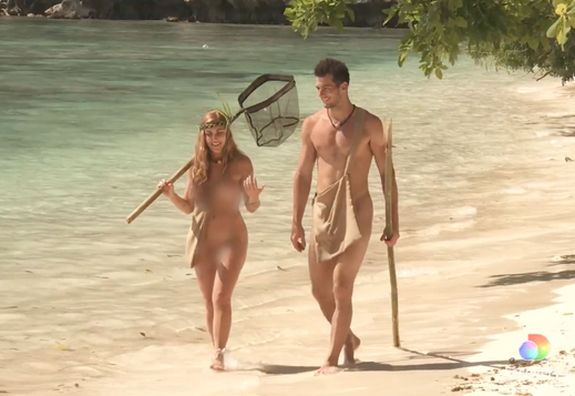 "Yeah, this is believable," another wrote. "Fake eyelashes and lip injections are their survival tools?"
"Does she have on eyelash extensions?" another asked. "Why is everyone hot? Are they dating.. BOOOOOO THIS IS HORRIBLE. Please bring back the old 'real format.'"
'Naked and Afraid of Love' premieres August 22 on Discovery+.
RELATED STORY: Ant Anstead's New Show 'Celebrity IOU: Joyride' to Premiere in August; Ant's New Girlfriend Renée Zellweger to Appear
(Photos: Discovery+, Instagram)