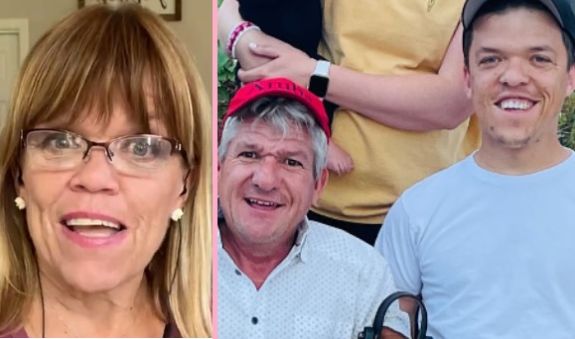 Amy Roloff is weighing in on the sale of Roloff Farm— and the farm-selling drama going on between her ex-husband Matt and their sons Zach and Jeremy.
As Little People, Big World fans saw during this week's Season 23 premiere (and online!) Matt and Zach are at odds over the sale of a part of Roloff Farm. The father and son's negotiations for Zach purchasing the farm weren't shown on the episode, but Matt's longtime girlfriend Caryn Chandler explained to viewers that Matt went into the talk with Zach as businessman, while Zach went in as Matt's son. Matt also scolded Zach for bringing his kids into the negotiations.
The familial spat spilled out onto Instagram this week, with Zach having some choice words for his dad after Matt basically blamed his sons in an Instagram post for being the reason he has to sell part of the farm. (It is currently listed for sale for $4 million.)
In an Instagram Live chat with her friend Lisa, Amy gave her thoughts on the sale of the farm, Matt's actions toward their sons and more.
"It's just a very sad situation, in my opinion, because this is personal to me…" Amy said, adding, "The business was part of our personal life so it will never just be business."
Amy stated that, although her sons weren't looking for a handout or to be given the farm by their dad, they did expect that he would treat them better than a stranger off the street.
"You can't treat those that are directly a part of your family, and assume– because it's business– [they're] like any other vendor. I'm not like any other vendor. My boys aren't like any other vendor. These are your boys!
"No one assumed [they'd] get anything for free, or less-than…I think they all knew that Dad deserves something," she added.
Amy acknowledged that Matt's focus on the business has hurt the family over the years.
"Everything comes at a cost, and this has come at a big cost," she said. "But we will always all see it differently and that's the unfortunate thing. But I feel for my boys. Something that they were brought up with didn't happen in the way we thought it would.
"So if it gets sold to some total stranger, that will be kind of weird," she said, later adding, "I've always said that [Matt] may have built a lot of stuff and had the creative ideas but the farm was the family's. We all had elements of the farm, and what it is today is definitely a part of all of us."
As fans know, Amy no longer owns any part of Roloff Farm. After Amy and Matt divorced in 2016, Amy sold her portion of the property to Matt. (According to Radar Online, the first sale happened in June 2019 and was for $667,000. A year later, Amy sold Matt an additional 32.28 acres for $975,000.)
Amy told her Instagram Live viewers that, despite how she or any else feels about Matt's choices, they are his to make.
"It is Matt's choice," she said. "He has a loan with me, to pay off my amount, the buyout amount…so he needs to pay, rightfully so, my half…but he owns that. So it is his choice; he can do whatever he wants. But it's solely his choice what he does with it because he owns it. He doesn't have to report to me or report to ask anybody anymore."
Amy confirmed that, despite the drama, there will likely be one more pumpkin season at Roloff Farms, although she stated that it will probably be the last one. Amy also confirmed that she and her family are currently filming an additional season of 'Little People Big World.'
You can watch Amy's full interview below!
RELATED STORY: 'Little People Big World' Star Zach Roloff Accuses Dad Matt Roloff of Being "Manipulative" & Cowardly After Matt Blames Zach & Jeremy For Having to Sell Roloff Farm
(Photos: Instagram)