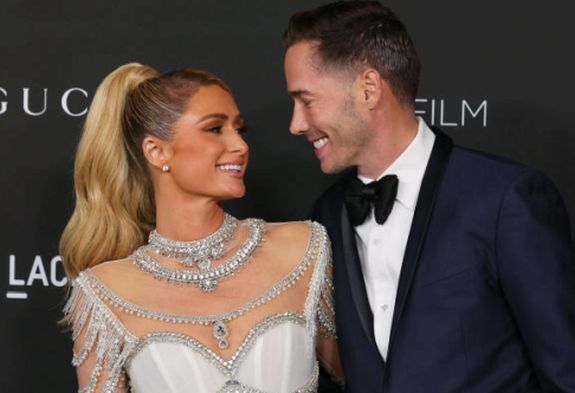 Paris Hilton is officially a mom!
The former Simple Life star revealed Tuesday on social media that she and husband Carter Reum recently welcomed their first child together.
"You are already loved beyond words," Paris captioned a photo of the baby grasping her thumb.
Paris and Carter reportedly welcomed their baby boy via surrogate, with Paris telling People that motherhood has "always been my dream."
" … I'm so happy that Carter and I found each other," she continued. "We are so excited to start our family together and our hearts are exploding with love for our baby boy."
Nicky Hilton also took to Instagram to welcome her sister to "mommyhood."
"So so incredibly happy for youuu!" Nicky added. "It's the most beautiful ride. There is no greater love. You are going to be the best mommy. What a lucky boy!"
Paris also received congratulatory messages from many of her famous friends including Lindsay Lohan, Nicole "Snooki" Polizzi and Kris Jenner.
Kim Kardashian also congratulated her longtime pal.
"Thank you love! So in love with my lil angel," Paris responded.
Paris spoke about the possibility of parenthood back in December 2021, revealing that she and Carter wanted to have a baby and that she had begun the IVF process shortly after the pandemic hit.
"We started going and doing it like a few months in because the world was shut down," she said. "We knew we wanted to start a family and I was like, 'This is perfect timing. Usually I'm on a plane 250 days out of the year, and let's just get all the eggs stocked and ready,' and we have tons of them just waiting."
While this is the first child for Paris, it is the second for her entrepreneur husband. Page Six reported in November 2021–- the same month Paris and Carter tied the knot–- that Carter fathered a daughter nearly a decade earlier with Laura Bellizzi, who previously appeared on VH1's Secrets of Aspen in 2010. Carter has allegedly only seen his daughter once but supports her financially.
"The people who this story matters to have known about it for 10 years," a spokesperson for Carter stated in 2021. "Carter supports this child. While he does not have a traditional father-daughter relationship with her, he has provided for her since she was born, and will continue to do so."
Paris and Carter announced their engagement in February 2021 and went on to share the journey leading up to their wedding on the reality series Paris In Love, which streamed on Peacock in 2021.
RELATED STORY: Paris Hilton & Carter Reum Say 'I Do' in Front of Family, Famous Friends & Reality TV Cameras: See the Wedding Photos!
(Photos: Kevin Winter/Getty Images; Instagram)