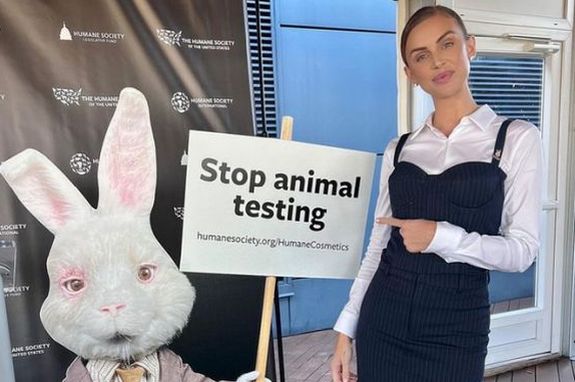 Lala Kent had her Elle Woods moment this week.
On Wednesday, the Vanderpump Rules star joined The Humane Society of the United States to urge members of Congress to pass the Humane Cosmetics Act, legislation that would end new cosmetics testing on animals in the United States, and prohibit the import and sale of cosmetics in the United States that have been newly tested on animals elsewhere in the world, according to a press release.
In addition to meeting with representatives to seek support for the legislation, Lala and actress Tricia Helfer hosted a reception and screening of Save Ralph, an animated short film that follows a rabbit's daily routine as a "tester" in a lab.
"A compassionate, stop-motion-animation puppet named Ralph is doing more to shine a spotlight on the continued use of animals in cosmetics testing than some of us who have lobbied for decades to end it," Sara Amundson, president of Humane Society Legislative Fund, said in the organization's press release. "He's joined by an increasing number of bipartisan members of Congress and two amazing advocates in Lala and Tricia to pass the Humane Cosmetics Act.
"Right now, there is no second act for animals like Ralph. The U.S. Congress needs to pass the bill and Save Ralph."
Lala posed in front of the Capitol Building for an Instagram post on Wednesday to ask followers to lend their support for the legislation, writing, "Mexico, Canada and Brazil have banned cosmetics testing on animals. Now, I'm partnering with my friends at the @humanesociety so the U.S. can step up to the plate! Every signature counts! Please, SIGN and urge your legislators to support the Humane Cosmetics Act today."
Earlier today, she posted about the visit again, this time posing with Ralph.
"I want to thank any news outlets that wrote a story about the Humane Cosmetics Act," she wrote. "I've noticed so many publications are quick to pick up stories about petty things I've said, but skim over what actually matters. If you're a writer and you took time to shed light on this, thank you. It did not go unnoticed."
Current and former 'Vanderpump Rules' castmates showed their support for Lala's mission, including Stassi Schroeder, Scheana Shay, James Kennedy and Ally Lewber. Heather Gay of Real Housewives of Salt Lake City and Chrishell Stause of Selling Sunset also cheered Lala on.
According to The Humane Society, more than 1,500 cruelty-free beauty brands are available in North America, including the Give Them Lala Beauty brand.
"I have been an animal lover all my life, and becoming a mother inspired me to help create a more humane world for my daughter to grow up in," Lala said in The Humane Society's press release. "Cosmetics testing on animals is a barbaric practice that has no place in the United States.
"It is an honor to be given the opportunity to use my voice and advocate for animals today on Capitol Hill," she added. "Our nation's leaders need to join the fight for all animals, especially the ones kept in the shadows."
Learn more about the Humane Cosmetics Act by visiting The Humane Society's website.
(Photos: Instagram)