Last night The Ashley was stuck at home with no reality TV to watch! Oh, week between seasons, I curse you!
The Ashley had stacks of "B" level shows (stuff I like to watch but not shows that I would shoot myself if I missed like American Idol or Teen Mom) that were just waiting for her to sink her creepy little eyes into them.
One of the shows that The Ashley has been getting into lately is called Downsized over on the WE channel. The WE channel is full of weird reality shows.
If you haven't seen this show, then you probably should stop reading this post. If you have seen this show, you know that it's about a modern-day Brady Bunch family that's super broke. They have a bunch of kids between the two of them. (OK, actually, it's only seven. The mom brought five and the dad brought two. )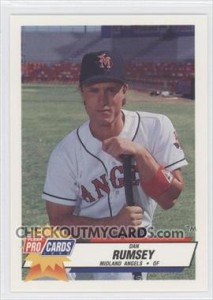 Anyway, after watching a TiVo'd marathon of "Downsized," it caused The Ashley to wonder what the hell happened to the biological dad of those five kids. In a recent episode, Whitney (the girl that's 15 and looks like one of the Kardashian sisters), talks about how their real dad was never there for them and their stepdad Todd is more like their dad to her. (That episode was actually really sweet!)
So where is Daddy Dearest who seemingly left his five, count them five, kids to be taken care of by his ex-wife, Laura, and Todd? The Ashley had to find out!
After some sleuthing, The Ashley found out the following info about the real dad of Whitney, Dylan, Rex, Danielle and Bailey:
His name is Danny.
He was a baseball star at Arizona State University, where he met Laura. (This is probably where all the boys get their baseball talent!)
He's originally from the San Diego area, and was known as "The Sultan of Swing" on the Poway High School baseball team. (Read this vintage article  about him from 1985!)
He was drafted by the San Francisco Giants in 1989 and then played in the minor leagues until 1993.
According to the hens on the internet and Intelius, to support five kids he would have to pay about $3,500 a month! OMFG! I hope he saved some of that minor league baseball money!
Special thanks to Rounduper friend Seanna for finding the photo of Danny Rumsey!