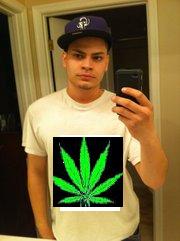 Apparently, Jo Rivera (better known as Kail's ever-mumbling baby-daddy) was picked up for being all hopped up on the marijuana last weekend! According to this article,  Tokin' Jo was arrested in Lopatcong Township (Yes. that's actually the the name of the town!)  last Sunday night.
Jo was riding shotgun in his brother, Edward's car when the cops pulled the car over. Both were found to be under the influence of marijuana and were arrested.
The best part of the whole thing? According to that article, Jo told the police that he was on Teen Mom 2! (I hope he said "But I'm a celebrity!") However, it does say he did not try to use his status to get out of being cited, police said!
The police were probably like, "Bitch please! Talk to us when you're at Maci Bookout's status of fame."
Jo was charged for being under the influence of marijuana, but his brother got it much worse. His charges include: driving under the influence, being under the influence of marijuana, driving with a suspended license and driving an unsafe vehicle, police said.
I'll bet Jo's parents were so mad they made them go live in the basement.
When The Ashley saw Jo at the finale, he looked super-tense and antsy. Jenelle probably saw that and was kind enough to give him some of her stash to help him chill out.
Jo may be having second thoughts about smoking the Mary Jane after his arrest. He posted this on his Facebook yesterday:
"You can't party your life away
Drink your life away
Smoke your life away
F*ck your life away
Dream your life away
…Scheme your life away
Cuz your seeds grow up the same way"
– Wu-tang Clan
Funny. I just got a fortune cookie with that exact message in it.