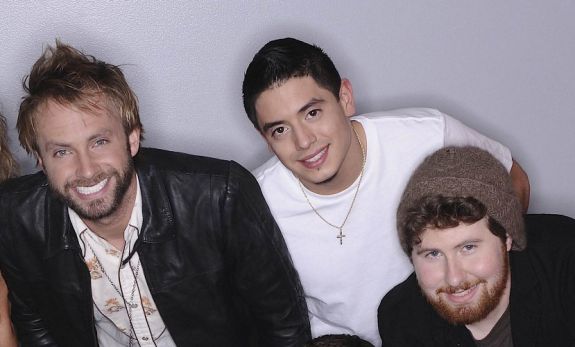 Last night was a whirlwind of reality TV fun for The Ashley, with Teen Mom2, Biggest Loser and American Idol all vying for The Ashley's eyes. She chose to watch American Idol, because that's her true love. Luckily, the TiVo was there to capture the rest of the shows.
Anyway, this week, the Top 12 guys hit the stage. Those who did not screw it up will move on to the Top 12. Those who did screw up will move on to average lives of working in factories and local Wal-Marts. You won't remember these people in a week, let alone six months. (Don't believe me? Fine…tell me what the hell John Park is doing these days. Don't 'member him? That's my point. Here's a refresher on who he is, if you care. You probably don't.)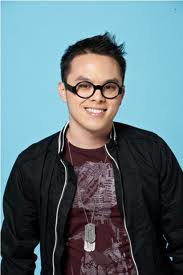 First out of the box was  Clint Jun Gamboa. After The Ashley got over the fact that he greatly resembles the children's book character Arthur, she sat down for a listen. Clint was awesome, despite the fact that he sang Stevie Wonder's "Superstition," literally one of the most played-out tunes from Idol. Seriously, why must someone sing this damn song EVERY.SINGLE.YEAR? Can we put this one on the vetoed list? But anyway, Clint was really, really good. Surprisingly.  The Ashley's Grade:  A
Next up was Jovani Something. The cocky Latin lover  proudly proclaimed "no more shipyard for me baby!" when he made the Top 24. Let's just say I hope he didn't burn any bridges over at the shipyard because he'll be going back there shortly. He warbled through another tired 'Idol' classic: "I'll Be." That song reminds me of dancing with a guy with bleached out spiky hair at my high school prom. Gag. The Ashley's Grade: D+
Jordan Dorsey hit the stage next singing Usher's hit "OMG". The second he came out all The Ashley could think was "Oh, honey, no." Rule #1 of getting onto 'American Idol': you never, ever bust out a current up-tempo song. It just doesn't work. (Just ask last season's Tyler Grady. You probably don't remember him either.) Anyway, Jordan was a not-even-that-hot mess. The performance came complete with flashing lights, the stripping of clothing and many off-key notes. Personally, I was shocked Jordan didn't sing "I Believe I Can Fly." I thought it was, like, mandatory for someone to sing that in the Top 12 Boys show. The Ashley's Grade: C-  (would have been a "D" but he got bumped up because he had shiny lights.)
Tim Halperin was next. Where the hell did this guy come from? Why don't I remember him from any of the other shows? He's actually not too bad but his soft voice and clean cut looks will surely be forgotten in the midst of all the other guys' hoopla. He sang a sweet little ditty that will not help at all in getting him into the Top 12. Hope he didn't quit his day job.  The Ashley's Grade: B
Brett, the Crazy Carrot was the next to sing. He chose one of the sexiest songs of all time, "Light My Fire" by the Doors.  Although I totally don't want to see him in leather pants a la Jim Morrison, he did a good job vocally. He was whippin' his hair back and forth something fierce. I loved J-Lo's comment: "There was more hair tossing going on there than me and Beyonce together have done in the past 10 years." The fact that he's easy to remember may help him be this season's "odd man"  (think Kevin Covias or Sanjaya).  The Ashley's Grade:  B+
James Durbin, sang next. The Ashley hates to admit it but she actually really liked his performance. She really didn't want to like it out of respect to the original and all-mighty Adam Lambert, but she kind of did. He sang a Judas Priest song, which is pretty cool to begin with. He seemed a lot more controlled last night than in the past. And he wore a freaking tail. He's totally making the Top 12. The Ashley's Grade:  A-
Robbie came next. This poor kid has been overlooked and underestimated on every show. He's actually really, really good. He chose a song by Sarah McLauchlin (how the hell do you spell her name?) which was kind of odd. He sang it beautifully. However, beautiful singing is only half of the route to get to the Top 12. You have to be memorable and Robbie is not. Maybe he'll prove The Ashley wrong. She hopes so! The Ashley's Grade: B+
Next up was Scotty McCreery. He shocked The Ashley by not singing "his song." Instead, he busted out a great country hit. He had lots working for him last night: 1) his voice sounded great  2) he looked cute in his little cowboy get-up and 3) he sang a song about America, the troops and mamas and daddies. 'American Idol' fans eat that crap up. This kid can't lose.  The Ashley's Grade: A
Stefano came next, singing a Bruno Mars tune that they play on the radio every single freaking day like three times an hour. The judges loved it. The Ashley hated it. The Ashley was laughing during his performance because Stefano reminds her of A.C. Slater. The Ashley's Grade: C
Paul McDonald was the next out of the box. He sang "Maggie May," fully acknowledging and using the fact that he sounds like Rod Stewart to his advantage. He's the kind of guy that you either love or hate. The Ashley loves him. His voice is different and stands out from the R & B crooners that we'll likely be left with when the cuts are made. The Ashley's Grade: A
Just when you felt like you can't stand any more 'Idol' (at least it wasn't two hours!),
Jacob Lusk
hit the stage. Love this kid. He literally sang himself to tears a few weeks back when he sang "God Bless the Child." I will let Adam Lambert's tweet on the Twitter sum up how I feel about Jacob's performance: "Werk it the f**k out sister! I'm so excited to hear u sing every week!!"  
The Ashley's Grade: A
Closing the show was Casey Abrams. Producers have already given him the closing slot of the show, which is pretty much the "G-Spot" of performance night. Casey came dangerously close to not performing, as he's been in the hospital lately for some severe stomach pains. Luckily he was able to perform because he gave an awesome performance of "I Put a Spell on You." It was the perfect song for his voice. The Ashley didn't care for him during auditions, but is now starting to really enjoy his singing. Plus he reminds me of Will Ferrell, which reminds of the movie "Stepbrothers," so he makes me happy. The Ashley's Grade: A
Who's going home? If The Ashley had to guess, we'll be saying goodbye to the following: Robbie, Stefano, Jovani, Tim and Jordan. The last slot is anybody's guess.
The girls perform tonight. Mercifully they have limited tonight's show to one hour. Tomorrow is two hours. Seriously, this means that I'll have devoted  4.5 hours of my week to watching this crap. How sad am I?