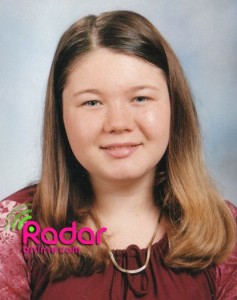 Before she was one of the most-talked about reality TV stars of 2010…before she discovered the tube of self-tanner…and before she turned into a Rambo-like creature…this little girl was just another elementary school kid taking  a school photo.
These days, this little girl is getting tattoos, makin' babies and drinking cheap vodka, despite the fact that she's making a ton of money.
So who is this? Click below to find out. (Special thanks to Radar Online for digging this one out of the Anderson, Indiana school system's stock of vintage yearbooks!)
It's AMBO (Amber Portwood) from Teen Mom!We all know her as the physically aggressive fiance/ex-fiance/boyfriend/punching bag of Gary Shirley, and the mom of Leah (whose face is creepily tattooed onto AMBO's stomach.)
She was so cute back then….