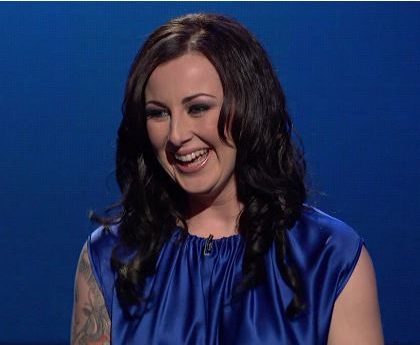 The Ashley would like to recount a funny story to her readers.
A few weeks ago while on her tour of America" (well, of Las Vegas and Indiana), The Ashley's husband took her to go see the VIVA Elvis Cirque du Soleil show in Las Vegas. (The Ashley is a ginormous Elvis Presley fan, in case you didn't know.)
Anyway, during the show a girl came out to sing a solo and The Ashley was blown away by her voice. The Ashley commented to The Husband that it was one of the strongest voices she had ever heard, and continued to talk about the singer long after the show had ended. She even told her husband, "why the hell hasn't that girl tried out for American Idol?! She's amazing." The Ashley said this probably eight times during the course of the show until The Husband shushed her because people were starting to stare.
ANYWAY…turns out, the girl is actually Carly Smithson, the contestant that finished sixth on David Cook's season of American Idol!! She was wearing a red wig and had covered up all of the tattoos on her arm!!
The Ashley is surprised that she was fooled; she can usually sniff out this stuff from a mile away. Had she known it was Carly under there, The Ashley would have totally hung out and creeped around in an attempt to get a photo with her. The Ashley loved Carly during Season 7. She was The Ashley's favorite (second only to the dreamy Australian, Michael Johns.)
Carly has been a busy girl lately. She is appearing in VIVA Elvis, as well as working with her band, We Are the Fallen. Here's a nice write-up about her from the Las Vegas Review Journal.
This is extremely relevant right now because Carly is rumored to be appearing on 'Idol' tonight!!