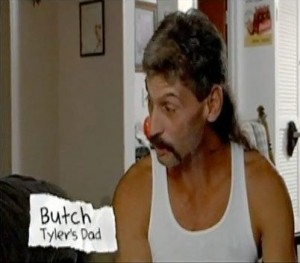 Looks like it's back to pokey for everyone's favorite mulleted Teen Mom father, "Butch." He went back into jail last week. Personally, I.Am.Shocked.
Butch, of course, is the father of original 'Teen Mom' star Tyler, and the stepfather of Tyler's girlfriend Catelynn.
According to a post on his Facebook page, Butch (real name: Darl Baltierra) will be locked up for at least 70 days; however, he won't be able to be legally allowed to be reunited with his wife, April (Queen of the Virginia Slims) for another six months or so.
 He was locked up for going against a court order to stay away from April. (Stemming from domestic dispute from last year, I believe.) Butch got caught hanging around April and was sent back to jail.
I kind of feel bad for them…they both want to see each other, so why not let them?
Of course, Butchie being locked up means that we probably won't be seeing much of him on the third season of "Teen Mom," which premieres sometime in June. This disappoints me. It's been too long since I've seen Butch and his mullet on my television screen, and I'm starting to have withdrawals!