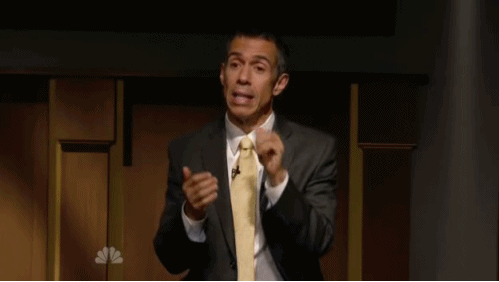 Gary Busey may have the strangest stories, LaToya Jackson may have the creepiest face, but Jack Jason definitely wins for fastest hands on Celebrity Apprentice.
I only started watching this show two weeks ago, but throughout each episode I've been kind of obsessed with watch Jack, who is Marlee Matlin's long-time interpreter, sign like crazy while these maniacs all talk over each other.
The guy over at dlisted.com must have felt the same way because he wrote a hilarious article about how he loves Jack too! The Ashley was determined to find out more about this amazing Hand Man, so she did some research and here's what she found out:
Jack's parents are both deaf.
His career as a sign language interpreter began on his first day at Cal State Hayward, where he asked if he could take sign language for his foreign language requirement.
He was originally turned down for the job as Marlee's interrupter because her agent was looking for a female interrupter.
He's been with Marlee since the mid-1980s and helps her run her production company.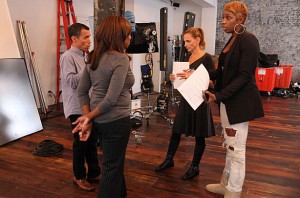 Here's a great article about Jack.
Anyway, I'm so impressed with this guy. He has the hardest job in town. Imagine having to interrupt and explain all of Gary Busey's creep-isms, (um…the kite story? How do you make that make sense?)
He also has to somehow deal with all of the extreme personalities of the ladies' team. I would have loved to see him sign to Marlee that NeNe just called LaToya "Casper the Friendly Ghost." And how does he manage when everyone is talking over each other?
I've got to give Jack credit; most men would run away screaming if they were stuck in a room with all of these women for hours at a time. Well, actually, most men would run screaming if they were stuck in a room with any group of women for an extended period of time…so even more kudos go to Jack!
I wonder if Jack and Marlee talk crap on the other contestants right in front of them…kind of like the way the ladies at the nail salon totally talk about you to each other while they do your nails? I know would.
Anyway, The Ashley wants to interview him. Maybe someday she'll get to…