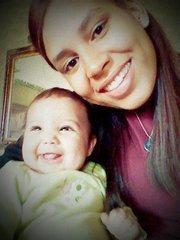 Tonight on 16 & Pregnant we will meet Cleondra Carter. She's 17 and from the South (shocking…almost every girl on this show is Southern). Technically, she's from Horn Lake, Mississippi, which is just about as Southern as you can get.
Here's a little background on Cleondra. She is the daughter of a country fried woman named Dixie (ya'll will love her, trust me).
Cleondra was a dancer in high school until she quit the team out of protest when her coach got fired. Then she got pregnant and gave birth to baby Kylee in late 2010.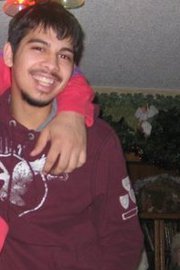 Cleondra's baby-daddy is Mario Escovedo. They're still together and have been for over three years. He actually has a job and a high school diploma, which is much more than I can say for a lot of the other dads on Teen Mom and 16 & Pregnant. He seems to be a together guy who's a good dad to Kylee.
As a couple, Cleondra and Mario seem relatively stable. They are the first 16 & Pregnant couple in weeks that has never been arrested for assault! (Click here to see Danielle's baby-daddy's record, and here for Jaime's.)
There is one thing though, Mario did seem to have a run-in with the law back in March of 2010. He was allegedly picked up for transferring and distributing marijuana.
Honestly, it's not really a big deal, especially when you compare it to the other 16 & Pregnant dads' records. A little wacky tobaccy isn't a major problem.
Anyway, Cleondra is a standout of this season for me because she not only takes care of her daughter and goes to school but she also works full-time! She seems to be very ambitious and hard-working, and should be commended for that! I hope the blogs and tabloids don't tear her down after her episode airs, she seems to be a nice girl who's working hard to do well in life!