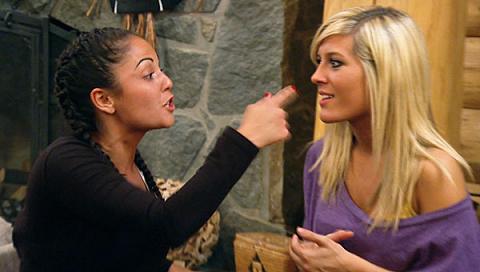 The Ashley is so excited! The trailer for the new Real World/ Road Rules Challenge has just been released. (It is now more hip and cool and simply goes by "The Challenge.) Click here to watch the trailer!
This show ranks right up there with Bachelor Pad in terms of making its viewers feel dirty and sleazy just for watching, but honestly, The Ashley loves this crap. She can't get enough of this show!
This Challenge looks amazing- it will be set in Costa Rica and the official title will be "The Challenge:Rivals.
Basically, everyone will be paired up with their RW/RR Challenge nemesis. If they've ever gotten in a fight with someone, or if they hate someone, chances are they will become their teammate on the show!
The producers aren't stupid. They recycle the same lunatics season after season, providing more chances for these people to get on each other's nerves. After many seasons, most of them have gotten in at least one physical or verbal fight with another cast member. The audience loves that drama, so the producers figured they should capitalize on it!
So who will be on this season of The Challenge? Back in February, The Ashley gave you some pretty accurate predictions regarding who was going to be on the show. Here's how everyone will be paired up:
Adam & C.T.
Adam & Leroy (from the current season of The Real World: Las Vegas)
Brandon & Ty
Davis & Tyrie (who are these people?)
Evan & Nehemiah
Johnny & Tyler (they hate each other? Who could hate Tyler?)
Kenny & Wes
As for the ladies, these are the pairs:
Anessa & Robin
Cara Maria & Laurel (Who hate each other from last Challenge)
Camila & Theresa
Evelyn & Paula
Jasmine & Jonna (From Real World Cancun but I've never heard of them)
Jenn & Mandi
Katelynn & Tattoo Sara (Who hate each other from Real World Brooklyn)
Of course, Jen and Paula will be on the show. (Have these chicks missed a Challenge in the past six years? Seriously, they need to give them a rest. I'm sick of seeing their mugs.) TJ Lavin will once again he hosting this freak fest. The Ashley was doubtful he would return after his horrendous BMX accident last year.
Whoever made this trailer is a genius. I feel all suspenseful and antsy just watching it!
The Challenge: Rivals premieres June 22! The Ashley can't wait!